Serve from a distance with seamless online ordering
Offer delivery and pickup services with the fully-contactless mobile platform for hospitality.
Special Offer - First 30 days FREE!
Your hassle-free mobile ordering solution
"With excellent contactless ordering and payment tools, impressive data collection and analytics, and everything else you could want from a POS system, Epos Now Order & Pay stands out as an excellent choice for businesses of all sizes."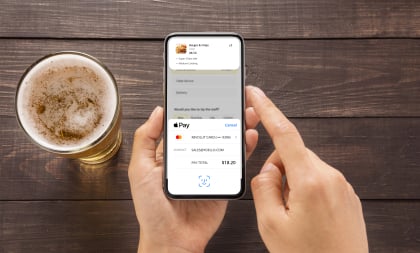 The multi-purpose mobile ordering platform
Minimize contact, streamline service, and give your customers greater choice.
Offer food delivery without incurring exorbitant fees. Receive orders straight to your Epos Now system and keep customers informed of their delivery's status.
Satisfy the demand for contactless ordering and takeout. Give consumers the ability to place orders and select the pick-up slots that work for them.
Maintain social distancing in your full service or quick service restaurant with at-table ordering. Let your customers browse your menu, order, and pay from the table with no download required.
No App download required
Your customers have enough apps — that's why Epos Now Order & Pay is accessible on any device with a web browser. Customers simply scan a QR code or type in a URL for a seamless mobile ordering experience.
Simple, affordable payments
Customers can make a payment using any credit or debit card, as well as Google or Apple Pay, all at a market-leading rate.
Simply scan, order, and pay
Offer customers a frictionless ordering experience.
Customers can access mobile ordering services by simply scanning a QR code or typing in a URL using any web device.
Clean, simple user experience
Drive repeat business by offering your customers a best-in-class ordering experience.
Customers can access table ordering, pickup, or delivery services from your branded profile. You can easily toggle each of these services on or off through your merchant dashboard.
Build the perfect digital menu
Customise your menu with modifiers and preferences so that customers can order what they want, exactly how they want it. Edit item descriptions and photos, add allergen and dietary information, and customise items with modifiers, preferences, and extras.
Upsell items through extras and offer promotions with timed menus and offers, bulk discounts.
Manage customer orders with ease
Receive, process, and manage customer orders through your Epos Now system. Track and fulfill customer orders as they come in, or cancel orders and issue refunds.
Provide customers with digital receipts for extra hygiene and convenience.
Why Businesses Love Epos Now + Yoello
Start taking online orders today
Sign up to Epos Now Order & Pay today, and start offering delivery, pickup, and at-table ordering through our simple mobile ordering platform.