Epos Now's bar POS: for real-time traders
Delight staff and customers alike with one-tap ordering, multichannel sales and real-time reporting so you can respond instantly on those busy Saturday nights.
$999 $139 *

The bar & pub POS system built for speed, simplicity and savings
Everything you need in one package
Our bar POS system incorporates the features you need to manage staff and safely serve your customers.
Set up, onboard, and train staff in minutes​ on an easy-to-use system
Access your business insights on staff, customers, sales and more, through any device, on-the-go​
Use standalone or connect to hundreds of apps including payment systems, accounting software and much more​
Includes Epos Now Payments Pro

card machine, secure

cash drawer and high-speed

printer

to process customer payments
Everything you need to manage your bar:
$999 $139 *
Easy to use and employees can be trained in 15 minutes
Offer seamless online ordering with Epos Now Order & Pay
Create your own branded profile on the app-less mobile ordering platform that lets customers browse, order, and pay from their phones.
Offer a low-cost food delivery service, and seamlessly manage orders from your

Epos Now system
Give customers greater choice with online ordering and collection services
Provide a fully-contactless dine-in experience with app-less table ordering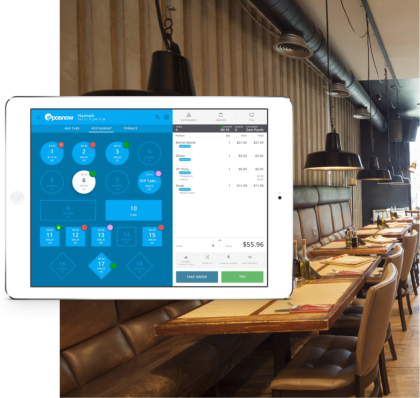 Choose a bar POS that can keep up with the demand
From working in noisy, dark rooms to cleaning up broken glass and spills, bartenders need flexibility and speed to get the job done. They need an POS that can do the same.
Spills are never a concern thanks to our water-resistant touchscreen displays

Train new staff quickly with our easy-to-learn POS

Create custom seating charts to match your bar's floorplan

Offer digital free drink chips with a customer loyalty scheme
Enjoy maximum flexibility with dynamic menu options
Did a busy night wipe out your last keg of a customer favourite? Do you offer food during certain promotions? Choose the bar POS that stays in sync with your business.
Real-time inventory will tell bartenders when bottles are empty
Add happy hour discounts or other specials with a single tap
Update your menu anytime so staff can ring up limited-time food items quickly
Split and combine bills and tabs without frustration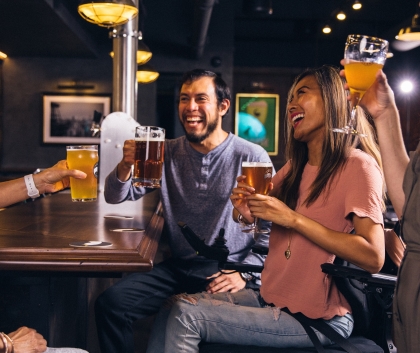 Say goodbye to the conventional bar model
With Epos Now, your customers can go downstairs, outside, or to any other bar in your building without having to close out their tab.
Payment authorisation ensures guests have sufficient funds when opening a tab
Take drink orders on the go with handheld devices
Keep customer notes so all bartenders can serve up their favourite drink
Our simple menu design lets you work faster and decrease bar wait times
Payment processing made simple
Epos Now Payments offers your business the chance to manage all sales through one perfect POS and card payment partnership. With countertop, mobile, and mobile POS options, make your sales wherever you want, at speed, on an easy-to-use system.

What's more, you can track your payments closely with detailed payment reporting and know how much you're paying as Epos Now Payments charges one simple fixed rate for all your transactions!
Award winning support team
With Epos Now, you'll never feel like you're going it alone.
We provide round-the-clock support, as well as personalised, one-on-one onboarding, and unlimited training and coaching.