Our Award-Winning POS System
Simple, secure, and powerful. Take control of your business with our award-winning POS systems. ​
Get the complete solution now and
save up to 42%
$1,699 $999* +GST
All the tools you need to trade in one POS system
Enhance customer loyalty, accept payments, and manage inventory from a single POS software.
High-definition

15.6" Touchscreen point-of-sale system

​

Wi-Fi

and ethernet enabled access to the system from multiple locations

​

Powerful

POS Software with over 100 app integrations and other add ones to create your ideal POS system tailored to your business processes
​Online ordering, delivery, collection, and multi-channel ready for an efficient inventory management
A POS system Integrated with major payment provider​s

Secure cash register

and high-speed printer to process customer payments

​

A user-friendly POS system which includes a personalized onboarding and product training to ensure your team learns about the tools and services to access the system
Why Epos Now?
Affordable point of sale
Hardware and software designed to work together in complete harmony, worth game changing features all within a budget which suits you.
Accessible anywhere
Sign in from anywhere at any time. Get access to reports and tailored insights, and make improvements to your business in real-time.
Completely flexible
Scales with your business and expands as you grow. Add devices, accessories and over 100+ integrations to take you to the next level.
The support you need, whenever you need it​
When you choose one of our POS systems, we want to assure businesses and their owners a smooth onboarding transition. Therefore, we provide round-the-clock support plans, as well as personalized, 1-on-1 unlimited training and coaching.​
Additionally, you also have access to our blog portal, where you can also read further to learn how to use a POS system and make the most out of it.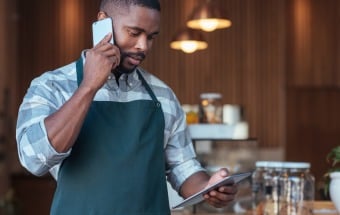 Discover how we've transformed thousands of businesses with our modern POS systems
Want to know more?
If you'd like to know anything else about how Epos Now can help your business, get in touch.
What is a POS system?

A Point of Sale (POS) system is a combination of hardware and software designed to help you run your business more effectively.

Where traditional till systems record sales, POS systems not only record this transactional information but can then generate detailed reports in response to business performance and customer data. Such insights will be beneficial to develop loyalty programs to retain existing customers.

How does a POS system work?

A point of sale, or POS, lets you make sales and take payments through one centralised system. Unlike a traditional cash register, it allows you to manage your inventory, data, staff, customer relationships, and accounting through one device that sits at the heart of your business.

What are the different types of POS systems?

There are many different types of POS systems, each designed to cater to specific business needs. At Epos Now, we offer complete POS systems, as well as tablet systems for iOS and Android. With a complete POS system, you get everything you need to trade, including a touch screen point of sale, secure cash draw, and high-speed printer.

What is the best POS system?

The POS system you choose largely depends on the type of business you own. We have tailored POS systems for retail and hospitality businesses, as well as the integrations you need to make running your business easier.

How do you set up a point of sale system?

Our POS provider is user friendly which allows the POS system to be set up and running within 15 minutes. In addition, as part of our excellent customer management, we offer a tailored onboarding process to business owners who choose our innovative POS systems. During the process, a 1-on-1 product training will also be provided by your dedicated implementation manager.

With our 10-year industry expertise supporting all business types, from small businesses to larger businesses, we always want to reassure you are supported. This is why we also provide 24/7 customer support in case you might have any query.