Use a bakery POS designed for bakers
Sieve through your business data and bake a better next batch with Epos Now's advanced stock-control system, speedy checkout software, and real-time reports.
$1,699 $999 *
The bakery POS system to boost operational efficiency
A bakery POS system built to serve
Use the latest of POS systems to increase efficiency, sell more baked goods, and grow your business.
Track products and ingredients in real time
Implement innovative payment processing to enhance customer management
Track sales, manage custom orders, and more with powerful analytical tools
Create a branded bakery loyalty program to encourage repeat buying
Run your POS software on most Windows, Apple, and Android devices
Login to your bakery at any time via remote cloud-based access
Get your bakery POS system, cash register, and printer in one bundle.
$1,699 $999 *
Easy to use and employees can be trained in 15 minutes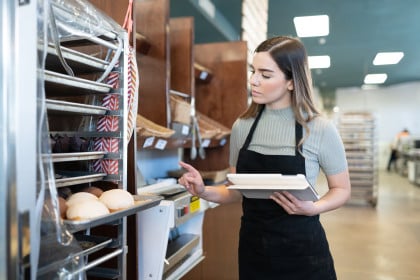 A powerful bakery POS for menu management
Bakeries offer a variety of baked goods. Build your unique menu with Epos Now POS system to create a more intuitive online ordering and payment process.
Assign ingredients to menu items, automatically deducting stock in real time for better order accuracy
Add product notes to help customers with allergies and dietary restrictions
Create combined offers through multiple-choice ordering options so your customers can personalise their online orders
Update menu changes instantly to prevent errors and ensure transparent communication
Put your customers in the spotlight
Whether you serve takeaway only or have a dine-in seating area, your bakery needs continued business to stay afloat. Connect with your customers across several channels to encourage brand loyalty.
Create in-depth customer profiles to track buying habits
Build an unique loyalty program to reward repeat ordering
Connect with marketing platforms and keep customers updated about your latest custom cakes or offers
Encourage online reviews to identify service gaps and attract new customers
Make smart decisions with Epos software management
Businesses cannot operate blindly. With Epos Now, you can create thorough reports to get a comprehensive look at your bakery.
Create and track goals with custom dashboards
Identify your best and worst-performing baked goods to guide menu management
Analyse your inventory tracking to calculate food cost and minimise waste
Evaluate employee performance when considering promotions and pay increases
Leverage the power of our extensive app store
Manage all core aspects of your business from one POS system terminal. Connect your bakery point of sale to dozens of third-party programs to maximise your business's potential.
Integrate with accounting software like QuickBooks and Xero
Send automated email marketing campaigns with Mailchimp
Build a website and sell online branded merchandise through Shopify
Take orders from anywhere with Epos Now Order & Pay
Customers have never demanded more in terms of safety and convenience. With Epos Now Order & Pay, you can take online food and drink orders through a unique app-free platform.
Create a digital menu that syncs with your inventory
All orders are sent directly to your bakery POS
Customers can track order status and schedule a pickup time
End your reliance on third-party online ordering platforms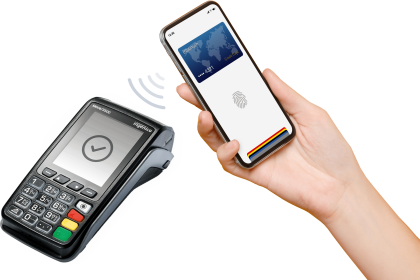 Offer your customers a range of payment options
We've integrated with every major payment provider so you can choose the right one for your business - and negotiate your own processing fees.​
Integrate with your existing, or preferred, partner today, and start offering your customers a fully contactless experience, from deposit through payment.