The ultimate online ordering platform for hospitality
Cater to everyone's preference with the ordering solution that has it all. Take-out, delivery, and pre-order, without the apps or the fuss.
Why Epos Now Online Ordering
Provide a hospitality experience that's tailored to the needs of every customer.
Save 91% on online ordering costs compared to Just Eat, Uber Eats, Deliveroo, GrubHub

Embed link straight into Facebook & Instagram to drive business via your social network

Remove human error by automating your ordering process with a seamless integration

Save an avg 30% on your employee costs
Get started with 3 simple steps
What our customers think
"Upselling has increased our revenue a lot. I would say our average spend per head was about £15 and it is now easily between £22 to £25 (~$40 to $43 AUD). So I'd say mobile ordering is the way to go and we're really encouraging people to use it."
- Scott Hibbard, Sandymouth Holiday Resort
The team at Sandymount were able to get set up with mobile ordering quickly with minimal disruption to their existing system and processes. Staff found it easy to get to grips with the additional technology, and found that they could serve more tables due to the automated nature of receiving and processing orders.
One platform, multiple solutions
A frictionless ordering experience with multiple dining options - it's only everything your customers could want.
Takeout
Let customers skip the queue with quick pickup. Customers order and pay online, then receive a notification when their meal is ready for collection.
Delivery
Provide the same excellent food, no matter where your customers are, with a 18.25% average lower delivery commission than the other ordering platforms.
Pre-order
Let customers collect at a time that suits them with pre-ordered click and collect.
The perfect digital menu
Customize your menu with modifiers and preferences so that customers can order what they want, exactly how they want it.
Edit and add item descriptions, photos, allergen information, and prices.

Create timed menus and sub-categories for special offers and varied location options.

Include important contact details, opening hours, and estimated delivery times.

Allow guests to search for specific items on your menu or by category for effortless navigation.

Multiple language options for your homepage, menu, and checkout.

Prompt tipping and gratuities with the optional round-up toggle.
Transaction fees that make sense
Serving more customers shouldn't come at a great expense.
Most third-party ordering platforms charge a commission fee of 15% - 30% + 50c per delivery. The Epos Now Online Ordering rate is only 2% + 30c per delivery.
Satisfy the demand for better payment options at the checkout. Accept all major credit and debit cards and eWallet payments at the same fixed % rate.
Lead with a link
93% of customers prefer to order via link or scan a QR code than download an app.
Become your customers' first choice for great food, easy accessibility, and convenient, reliable services by allowing them to order in a way that suits their needs.
Share your menu link on your website, online business directory, social media, and marketing communications.
Advance with automation
Digital ordering allows you to upsell with ease, increasing your customer Spend Per Head. On average, customers spend on average 30% more through online ordering platforms than they do face to face.
Upsell items through extras and offer promotions with timed menus, offers, discount codes and bulk discounts. By automating the ordering and payment process, your team is able to process more orders in less time, drive more revenue per customer, and increase overall turnover by 40%.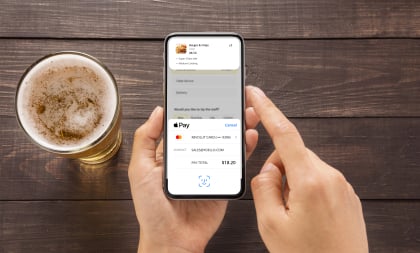 Make life simpler for your employees
By automating the ordering and payment process, employees have the freedom to turn their attention elsewhere on the floor. This means more satisfied customers in-store, lower staff costs, and better employee productivity.
Contactless ordering doesn't mean fewer rewards for staff. At the virtual checkout, customers are prompted to select their preferred tipping option. With the optional round-up feature, diners can choose to gift their spare change via an online tip jar.
Valuable data at your fingertips
Get instant access to live analytics to help you get to know your customers. All reports are interlinked with your Epos Now analytics to give you the full picture of your customer behavior. View the reports that matter to your business:
Desired date and time range

Average customer spend

Service efficiency

End-of-day order and sales

Stock reports

Promotion and special offer performance
Use this data along with your Epos Now Online Ordering loyalty and marketing tools to engage your customers so they return to your venue time and time again.
Start taking online orders today
Stay ahead of the curve by offering the solutions customers want to see. Epos Now Online Ordering allows you to cater to the needs of every guest, whether they're sitting in, staying home, or calling in to collect.
Do it all with the multi-purpose mobile ordering platform.