Pub Marketing Strategies to Empty Barrels and Fill Bars
The world is enjoying open doors again and there has never been a better time for pubs to become the hotspot on the social scene. But sitting at your empty bar, it can be hard to find the inspiration to make it happen.
What's the best way to market your space and bring in the bodies that help create a warm and friendly atmosphere? Which events are the right ones to put on for your clientele? How can you put your pub at the heart of your community where it belongs?
Pub branding 101
With so much competition, it's important to recognise which demographics your pub is targeting. Before expanding your marketing strategy and deciding which events you're going to be hosting, it's crucial to know which kinds of people you want to attract. Student pubs, sports bars, real ale pubs, pubs in older or younger communities and pubs targeting music lovers: all of these will be more appealing to different parts of the market.
If the right selection of events are chosen, you should be able to attract a variety of these groups to your pub on different nights, building valuable customer bases in different parts of the community.
Building your pub's identity is serious business and can have big ramifications. The location of the pub and the space you have to work with can make certain kinds of events easier to run. So choose your pub decor carefully.
For instance, noise pollution from live music may be more disruptive because of where the pub is, so a rock music theme would be misleading. You'd also need to consider if similarly themed pubs are in the area, or if the kind of entertainment you're interested in providing is popular in the community.
With a dedicated EPOS solution for pub and bars, Epos Now technology has the perfect hardware and software options to suit your needs:
Choose from mobile and fixed terminals, build a site-wide printer network, and benefit from a co-ordinated hardware system
Select your favoured apps from the hundreds available to create a bespoke set up for marketing, accounting, booking, management and much, much more
Control your business with ease using simple staff management, speedy inventory control, streamlined pricing structures on flexible software
Pub entertainment ideas: a few staples
There are several evening events that most publicans will be very familiar with. They are often hosted by a large number of pubs on similar evenings and can bring in a steady, familiar clientele. Businesses can rely on the dependable income they bring.
Karaoke and open mic nights
So far as staple pub night ideas go, karaoke is as traditional as it gets. Inviting guests to belt out their favourite hit often leads to a night of Dutch courage and laughter, both of which are valuable in any pub.
Karaoke is by nature atmospheric and engaging. Combined with the broad appeal across different ages and interests (and certainly vocal abilities), this could expand your appeal to every part of the community and can often brighten up one of the quieter nights of the week. For this reason, many pubs run karaoke nights on Sunday or Monday nights, though they can be wildly popular on any night of the week.
Open mic nights can be similarly riotous, with renditions of popular songs turning the house into an uncoordinated, often out-of-tune choir. They can be relaxing mid-week evenings that provide pleasant background music to a social gathering. Different brand identities and performances can make these very different experiences. Choosing when and how to run such an event can be difficult, but is certainly another great way to liven up quiet evenings.
Both karaoke and open mic nights can bring with them a large number of regulars that attend these events in numerous locations. Becoming part of "the circuit" can help put your pub on the map for these musical devotees, making such events a fine addition to your entertainment calendar.
The pub quiz and boardgame bar activities
For less noisy and disruptive events on slow evenings, pub quizzes and board game nights are dependable ways to bring in a crowd.
Pub quizzes can provide a lively alternative to music events but still have devoted attendees that will attend many trivia nights on a monthly circuit. While they can be time-consuming to compose, there are professional quizmasters that can be hired at affordable prices to host events leaving you free to cash in from behind the bar.
The board game industry has been revitalised through the pandemic[1]. Younger and older generations can often be seen enjoying every manner of boardgame, and board game cafes are popping up all over the place. Pubs are well placed to benefit from this, and landlords in possession of a board game collection can use these as an alternative to the pub quiz, or even as an ever-present day-time attraction.
Other pub event ideas
While putting on gigs rarely fails to bring in a crowd, there is a variety of other tried and tested ways of bringing the crowds into the pub.
BOGOF (buy one get one free) cocktails and happy hour drink offers can bring the joyful drinkers through the door by providing offers on drinks themselves. For pub restaurants, speciality food evenings like Chinese or fish and chip night (or something a little more experimental) can appeal to families, couples on a date night, and food lovers alike.
Sporting events live on television can pack pubs, whether you're a sports bar or not. Certain events, like the world cup of a popular sport, will be watched by those who often ignore the sporting world. Having a big screen and the necessary license for such moments can be a valuable asset for your pub.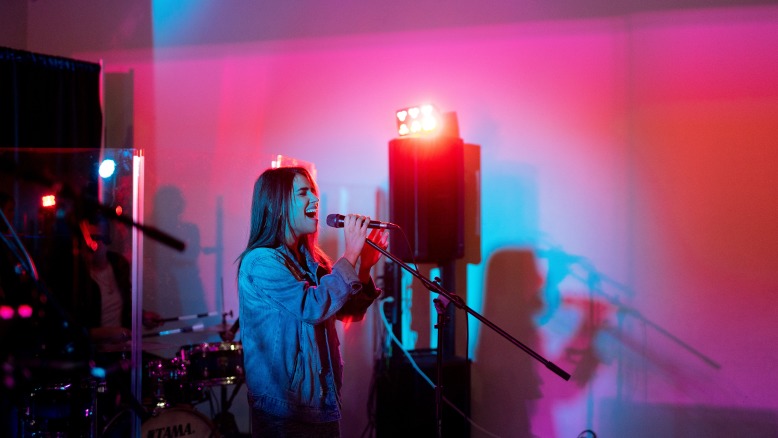 How to make a pub busy: be loud, lively and local
Most pubs run their own events, and so will be in competition for those drinkers who step out in the evening. This means you need to choose not only the right bar event to host but also to market your bar in the right way and make sure everybody knows about it.
To coordinate your bar marketing strategy, arrange events well in advance to give you time to advertise them. A monthly events post on social media, with printer copies on every table can ensure that those who visit you have the chance to find out about your theme nights and open mics.
Having an online presence via social media allows people to follow your pub. Posting about what you're doing each night can help lure people inside and maintain customer relations, so digital marketing is a huge part of running your business. Engaging with the community outside the pub help make you a loud voice in the community, which brings with it good publicity. This can be a key part of your pub's brand.
A website with your events and special offers can ensure that search results for local businesses bring your pub up to the top of the page. Ensure you're on Google Maps by using Google Business and encourage visitors to give you positive Google Reviews so those thinking about visiting hear about the fantastic experiences others have had.
Do pub promotion the easy way with Epos Now
Getting the most out of your business has never been easier for those using Epos Now's dedicated pub system.
Updating products and managing inventory can be completed in moments with smart, streamlined software, while queues can be kept to a minimum with lightning-quick transaction capabilities and an integrated card processing system.
Epos Now provides:
Time-saving integrations for

marketing, accounting, and online ordering

A range of

hardware

products to build a sales process to suit your needs

Detailed data on your business's performance through hundreds of

reports

Cloud technology

gives you easy, secure access from absolutely anywhere
Get in touch by submitting your details below to find out more about a dedicated pub and bar EPOS system.
Choose an EPOS trusted by 40,000 businesses and the very best pubs and bars