Our best Brewery POS that keeps the drinks flowing!
Say cheers to smooth transactions, quick drink service and real-time reporting! Our top-of-the-line brewery point of sale (POS) system helps your craft beer business thrive.
NOW €0 upfront*
The brewery EPOS system built for savings, service, and speed
Benefits of a brewery POS system
As a brewery owner, you don't settle for generic brews. So don't let your till system be any different.
A reliable brewery POS system can speed up sales, effortlessly manage inventory, give real-time data insights and more. Choose a system that helps you:
Customise your system for your needs - easily add marketing, loyalty and accounting integrations
NOW €0 upfront*
Real-time inventory management
Running a brewery can be a tricky business, but real-time inventory tracking is changing the game! This clever technology helps to prevent stock shortages or overstocking, which can lead to unnecessary waste and lost revenue.
Track sales automatically.

Have automated stock alerts and low stock level notifications.
Integrate your inventory with accounting software to streamline financial records.
Have instant stock availability, able to recommend alternatives to customers immediately
All these features stop precious beers from going to waste and make sure happy guests enjoy every last drop.
Use a mobile POS to suit your brewery business
In a brewery setting, a mobile POS system like the Epos Now Pro+ and card machine can be essential to enhance the efficiency of your brewery business.
Process customer payments tableside which will improve wait times and table turnover
Reduce errors in order taking for better customer satisfaction
Streamline back-end operations to improve communication between employees and management
Streamline your brewery service operations
A POS system provides real-time reporting data on sales, inventory, and customer behaviour, allowing brewery owners to make data-driven decisions including:
Updating menu items based on product performance
Tracking sales trends to adjust pricing or marketing strategies
Identify ways to improve operational efficiency to maximise profitability
With just a few taps on your phone, you can access real-time data from anywhere in the world thanks to our cloud-based POS systems and instantly pinpoint areas for improvement.
Make payment processing a breeze for your brewery
The Epos Now Payments integration allows you to offer your customers a quick and reliable checkout experience. Accept all major payment types including cash, debit cards, and digital wallets (such as Apple Pay, Google Pay and Samsung Pay).
Epos Now Payments ensures an efficient checkout process for both customers and merchants. Process transactions quickly and verify customer information instantly. Give your customers a secure and speedy checkout experience from any mobile device - cheers to that!
Save time with the all-in-one Pro+ POS software and card terminal, or choose from our Epos Now Payments range.
Integrate powerful apps into your brewery pos system
Epos Now POS systems integrate with dozens of handy apps from the Epos Now AppStore, including loyalty programs, accounting systems, and marketing tools, allowing craft breweries to:
Create targeted email campaigns to keep your customers coming back for more using apps like Mailchimp
Integrate with Epos Now online ordering to increase convenience and accessibility
Communicate special offers, such as happy hours, to retain your customers
Centralise all your finances using accounting tools such as Xero or Quickbooks
The support you need, whenever you need it
Got a question about your point-of-sale system? Our support team has got your back! Our technicians are always ready to jump in and lend a hand whenever you need it, with our 24/7 support.
Included in your support are personalised training sessions to get you up and running with your POS solution as quickly and easily as possible. And if you're just looking for some quick tips, our helpful support portals are just a few clicks away.
At Epos Now, we're passionate about making sure that you're happy with our service every step of the way. So don't hesitate to reach out if you need anything - we're here to help!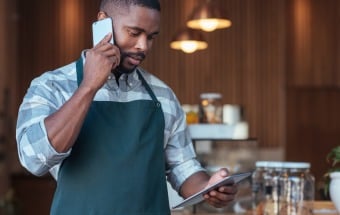 What features do Epos Now's point of sale solution offer?

The booming popularity of breweries has brought exciting new brews and a bustling industry. But with growth comes the need for efficient and streamlined operations - that's where a top-of-the-line point of sale (POS) system comes in.

Our cloud-based POS solution is here to take your brewery business from good to great!

Inventory management

Real-time sales and data analytics (that go far beyond the charts and graphs you're used to seeing)

Eliminating mistakes from manual keyed-in entries

Powerful EPOS software that integrates with dozens of your favourite apps ​

Online, delivery, collection, and multi-channel ready

Integrated with major payment provider​s

Plus a reliable transaction system

Our Complete Solution includes the following hardware too:

High-definition 15.6" touch screen point of sale system​

Wi-Fi and ethernet enabled​

Secure cash drawer​ and high-speed printer​

On top of that, our software works with over 130+ apps from our Epos Now AppStore. This means you can integrate with your favourite programmes, like Mailchimp, Shopify, Xero, Quickbooks, and customise your system to suit your business needs even more.

Get ready to superpower up!

Is this software easy to use?

Yes! Our POS solution was designed with the user in mind and is intuitive to use. We offer one-to-one, personalised onboarding to set your new POS system up, to get you up to speed quickly.

Our onboarding provides step-by-step guidance on how to use the features available in our system.

Want to train your staff on how to use our system? Great news - it takes less than 15 minutes!

Our solution offers an intuitive interface, making it easy for you and your team to navigate. You can set different levels of access for your staff too, keeping everything secure and easy-to-use.

Plus, our support team is available 24/7 to provide assistance and answer any questions you may have.

With our cloud-based POS solution, you can focus on providing excellent customer service and growing your business, knowing that your technology is working for you.

How secure is an Epos Now POS system?

Security is of utmost importance to us and we take it very seriously when it comes to customer data safety.

Our platform employs several layers of security protocols, such as encryption technology. This is to ensure all sensitive data remains safe from unauthorised access - your business data is safe with Epos Now!

Furthermore, our cloud-based infrastructure makes sure that only authorised personnel can access customer data or make changes within the back office system. This is done by assigning unique pin codes or swipe cards to staff members to reduce the risk of theft or fraud.

We also conduct regular product updates to ensure that our platform remains up to date with the latest security measures and industry standards. With our robust security features, you can rest assured that your customer's data is protected.

Does Epos Now's software integrate with other systems?

Yes! Our user-friendly POS solution can be integrated with other third-party systems, accounting software packages, marketing platforms, and more - and of course with other Epos Now devices!

We strive to provide our customers with a more comprehensive system for managing your business operations more efficiently and effectively. In Epos Now's AppStore we offer more than 130 available apps to integrate with your POS system according to your business needs.

By integrating your system with Epos Now payments, our POS solution can help you save time and reduce errors by eliminating the need for manual data entry and synchronisation across multiple platforms.

Additionally, our solution provides real-time data syncing, ensuring that your information is always up-to-date and accurate. This results in better decision-making and a more efficient business operation.

How much does Epos Now's brewery POS solution cost?

Our pricing plans are flexible and tailored according to our customers' needs based on your business size and industry type - from microbreweries to contract breweries and everyone in between! We don't have a one size fits all approach when determining pricing plans, but our sales team is on hand to help refine your POS solution to meet your specific brewery business needs.

We also take pride in offering transparent pricing with no hidden fees. Contact us today for more information about our pricing plans so that we can customise one specifically for you and your business needs!