Use a bakery POS designed for bakers
Sieve through your business data and bake the next batch better with Epos Now's advanced stock-control system, speedy checkout software, and real-time reports.
NOW €0 upfront*
Cut wastage by 60% in your kitchen with the Epos Now kitchen display system.
From dough to Danish, the Epos Now Pro+ and card terminal saves staff 4,104 steps every day.
Get a 48% faster delivery time and increase your revenue by 25% by adding Epos Now Delivery.
The bakery EPOS that boosts speed, efficiency and service
The best POS system for any baking business
Epos Now's state-of-the-art bakery POS software works to provide everything you need to boost customer retention, increase efficiency, and maximise profit - making our solution the best bakery POS system on the market for any business.
From compiling branded bakery loyalty schemes​ and accessing detailed sales reports to getting real-time reporting on customers, best-performing products​ and more, our complete POS system has everything you need to manage your hospitality business with ease.
NOW €0 upfront*
Easy to use and employees can be trained in 15 minutes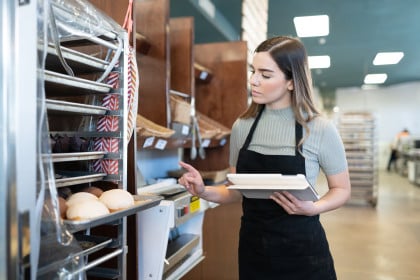 Decorate your POS system with award-winning accessories
Whether you specialise in school bake sales or banquet pieces, not having a bakery POS system can cause your business to sink. At Epos Now, we provide a solution that will meet your bakery's needs, regardless of your store's size.
While the best POS for bakery consists of a touch screen EPOS terminal, cash drawer, and printer (all included with Epos Now's Complete Solution), our wide range of award-winning hardware accessories is the icing on the cake.
From debit/credit card readers to customer-facing displays, Epos Now's integrative add-ons allow you to shape our solution to the specific needs of your large or small business.
Prove payment flexibility with Epos Now Payments
Epos Now Payments offers full payment flexibility for your bakery. Accept all payment methods at one fixed rate to improve customer service and grow your business.
Take payments from every major credit and debit card provider to give your customers a wide range of options. Then, view consolidated payment reports for a complete financial overview.







Keep customers sweet with uncomplicated customer relationship management
Whether you serve takeaway bakes or only have a dine-in seating area, your bakery needs repeat custom to stay afloat. With Epos Now's POS system for baking businesses, you can easily encourage brand loyalty with a range of CRM features.
From creating in-depth customer profiles and tracking buying habits to building unique loyalty schemes and sending time specific marketing messages, Epos Now's complete solution provides the tools your business needs to keep customers coming back.
Rise above the competition with detailed reports
With Epos Now, your POS system syncs analytics from every aspect of your bakery and creates comprehensive reports to give a clear picture of your business. Our bakery EPOS system optimises your operations with a range of tailored tools.
From following product performance and tracking personalised goals with custom dashboards, to omnichannel inventory management and employee evaluation, Epos Now's Complete Solution provides everything you need to stay on top of business.
Mix business management up with the Appstore
Take advantage of over 100 business app integrations through the Epos Now AppStore.
Whether you want to integrate with accounting software like QuickBooks and Xero, send automated email marketing campaigns with Mailchimp, or build web pages to sell through Shopify, you can combine your bakery point of sale with dozens of third-party programmes to maximise your business's potential.