The Complete Solution
NOW €0 upfront*
Till | Cash drawer | Printer | Payment terminal
Limited time offer
6 Days : 23 Hours : 59 Minutes : 26 Seconds
Everything in one package
Our EPOS system enables you to adapt, gain new customers, increase profit and remain future-proof.​
Set up, onboard, and train staff in minutes​
Online, delivery, collection, and multi-channel ready​
Access your business insights through any device, on-the-go​
Real-time reporting on staff, customers, sales, margin, and stock​
Use standalone, or connect to hundreds of apps, including payment systems, accounting software, and much more​
Everything you need to trade now only:
NOW €0 upfront*
Operate on your terms, with the power of the cloud​
Leverage actionable insights
Use smart insights and reports to reduce costs, save time and boost profits
Manage your business anywhere
Access your business in real-time, from any device
Reach customers where they are
Get more sales with remote ordering, collection, website integration and delivery
Flexible EPOS solutions built for your industry
EPOS solutions for every kind of sale
Reach even more customers online, at any time
Sell online or instantly offer collection and delivery to stay connected to your customers 24/7.​
Gain new customers and revenue streams​
Synchronise your online and physical locations​
Connect to world-class eCommerce, food delivery platforms & more

Offer safety and convenience with Click & Collect services

Connect to over 100 apps, including leading accountancy software, CRM tools and more

Easily compete with online giants and remain future-proof
Offer your customers a range of payment options
Epos Now Payments delivers fast, functional payment solutions that connect seamlessly with your point of sale. Safely accept chip and pin, contactless and remote payments from all major credit and debit card providers at one fixed rate.
We make payments simple with easy onboarding, clear pricing, and a single service team for all your support.




The support you need, whenever you need it​
With Epos Now, you'll never feel like you're going it alone. ​
​We provide round-the-clock support, as well as personalised, one-on-one onboarding and unlimited training and coaching.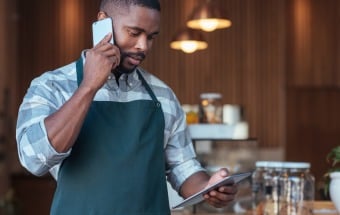 The smart EPOS solution, used by 55,000 even smarter businesses​
Frequently Asked Questions
If you'd like to know anything else about how Epos Now can help your business, request a callback or read our frequently asked questions.
What is EPOS?

Electronic Point of Sale (EPOS), sometimes referred to as Point of Sale (POS), is a combination of hardware and software designed to help you run your business more effectively. Where traditional till systems record sales, EPOS systems not only record this transactional information but can then generate detailed reports in response to the input data.

Where is data stored in an EPOS system?

Our EPOS system stores all of your data securely in the cloud so that you can access it anywhere and from any device.

How to set up an EPOS System?

Our Epos Now Point of Sale system is easy to set up so you can be up and running within 15 minutes, guided by your dedicated implementation manager.

How much do EPOS Systems cost?

The cost of an EPOS system varies between providers, but Epos Now's complete point of sale systems start from €0, or €29 per month, and include everything you need to be up-and-running in as little as 15 minutes.

What is the best accounting and EPOS software?

Accounting software and EPOS software are separate entities but with an Epos Now POS system, you can integrate with your chosen accounting software provider like Xero, Quickbooks or Sage seamlessly.