Payment processing services made simple
Take payments at one fixed rate - anywhere, any time.
Payments designed for your business
Our payment processing service seamlessly integrates into your retail or hospitality point of sale system.
Get everything from a single portal, all managed by one payment provider.
Offer customers their preferred payment option and accept payments at one fixed rate.
Process payments quickly and efficiently with Epos Now Payments.
Create and enhance your experience with our wide range of partners in the AppStore.
Satisfy more customers with fast, secure payment methods
Keep up with consumer demand by accepting the most wanted payment services on the market. You can accept a range of payment options, from online payments, pay via digital wallet, or link.
Chip and pin
Chip and pin payments reduce fraud by adding a layer of security to transactions.
Contactless
Offer a faster, more convenient checkout process when customers pay with contactless.
Remote payments
Card not present? No problem. Securely accept remote payments via link.
Leverage powerful payment reports to learn more about your business
As a small business owner, you need a 360-view of your business to make informed decisions. With merchant account reporting, you can:
Access detailed payment reports and track all transactions at the touch of a button.
Get a full overview of your cash flow and simplify bookkeeping with automated reports, saving you precious time, eliminating human error and avoiding costly mistakes.
Get real-time insights to help you make decisions about inventory, finances, how much staff get paid, and more.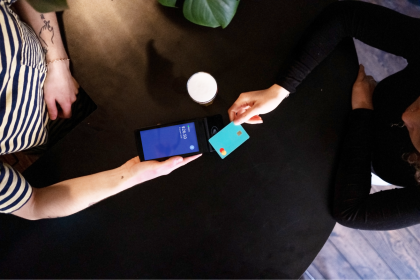 No hidden fees or complicated setups
We believe in complete transparency which is why there are no hidden fees or long-term contracts with Epos Now Payments.
Apply for payments via your Epos Now account, complete the security checks, and you're ready to take payments.
Pay one low, flat rate for every card type including American Express, making it easy to budget for your payment processing service costs.
No need for a separate merchant account or payment gateway – we provide everything you need to take payments quickly and easily.
The tools you need to grow
Accept payments anywhere, anytime. With multiple connectivity options, fixed and portable card readers, and all-in-one handheld systems.
The Link card reader

will satisfy your need for a secure connection and almost-instant payments. With ethernet connectivity, there's no need to charge or worry about an outage.

Pro card readers are 4G and WiFi-enabled payment processing solutions that seamlessly integrate with Epos Now software. Access reports, serve customers, take payments, and print receipts from a single, wireless device.
Accept all major payment types including credit and debit cards, digital wallet payments, and contactless payments. Our terminals are EMV compliant and support Apple Pay and Google Pay.
Pair your card terminals with new Epos Now accessories
Make payments a breeze with these NEW, indispensable Epos Now accessories for your Pro, Pro+, or Link devices.
Charge your mobile device with the Pro/Pro+ Charging Dock. Free your staff from the countertop and increase their productivity.

Protect your card machine from damage and theft with the Epos Now Terminal Stand. Mount your Link card terminal for a perfect payment experience.
A single service team with global reach
A payment process made easy by unrivaled support from our team. Whether you're calling about debit card payments, credit card payments, connectivity, or reporting, we provide you with the assistance you need.
No more calling multiple parties, we'll take care of it all.
Unrivaled support for your business when you need it
Global 24/7 telephone and email support is available whenever you need it, with multilingual teams on hand to offer assistance in your language.
Safe, secure, compliant payments
Our payment processor is used by thousands of retail and hospitality businesses across the globe. With over 10 years of experience in cloud-based EPOS systems and integrated payment solutions, we're one of the world leading payment processors. Our award winning, trusted payment solutions can help your business to save time and money.
All Epos Now Payment terminals are PCI compliant by default through our innovative encryption technology. This guarantees the safety and protection of you and your customers at all times. With proven reliability, we're ready to help you serve your customers when you are.
Want to know more?
If you'd like to know anything else about Epos Now, get in touch.
How do payouts work?

All transactions are collected at the end of the day and are paid out on the next day (excluding weekends and bank holidays).

What credit cards and banks are accepted?

All major credit and debit cards are accepted. This includes Visa, MasterCard, American Express, Discover, JCB, and UnionPay. Payments can be made via eWallets for the same rate, including Apple Pay, Google Pay and Samsung Pay.

Is Epos Now Payments compatible with iOS and Android tills?

Yes, Epos Now Payments is compatible with both iOS and Android tills.

What types of financial reports are available?

Use your Back Office portal to view all transactions in a single place including individual transactions, insights and payouts. Check when payments are processed, and when the funds will reach your bank account. Access everything in one place and manage your cash flow easily.

Integrate with common accounting platforms via our Epos Now App Store to speed up your financial reporting.

How do payment processing fees work?

Epos Now Payments charges a single fixed rate, no matter the card type. There are no additional charges such as authorisation or PCI compliance fees. Enjoy the transparent payment processing services.

Charges per transaction - no hidden fees

Card payments = 1.70%*

Customer refunds = free

Additional hardware fees apply, talk to us about options to support your business.

*We offer custom pricing options for larger businesses, please get in touch for a personalised quote.

Does Epos Now Payments cater to businesses outside of the UK?

Yes - we're a payment processing company that operates globally. We offer payment processing services in multiple currencies so you can sell to customers around the world.