The pizza shop POS that's fast, reliable and saves you time
Bake something brilliant with our pizza shop POS. Customise your till system with delivery apps and order management to make your business work for you.
NOW €0 upfront*
Take a slice of freedom with Epos Now Payments and save 4 hours on sales every month.
Cut complimentary meals by 60% with the Epos Now Kitchen Display System.
Get a 48% faster delivery and increase revenue by 25% by adding Epos Now Delivery.
The pizza POS system that offers speed, simplicity, and savings
The best POS system for any pizza restaurant
Epos Now's state of the art pizza POS software works to provide every topping you need to reach new customers, boost efficiency, and maximise profit — making our solution the best pizza POS system on the market for any business.
From onboarding staff in minutes​ and accessing detailed sales reports to getting real-time reporting on customers, sales, stock​ and more, our complete POS system has everything you need to manage your hospitality business with ease.
NOW €0 upfront*
Easy to use and employees can be trained in 15 minutes
Top your business off with award-winning accessories
Whether you run a large or small business, not having a pizza POS system can cost you, so at Epos Now we provide a solution that will meet your needs, regardless of your business' size.
While a touch screen EPOS terminal, cash drawer, and printer are included with our point of sale system, our wide range of award-winning hardware accessories, including debit/credit card readers, printers and customer-facing displays, allow you to tailor our solution to the specific needs of your business.
Fire up productivity with a point of sale system
Designed to withstand the heat of the kitchen, our pizza restaurant POS system streamlines your business, syncing your orders straight to the chefs, so you can maximise the number of orders you roll out.
Our powerful point of sale system syncs with a handheld device to take orders so you can easily manage peak times, and put more focus into preparing your pizza; POS iPads, as well as Kitchen Display Screen systems, help get your front and back of house working in sync.





Stretch your profitability with Epos Now Payments
Epos Now Payments offers full payment flexibility for your pizza shop. Accept all payment methods at one fixed rate while increasing security and customer service.
Take payments from every major credit and debit card provider to give your customers a wide range of options. Then, view consolidated payment reports for a complete financial overview.
Seamless remote ordering that delivers
With our award-winning POS system, pizza delivery becomes a breeze. Simply create a branded digital menu for your pizza shop on our mobile ordering platform, Order & Pay lets your patrons pick their pizza, and pay from their phones.
At Epos Now we care about the customer experience. As a result, our POS system is made to optimise your order management.
Enable your business to offer fully-contactless dining and takeout experiences, as well as personal delivery and pickup services that let customers place orders and select pick-up slots that work for them.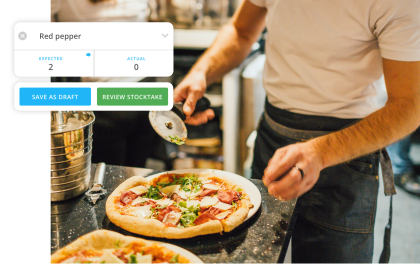 Slice your waste production with simplified stock control
Leverage our advanced inventory management software to save time and maximise your stock visibility. Epos Now's complete solution lets you manage your stock in real-time, right down to the ingredient level.
Inventory management features include automatic food purchasing orders so you never run out of the ingredients you need, as well as omnichannel access which lets you manage your stock across multiple locations, no matter where you are.