Sandwich crafting made simple: the ultimate deli POS system
Fresh food deserves a fresh POS system - Our deli POS system allows you to take orders quickly and deliver speedy service for your hungry customers.
NOW €0 upfront*
Smart solutions for deli efficiency
An all-in-one solution for all your deli business needs
Serve fresh treats in no time with an easy-to-use deli POS system designed to speed up orders and keep your customers happy. All the features you need in one modern solution.
Keep your stock under control with powerful inventory management - including automated stock takes and purchase orders.
Offer online ordering to satisfy all tastes and preferences.

A POS system that expands your business with multiple location syncing.

Easily process payments with multiple payment options.
Track sales with real-time data and reports.
Access your deli POS system anytime, anywhere, via the cloud.
Get everything you need to start selling, including a cash till and printer.
NOW €0 upfront*
Expand your deli's reach with a delicious delivery
Are you struggling to reach new customers?
With Epos Now's deli POS software, you can seamlessly integrate Epos Now Delivery and set up major food ordering platforms like JustEat and Deliveroo.
57% of consumers order takeaway three times a week. And, they're waiting for your deli to join the trend and offer delivery services.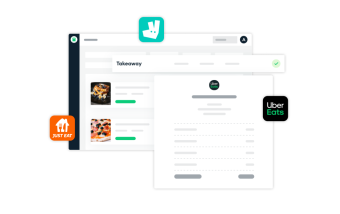 Take stock in minutes with powerful deli pos software
Picture this: it's a busy lunch rush at your deli, and your customers are lining up out the door. Track your stock levels accurately and effortlessly with Epos Now's inventory management system, designed specifically for deli owners.
Get real-time insights into your inventory levels and menu items, so you can make informed decisions about what to stock and what to feature on your menu.
Never run out of ingredients again with automatic low-stock alerts and purchase orders.
Import new items and easily edit your inventory levels, all from a cloud-based system that allows you to monitor your stock levels from anywhere.
Sync your inventory levels with every sale, giving you better control over your menu and helping you maximise profits for your deli.
Run your deli like a boss with Epos Now's App Store
Our suite of leading applications makes managing everything from customer loyalty programmes to accounting easy.
Offer seamless online ordering with Epos Now Order & Pay
Customers want a convenient and contactless way to order and pay for their food in sandwich shops. But, your deli doesn't have a streamlined system in place. You risk losing customers who don't want to wait in long lines or handle cash, leading to missed sales opportunities and a decrease in revenue. With Epos Now Order & Pay, you can offer your customers a seamless online ordering experience.
Create a branded profile for your deli on the mobile ordering platform

Provide a fully-contactless dining experience with app-less table ordering

Offer delivery and pickup services, all managed through your Epos Now system

Let customers place orders and select pickup times that work for them, increasing convenience and satisfaction

Boost sales and revenue by offering a convenient and user-friendly ordering system.
Payment processing services made simple
Epos Now Payments offers all the advantages of the latest payment technology with the very best transaction rates.
Become one of the thousands of businesses already making payments simpler and add Epos Now Payments to your customised POS solution.
Stay stress-free with our 24/7 customer service
With Epos Now, you'll never feel like you're going it alone. ​
​We provide 24/7, round-the-clock support for your retail POS systems, as well as one-on-one onboarding and unlimited training and coaching.
Frequently asked questions
What is a deli pos system?

Deli POS systems are software and hardware specifically designed for deli businesses. It's a tool that helps small business owners manage their day-to-day operations, including inventory, sales, and customer management. With a deli point of sale system, you can easily ring up sales, track inventory levels, and manage customer data all in one place. It's a valuable investment for any deli business owner who wants to streamline their processes and improve their bottom line. Whether you're a startup or an established business, a deli POS system can help you save time, increase efficiency, and provide a better experience for your customers.

What's the best hardware for your deli?

Several hardware components are essential for a smooth and efficient operation in a deli. One important piece of equipment is self-service kiosks, which can be used for order placement and payment. These user-friendly kiosks help reduce wait times, making them a popular choice for many delis. Scanners are also important for quick and accurate inventory management, allowing you to easily track your stock levels. Additionally, receipt printers are necessary for printing out receipts and order tickets, ensuring that your customers receive their orders correctly. These hardware solutions allow your deli to run more smoothly and provide a better customer experience.

What are the best deli POS integrations?

Deli POS integrations can improve the efficiency and profitability of deli businesses. Some of the best deli POS integrations include online ordering, delivery management, loyalty programs, and marketing tools. With an internet connection, deli owners can seamlessly manage orders from multiple channels and offer a more personalised customer experience. These integrations can also provide insights into customer behaviour and purchase patterns, allowing deli owners to make informed business decisions. By automating processes and offering convenient solutions, deli POS integrations can help deli owners save time and money while increasing customer satisfaction.

How can Epos Now Payments help your deli?

Epos Now Payments is a payment processing service that seamlessly integrates with your point of sale system. With Epos Now Payments, you can process payments and accept payments through various methods, including debit and credit card processing, contactless payments, and more.

Plus, you'll only have to pay one fixed rate for all transactions, making managing your payment processing costs easier. All payment processing is done through one provider, so you won't have to worry about dealing with multiple companies for your payment needs.

What's the best way to manage deli inventory?

A modern POS system is a great solution for deli businesses to manage deli inventory. With a deli POS system, staff can add inventory and assign stock to products, and other services offered at the deli.

When a product is used, the POS system automatically deducts the items used from the inventory. This helps deli owners to keep track of stock levels and easily reorder supplies when needed, ensuring that clients are never disappointed due to a shortage of products. The system streamlines inventory management, making it easy for salon owners to keep track of stock levels and ensure they always have the necessary supplies.