The complete solution
WAS $999, NOW FROM $139*
Till | Cash drawer | Printer | Payment terminal
Limited time offer.

Save up to 86%!
7 Days : 19 Hours : 4 Minutes : 49 Seconds
Everything in one package
Our POS system enables you to adapt, gain new customers, increase profit and remain future-proof.​
Set up, onboard, and train staff in minutes​
Access your business insights through any device, on-the-go​
Real-time reporting on staff, customers, sales, margin and stock​
Use standalone, or connect to hundreds of apps, including payment systems, accounting software, and much more​
Screen, printer, cash drawer and Pro payments terminal. Everything you need to trade now only
WAS $999 NOW $139
Operate on your terms, with the power of the cloud​
Leverage actionable insights
Use smart insights and reports to reduce costs, save time and boost profits
Manage your business anywhere
Access your business in real-time, from any device
Reach customers where they are
Get more sales with remote ordering, collection, website integration and delivery
Flexible POS solutions built for your industry
Payment processing made simple
Accept a range of payments at one fixed rate with Epos Now Payments: the flexible way to take card payments.
With a POS and payment system that seamlessly integrate, Epos Now Payments provides you with a simple, clear payment solution. Process payments quickly, easily track all transactions with detailed reporting, and know more about your business.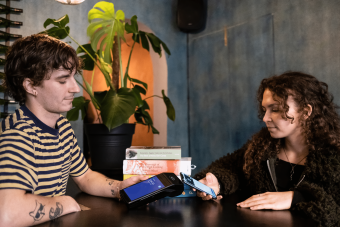 Reach even more customers online, at any time
Sell online or instantly offer collection and delivery to stay connected to your customers 24/7.​
Gain new customers and revenue streams​
Synchronise your online and physical locations​

Offer safety and convenience with Click & Collect services

Connect to over 100 apps, including leading accountancy software, CRM tools, and more

Easily compete with online giants and remain future-proof
The support you need, whenever you need it​
With Epos Now, you'll never feel like you're going it alone. ​
​We provide round-the-clock support, as well as personalised, one-on-one onboarding and unlimited training and coaching.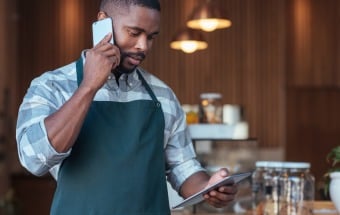 The smart POS solution, used by 63,000 even smarter businesses​
Frequently asked questions
If you'd like to know anything else about how Epos Now can help your business, reach out to our team or read our frequently asked questions.
What is a POS system?

POS stands for Point of Sale, which is a combination of hardware and software designed to help you run your business more effectively. Where traditional till systems record sales, POS systems not only record this transactional information but can then generate detailed reports in response to the input data.

But POS systems do more than generate reports. They also speed up management of products, inventory, staff, customers, and help you keep queues short by making sales easier than ever!

Do I need a POS system?

Your business can benefit from a POS system if you need tools to nurture and grow your business, such as customisable insights, inventory management and integrations with many apps. Some point of sale systems are designed for the hospitality and retail sectors, coming with scales, kitchen displays and handheld devices. If you want to stay competitive and have total control over your business, a POS can help.

What does a POS system do?

Unlike traditional cash registers, POS systems perform a wide range of functions, including inventory management, sales reporting, staff management, barcoding, customer relationship management and payment processing.

How does a POS system work?

A POS system connects to the internet and integrates with payment providers to process cash and credit/debit transactions. It also stores all of your data securely in the cloud so that you can access it anywhere and from any device.

How to use a POS System?

Point of sale systems are easy to set up for the most part. If you can use a smartphone or tablet, then you will have no trouble operating a POS system. When you choose a company like Epos Now, you can train your staff and be up and running within 15 minutes.

How much does a POS system cost?

The cost of a POS system varies between providers. Some companies will charge you nothing but take a percentage from each transaction. Others may charge you an upfront fee to buy the system outright. If you add app integrations, you could pay an added monthly fee. The Epos Now complete Point of Sale System starts from $139 or per month* +GST