Payment processing services made simple
Take the stress out of payment processing, with no hidden fees and clear rates on all transactions with Epos Now Payments.
Make payment processing work for you
No missed revenue
Save up to £150 of missed revenue a month thanks to pain-free transactions
Time saving service
Eliminate key-in transactions and save 4.5 hours a month with automatic reporting
Terrific card transactions
Save yourself money and process all card payments for one flat fee
A payment processor designed for your business
Our payment processing service seamlessly integrates with your existing Epos Now point of sale (POS) system. Do business all from one payment gateway, including:
Accept credit or debit cards, contactless, cash, Apple Pay and Google Pay and more. Give your customers a payment experience that's both easy and convenient!

Enjoy one fixed rate for all card transactions

Speed up service times with lightening-fast transactions
Use powerful payment reports to master your business
Effortlessly stay on top of the financial health of your business. Get a clear picture and gain valuable insights with extensive merchant account reports using Epos Now Payments.
Track all transaction fees and get detailed automated business reports through one payment gateway. With automated reporting, your POS system builds your reports as you do business.
Be empowered to make well-informed decisions that drive your business forward. Our reports use up-to-the-minute data, including everything from recurring payments to bank transfers.
Transparent pricing with no hidden costs
We have complete transparency with our payments customers, with no hidden fees and an easy-to-use system.
Apply today for Epos Now Payments from your Epos Now account, complete the security checks, and start payment processing

Simplify the credit card transaction process by paying one flat rate on all sales

No need for a separate merchant bank account or payment gateway, Epos Now Payments provides everything you need to accept payments
A safe and secure payment gateway
Our payment processors are trusted by thousands of businesses around the world. With over a decade of experience in the POS industry, it's important that our customers feel secure when they trade.
As a payment processor, we take security seriously. Using sophisticated encryption technology, our payment terminals meet all PCI compliance rules by default.
Thanks to our PCI compliance, Epos Now Payments is the perfect option for business owners looking for extra security in their payment processing service.
A standout service team among payment processors
Our payment processing services are simple to understand and easy to set up. But should you need us, our payment services support team is ready to help.
Our support team is self-contained so you only need to call us, no third-parties

Specialised payment processing support covers everything from credit and debit card payments, online sales, merchant accounts, and more

Instantly talk to a real person 24/7 or via live chat between 9am-7pm GMT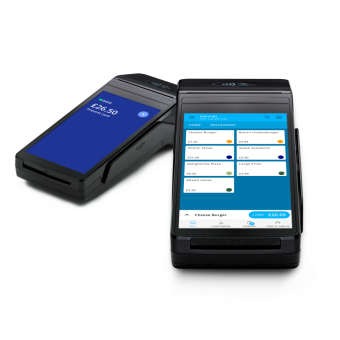 Incredible portable POS systems
Accept payments anywhere, anytime with our line of handheld POS systems.
The

Link card reader

gives you a secure ethernet connection and almost instant payments. There's no need to charge or worry about an outage

Go wireless with our

Pro card readers

. Our 4G and WiFi-enabled payment processors seamlessly integrate with Epos Now software

Access reports, process sales, serve customers, take payments, and print receipts from a single wireless device with the Pro+
Our terminals are EMV compliant and accept all major payment types, including digital wallets like Apple Pay and Google Pay.
Frequently asked questions
If you'd like to know more about Epos Now Payments, get in touch with our team or read our helpful FAQ.
How does Epos Now's payment processing fees work?

We offer one flat rate of for all card transactions. There are no hidden fees, with no authorisation or PCI compliance fees - so you know exactly how our payment processing fees work. Here's the breakdown:

Charges per transaction:

Card payments = 1.70%*

Customer refunds = free

Additional costs from hardware apply.

*We offer customised rates for larger businesses.

Please get in touch for a personalised quote or if you're like to know more.

How do payouts work?

Epos Now customers enjoy next-day payouts completely fee-free!

Need your money sooner? We offer same-day payouts for a small additional fee.

What payment methods are accepted by Epos Now Payments?

We accept all major credit and debit cards and other payment methods, including contactless payments. This includes Visa, MasterCard, American Express, Discover, JCB, and UnionPay.

Payments can be made via eWallets for the same rate, including Apple Pay, Google Pay, and Samsung Pay.

Is Epos Now Payments compatible with iOS and Android tills?

Yes! Epos Now Payments works with both iOS and Android payment tills, thanks to our versatile operating system.

What financial reports are available through Epos Now?

With Epos Now, you can keep a close eye the financial health of your business anytime, anywhere! (Our detailed financial reports are one of the most popular elements of our POS and payments systems.)

While you're making sales, your reports update in real-time so you can monitor trade on important days minute-by-minute. Even when you have to step out to run errands, or even take some hard-earned time off, you can access your reports via mobile, tablet, and laptop using our secure cloud.

Epos Now's financial reports document sales you made today, yesterday, all the way back to the first sales you made using your new till system! With detailed, historical data on:

Individual transactions

Daily, weekly, monthly and yearly sales and end-of-day totals

Product performance including revenue and profit taken

Tax breakdowns for every product, site, and for your entire business

Employee sales figures

Customer spending totals

And much, much more!

Your finance reports are exportable in multiple formats, including Excel, CSV, and print.

You can also integrate with common accounting platforms (see what's available in the Epos Now AppStore) to speed up your financial reporting too.

Does Epos Now operate outside of the UK?

Yes, we're a payment processing company that operates globally. We offer payment processing services in multiple currencies so you can sell to customers around the world.