Discover your best with the convenience store POS
Move from customer to customer with one-tap processing on an easy-to-use till system you can learn in just 15 minutes. Sell quicker and easier today.
NOW €0 upfront*
The convenience store POS that offers speed, simplicity, and savings
Build your store for success with convenience store EPOS software
Make quick sales and manage a diverse inventory with the EPOS solution that gets what it means to be convenient.
Save hours of time with automated, real-time stock counts​

Automate purchase orders to prevent stock outages

Offer a range of payment options for faster transactions

Track margin data to identify your best and worst-selling items

Set up and train your staff in as little as 15 minutes
EPOS system, cash till, and printer included, everything you need to do business.​
NOW €0 upfront*
Easy to use and employees can be trained in 15 minutes
Take stock in minutes, not hours
Import, update, and edit thousands of products with real-time precision with Epos Now's award-winning inventory management software.
Manage your inventory at any location from your Back Office. Save valuable time and never miss a selling opportunity with greater stock visibility, automated purchase orders, and stock alerts.
Generate your own barcodes for speedier service and greater accuracy.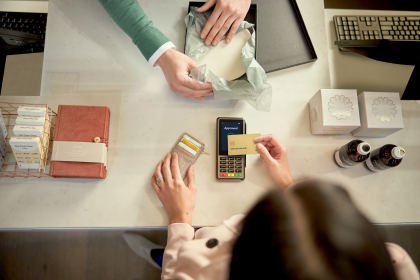 Enjoy complete payment flexibility with Epos Now Payments
Stay flexible with Epos Now Payments. All transactions are processed at one fixed rate, no matter the card.
Epos Now Payments delivers simple, fast, and functional payment solutions that connect seamlessly with your point of sale. With easy onboarding, clear pricing, and a single service team for all your support, we make payments simple.
Cut costs and boost profits with intelligent sales insights
Use data to make the right decisions. With our cloud technology EPOS for convenience stores, you can view sales, product, and employee management insights at the touch of a button – and from any location or device. ​
Use detailed sales reports to identify high-margin items for promotions.

Leverage historical sales data to forecast with accuracy.

Identify your top-performing products and staff members.

Integrate with market-leading bookkeeping apps to take the headache out of accounting.
Rest easy with state-of-the-art security
Automatically record transactions and staff movements through your convenience store POS software, reducing fraud, error, and theft.
Set permissions to limit refunds, no-sales, voids, and discounts to qualified employees. Add an extra layer of security with ID codes and staff swipe cards.
All Epos Now payments terminals are PCI compliant by default to ensure robust security for both merchants and customers.
Award-winning support team
With Epos Now, you'll never feel like you're going it alone. ​​
We provide round-the-clock support, as well as personalised, one-on-one onboarding, and unlimited training and coaching.
Frequently asked questions
If you'd like to know anything else about how Epos Now can help your business, request a callback, or read our frequently asked questions.
What is the best POS system for convenience stores?

The best EPOS system for convenience stores offers fast service when shoppers are in a hurry, and full control to merchants at all times.

The best POS for convenience stores will account for a range of seasonal and staple items, food, and over-the-counter medicines. Your system should also host POS hardware, like integrated scales, to calculate the prices of produce and other groceries.

To protect your business and customers, you should opt for a cloud EPOS system with secure payment processing. Traditional devices store your data locally, making them vulnerable to fire, theft, and other damage. A cloud system keeps all data in remote servers. Pair this system with a PCI-compliant card processor to ensure the safe handling of your customers' payment information.

What integrations should I have for my convenience store POS system?

The best integrations for convenience stores will simplify business operations. To start, you should pair your system with accounting software to streamline bookkeeping. Next, you will want to add a digital receipt integration to cut paper costs and waste.

Since convenience stores are staples of a community, your POS solution should tap into loyalty schemes and marketing platforms. These integrations will help you connect with your repeat shoppers to demonstrate how much they mean to you and to encourage them to continue visiting your store.