Take Control with a Responsive Restaurant POS
Host with confidence when you rely on Epos Now's dedicated restaurant POS. Process multichannel sales (from in-house, takeaway, and delivery) all in one place!
NOW €0 upfront*
Speed up service. With Epos Now Payments, take over 650 at-table payments on one charge.
Cut complimentary meals by 60% with the Epos Now Kitchen Display System.
Get a 48% faster delivery and increase revenue by 25% by adding Epos Now Delivery.
Restaurant management for the future
Protect your business no matter what the future brings. Our EPOS system for restaurants gives you the tools you need to stay ahead in an evolving industry.
Limit contact and improve efficiency with tableside ordering and contactless payments

Reduce touchpoints and increase table turnover with customisable floor plans and intuitive table management

Easily connect to major ordering and delivery apps to create new revenue streams and meet customer expectations

Track inventory, calculate costs and profit, simplify reordering and integrate with leading accounting software

Leverage powerful sales reports on any device to boost profitability, reduce wastage and improve employee efficiency
Our all-in-one restaurant solution includes the EPOS terminal, cash drawer, and printer - everything you need to trade.
NOW €0 upfront*
Easy to use and employees can be trained in 15 minutes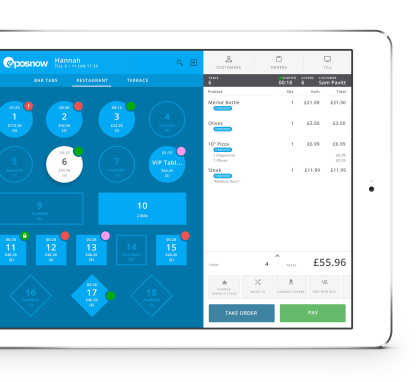 Increase efficiency and customer satisfaction
Streamline service, enhance communication, and take the complexity out of managing orders.
Track time-at-table and manage floor plans in real-time to boost table turnover

Eliminate costly errors with automated ordering and seamless communication

Streamline back of house operations with a comprehensive Kitchen Display System

Group by course and order type to speed up preparation and reduce customer wait times
Discover more ways to serve your guests
Don't let a reduced capacity harm your bottom line. Future-proof your business and keep up with shifting consumer trends. Easily pivot to online ordering & delivery with our suite of leading apps.
Use popular order & pay apps to create new revenue streams

Integrate with over 100 apps, including leading accountancy and CRM tools

Identify popular delivery orders to create smarter promotions

Grow your marketing list and add to your base of regular customers

Offer order-at-table for greater safety and ease

Collect more online reviews to boost your reputation
Serve safely and swiftly with the Pro+
The Pro+ is a powerful mobile EPOS device that offers you a faster, safer, and more secure way to serve your customers.
Minimise floor traffic and put an end to long lines at the till

Inside, outside, or curbside: take orders from anywhere to speed up service

Maximise upsell opportunities by freeing up your waiting staff to spend more time with guests

Speed up service and increase covers with fast, hassle-free service

Increase accuracy, and ensure that your customers get exactly what they want
From table to kitchen, with a KDS
Receive orders in real-time, direct to kitchen, with a comprehensive Kitchen Display System. Speed up service, reduce ticket errors and manage incoming orders seamlessly.
Pass orders directly to your kitchen to improve order turnaround times and accuracy

Receive online orders through into your kitchen as soon as they come in

Eliminate manual paper tickets and confusion to improve service

Respect social distancing and reduce the need for staff to manually submit orders to the kitchen

Remove errors with a single view to any last-minute order changes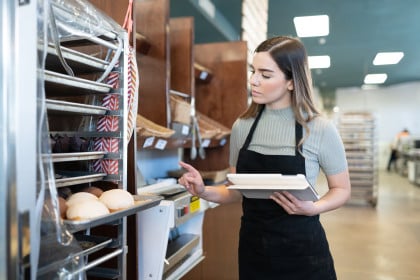 Save time and eliminate waste with smart stock control
Spend less time taking stock, and more time managing your restaurant. With Epos Now, it only takes a few minutes to get a handle on your inventory.
Track inventory right down to ingredient level

Automate purchase orders and use low stock warnings so you never run out of what you need

Protect your bottom line with accurate stock control

Minimise cash flow tied up in stock

Manage inventory and track stock levels between multiple locations
Maximise your profits with intelligent sales insights
Use powerful sales reporting to cut operational costs and highlight areas for growth.​
Visualise data and see trends with custom dashboards

Access insights from any device and run your business on the go

Determine market prices by analysing winning and losing menu items

Compare actual vs expected inventory to identify lost or stolen goods and reduce wastage

Simplify your accounting and taxes by syncing your reports with Sage, Xero, Quickbooks, and more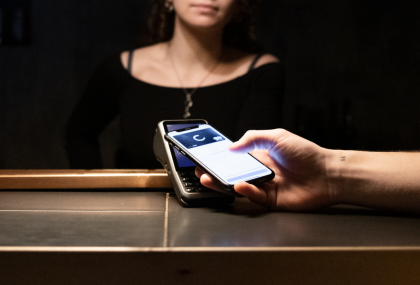 Take swift and secure contactless payments
Epos Now Payments delivers fast and functional payment solutions that connect seamlessly with your point of sale. Safely accept chip and pin, contactless and remote payments from all major credit and debit card providers at one fixed rate.
With easy onboarding, clear pricing, and a single service team for all your support, we make payments simple.







Trusted by over 30,000 businesses worldwide

Find out how we've helped restaurants just like yours...
Frequently asked questions
If you'd like to know anything else about how Epos Now can help your business, request a callback or read our frequently asked questions.
What is restaurant POS?

With a restaurant point of sale system, all the tools you need to process orders, track inventory, and collect payments are located in a centralised location. The POS can also integrate with email marketing platforms, bookkeeping programs, and other applications to simplify restaurant management.

How does a restaurant POS system work?

Since these systems use the cloud, servers can use handheld devices or a main till to send orders to the kitchen. Back of house staff can then see all orders on a Kitchen Display System instead of reading paper tickets from servers. Servers can track order status in real-time, preventing unnecessary trips to the kitchen and improving efficiency.

How do you manage inventory in a restaurant?

Staff can add all incoming inventory to the system and assign those products to menu items. As each order is prepared, the restaurant POS will automatically deduct the required amounts from the inventory. When an item is out of stock, the system can re-order supplies automatically.

What is the best POS for a small restaurant?

The best POS for a small restaurant will allow you to reduce costs and streamline service by managing your floor plan, automating inventory management, and simplifying communication between front and back of house. It will also allow you to process orders taking online through food delivery apps. A good restaurant POS system will also use advanced stock control to ensure that you never run out of what you need.

Why should you use POS system in a restaurant?

A POS system is capable of saving restauranteurs hours of time each week, while reducing overheads and expenses. Without a restaurant POS system, stock takes must be conducted manually, and business owners are deprived of the ability to see real-time data covering inventory, sales, margin, and staff. A restaurant POS system takes care of many manual tasks, allowing your you and your staff to spend more time with your customers.

What is a restaurant management system?

A restaurant management system keeps hospitality businesses running by handling all daily affairs, such as tracking sales, taking stock and managing staff. A complete restaurant management system will also come with software to track orders and manage tables, as well as hardware to accept payments print receipts. For many businesses, an EPOS with cloud computing and software integrations makes the best restaurant management system.

How is EPOS used by front of house staff?

Front of house staff use an EPOS to accomplish three main tasks: take payments, send orders to the back of house, and improve customer service. With an EPOS till, front of house staff can accept cash, credit, debit, and gift card payments, as well as contactless options like Apple Pay. It only takes a few taps to add menu items to an order and send them to the kitchen display or printer. If a customer has questions, front of house staff can see notes on menu items, such as allergen information, to recommend the best options.