Take Control with a Responsive Restaurant POS
Host with confidence when you rely on Epos Now's dedicated restaurant POS. Process multichannel sales (from in-house, takeaway, and delivery) all in one place!
WAS £399, NOW £0 upfront*
Speed up service. With Epos Now Payments, take over 650 at-table payments on one charge.
Turn tables over 20% faster by adding Epos Now Pay at Table.
Cut the freebies! Reduce complimentary meals by 60% with Epos Now's Kitchen Display System.
Restaurant management for the future
Our Restaurant EPOS System will help you stay ahead in an evolving industry.
Easily connect to major ordering and delivery apps to create new revenue streams and meet customer expectations

Track inventory, calculate costs and profit, simplify reordering and integrate with leading accounting software

Leverage powerful sales reports on any device to boost profitability, reduce wastage and improve employee efficiency
Everything you need for
WAS £399, NOW £0 upfront*
Easy to use and employees can be trained in 15 minutes
Trusted by over 55,000 businesses worldwide

Connect your front and back of house with our Kitchen Display System
Receive orders in real-time, direct to your kitchen, with a comprehensive Kitchen Display System (KDS). Speed up service, reduce ticket errors and manage incoming orders seamlessly.
Pass orders directly to your kitchen to improve order turnaround times and accuracy

Receive online orders through to your kitchen as soon as they come in

Eliminate manual paper tickets and confusion to improve service

Remove errors with a single view to any last-minute order changes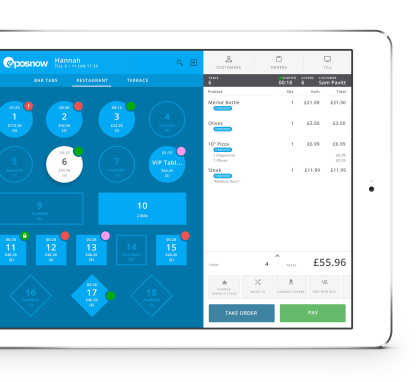 Increase efficiency and customer satisfaction
Streamline service, enhance communication, and take the complexity out of managing orders.
Track time-at-table and manage floor plans in real-time to boost table turnover

Eliminate costly errors with automated ordering and seamless communication

Streamline back of house operations with a comprehensive Kitchen Display System

Group by course and order type to speed up preparation and reduce customer wait times
Enjoy complete payment flexibility with Epos Now Payments
Stay flexible with Epos Now Payments. Accept all payment types while increasing security and customer service - all for one blended rate.
We've also integrated with every major payment provider so you can choose the right one for your business and negotiate your own fees
Integrate with your existing, or preferred partner today.







Manage your restaurant from one EPOS system
Future-proof your business and keep up with shifting consumer trends. Easily pivot to online ordering & delivery with our suite of leading apps.
Offer delivery, collection and table ordering services with our online ordering platform
Integrate with over 100 apps, including leading accountancy and CRM tools

Identify popular delivery orders to create smarter promotions

Grow your marketing list and add to your base of regular customers

Collect more online reviews to boost your reputation
Integrate Epos Now with your own iPad system
Complete with multi-award-winning EPOS software, Epos Now's iPad EPOS Solution allows restaurant owners to manage their inventory, orders, staff, and customer relationships all from the convenience of a portable tablet.
Heckler secure iPad POS stand

Optional add-on

2020 10.2" iPad

80mm Ethernet Thermal Epos Now GX Receipt Printer
Secure all-metal cash-drawer
First month's Epos Now software
Installation, configuration and training
Resources
Follow the Epos Now blog for amazing resources on how to improve the performance of your restaurant.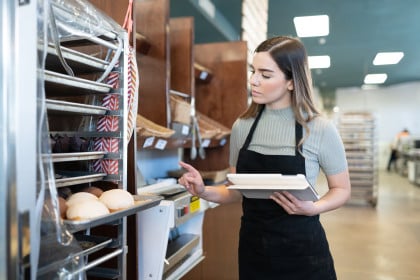 Save time and eliminate waste with smart stock control
Spend less time taking stock, and more time managing your restaurant. With Epos Now, it only takes a few minutes to get a handle on your inventory.
Track inventory right down to ingredient level

Automate purchase orders and use low stock warnings so you never run out of what you need

Protect your bottom line with accurate stock control

Minimise cash flow tied up in stock

Manage inventory and track stock levels between multiple locations
Maximise your profits with intelligent ordering insights
Use powerful reporting tools to gain valuable insight into how your dishes perform.​
Visualise data and see trends with custom dashboards

Know which dishes get ordered and which don't

Analyse individual dish performance to optimise your menu

Compare actual vs expected inventory to help you plan for busy periods

Simplify your accounting by syncing reports with Sage, Xero, Quickbooks, and other apps
Find out how we've helped restaurants just like yours...
Frequently asked questions
If you'd like to know anything else about how Epos Now can help your business, request a callback or read our frequently asked questions.
What is restaurant point of sale?

A restaurant EPOS, or point of sale system, is a centralised platform that lets you manage inventory, take and process orders, and collect payments from guests. A modern restaurant POS system will also be able to integrate with accountancy applications, marketing platforms, and other business tools to streamline restaurant management.

How do restaurant point of sale systems work?

Restaurant point of sale systems use the cloud, members of staff are able to use either handheld pocket devices or the primary till to send orders straight through to the kitchen. Kitchen staff are able see all orders on a Kitchen Display System, or KDS.

What's the best way to manage restaurant inventory?

With a modern EPOS system, restaurant staff can add inventory to the system, and assign stock to menu items. When an order is prepared and served, the restaurant point of sale will automatically deduct ingredients used from the inventory. This means that when an item runs low, the EPOS can simply re-order supplies automatically.

What is the best POS for a small restaurant?

The best point of sale system for a small or independent restaurant is one that allows the business owner to cut costs and create a smoother service. It does this by managing your floor plan, simplifying and automating stock control, and improving communication between servers and kitchen staff. A state of the art restaurant EPOS will also process online orders through food delivery platforms.