Shine brighter with a jewellery store POS
Automated inventory. Real-time reporting. Easy-to-use transaction software. Our POS systems help jewellers keep track of valuables - including your customers!
WAS $1,399, NOW FROM $549*
Breeze through quick and easy admin. Save four hours on business management every month.
No more running back to the till: save 4,104 steps every month with the Epos Now Pro+.
Add the Loyalzoo integration and see an average 13% increase in revenue.
The jewellery store POS that speeds up service and improves security
The Multi-functional POS System for Jewellers
Make transactions easier so you can spend more time helping your customers find that perfect piece of jewellery.
Use real-time inventory management to speed up stock takes

Accept all payment types, including major credit cards and contactless options

Generate detailed reports to track sales, revenue, performance, and more

Integrate with dozens of apps to simplify operations

Train staff to use the POS in 15 minutes

Access data any time, anywhere with our cloud-based system
Get the POS system, cash drawer, and printer in one bundle.
Show off your stunning inventory
Use your jewellery store POS for more than collecting payments. Our devices help you present your products in the best light to win over interested shoppers. With Epos Now systems, your entire jewellery inventory is only a few taps away.
Attach product photos to inventory to create a digital showroom
Use our iPad or handheld devices to help customers from anywhere
Easily access GIA, AGS, EGL, IGI, and other certificates from your product notes
Keep the focus on your customers
Customers want to feel like jewellery retailers understand their needs. Use our toolkit to draw in shoppers and build relationships. Keep customers informed of your latest offers with customised marketing messages.
Create loyalty schemes to reward repeat shoppers
Personalise service with detailed customer profiles and notes
Send targeted offers based on a shopper's buying habits and special occasions
Offer a seamless experience between online and in-store visits
Integrate with Mailchimp to send personalised emails
View detailed performance insights
Leveraging data can help your jewellery store find ways to improve efficiency. With our jewellery store EPOS software, you can analyze data from all devices and stores in one location to make business decisions.
Monitor employee performance to track sales goals
Create custom dashboards to automatically track key performance indicators
Calculate sales associate commissions based on a wide set of metrics
Identify your top-performing jewellery products to guide marketing strategies
Make bookkeeping more accurate and easy
Many business owners spend too much time managing accounts and not enough time focusing on growing their stores. Use our system to see all financial records in one place and quickly export data to your chosen accounting software.
All sales, returns, chargebacks, and more are logged directly to the POS
Integrate directly with QuickBooks, Sage, or Xero
See in-person and online purchases in one place
Track staff hours to run quick, efficient payroll
Rely on state-of-the-art security
Hackers and thieves are always looking for vulnerabilities. Since all transactions and staff movements are automatically recorded on your jewellery store POS system, you can oversee all operations to reduce fraud and theft.
Set employee permissions on who can process refunds, no-sales, voids, and discounts
Use ID buttons and swipe cards for secure staff sign-in
Access the system remotely for 24/7 oversight
Reduce fraud with PCI-compliant payment processing options
Payment processing services made simple
Epos Now Payments offers all the advantages of the latest payment technology with the very best transaction rates.
Become one of the thousands of businesses already making payments simpler.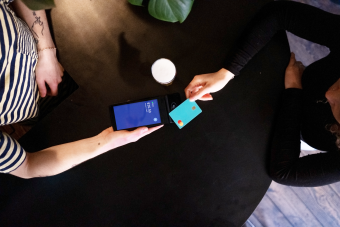 Enjoy round the clock support
With Epos Now, you'll never feel like you're going it alone. ​​
We provide round-the-clock support, as well as personalized, one-on-one onboarding, and unlimited training and coaching.