Shine brighter with a jewellery store POS
Automated inventory. Real-time reporting. Easy-to-use transaction software. Our POS systems help jewellers keep track of valuables - including your customers!
WAS $999, NOW FROM $139*
Breeze through quick and easy admin. Save 4 hours on business management per month.
No more running back to the till: save 4,104 steps with the Epos Now Pro+.
Export your sales data with the Quickbooks app, saving over 8 hours of work per month.
The jewellery store POS that speeds up service and improves security
The multi-functional POS system for jewellers
Make transactions easier so you can spend more time helping your customers find that perfect piece of jewellery.
Use real-time inventory management to speed up stock takes

Accept all payment types, including major credit cards and contactless options

Generate detailed reports to track sales, revenue, performance, and more

Integrate with dozens of apps to simplify operations

Train staff to use the POS in 15 minutes

Access data any time, anywhere with our cloud-based system
Get the EPOS system, cash drawer, and printer in one bundle.
WAS $999, NOW FROM $139*
Show off your stunning inventory
Use your jewellery store POS for more than collecting payments. Our devices help you present your products in the best light to win over interested shoppers. With Epos Now systems, your entire jewellery inventory is only a few taps away.
Attach product photos to inventory to create a digital showroom
Use our iPad or handheld devices to help customers from anywhere
Easily access GIA, AGS, EGL, IGI, and other certificates from your product notes
Keep the focus on your customers
Customers want to feel like jewellery retailers understand their needs. Use our toolkit to draw in shoppers and build relationships. Keep customers informed of your latest offers with customised marketing messages.
Create loyalty schemes to reward repeat shoppers
Personalise service with detailed customer profiles and notes
Send targeted offers based on a shopper's buying habits and special occasions
Offer a seamless experience between online and in-store visits
Integrate with Mailchimp to send personalised emails
View detailed performance insights
Leveraging data can help your jewellery store find ways to improve efficiency. With our jewellery store EPOS software, you can analyze data from all devices and stores in one location to make business decisions.
Monitor employee performance to track sales goals
Create custom dashboards to automatically track key performance indicators
Calculate sales associate commissions based on a wide set of metrics
Identify your top-performing jewellery products to guide marketing strategies
Make bookkeeping more accurate and easy
Many business owners spend too much time managing accounts and not enough time focusing on growing their stores. Use our system to see all financial records in one place and quickly export data to your chosen accounting software.
All sales, returns, chargebacks, and more are logged directly to the POS
Integrate directly with QuickBooks, Sage, or Xero
See in-person and online purchases in one place
Track staff hours to run quick, efficient payroll
Rely on state-of-the-art security
Hackers and thieves are always looking for vulnerabilities. Since all transactions and staff movements are automatically recorded on your jewellery store POS system, you can oversee all operations to reduce fraud and theft.
Set employee permissions on who can process refunds, no-sales, voids, and discounts
Use ID buttons and swipe cards for secure staff sign-in
Access the system remotely for 24/7 oversight
Reduce fraud with PCI-compliant payment processing options
Payment processing made simple
Keep checkout payments quick and painless with Epos Now Payments.
All card networks charge different transaction fees. As well as integrating with every major payment provider, we make it easier than ever to accept all card types with our blended processing rate. No matter what type of card you take, you will always pay the same rate on each transaction.
Unlock extra savings and offset card charges with our surcharge feature.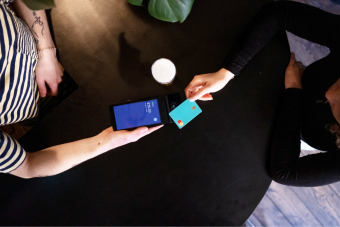 Enjoy round the clock support
With Epos Now, you'll never feel like you're going it alone. ​​
We provide round-the-clock support, as well as personalized, one-on-one onboarding, training, and coaching.
FAQ
If you'd like to hear more about Epos Now, read our FAQ or contact our expert team.
What is the best POS for retailers?

Retailers need a point of sale system that not only takes and tracks payments but makes all aspects of trade easier and helps them stay competitive.

To begin with, the best POS systems are cloud-based. Systems that use a cloud are more secure and protect business data in the event of hardware failure. Furthermore, users can access and manage their business remotely, providing an easy way to keep an eye on trade, even when you have to go off-site!

The best retail POS systems should be packed with features for easy product management so you can update prices, run promotions, and view reports on products, staff and inventory that help you make better decisions for your business.

With Epos Now POS integrations, retailers can also adapt their system, finding bespoke solutions to the difficulties each store faces. Apps such as Mailchimp help you reach new customers (and stay in touch with them), while Loyalzoo and in-house loyalty apps help you keep the ones you already have. Epos Now has also partnered with accounting software providers such as Quickbooks making it easy to export all financial data and stay on top of taxes.

What is the best inventory software for retailers?

We would recommend that all retail businesses employ a robust inventory management system to help improve their processes, save money, and make work easier for staff and management.

Epos Now systems feature in-built inventory management tools that help you save hours of time with your stock takes. Every item in your inventory can be stored in your system and updated automatically when you make a sale.

But Epos Now inventory management offers far more features that make it an ideal system for retailers to employ, including automatic syncing between in-store and ecommerce sales, minimum stock alerts to ensure products don't run out, purchase ordering to make restocking simpler than ever, and much more.

Is cloud-based retail POS software secure?

Our Epos Now cloud-based retail POS software stores all of your, and your customers', data securely in the cloud.

With off-site data storage, your business is safe in the event of your hardware being damaged. With 2-factor authentication and staff access restrictions, your login information is also given all the latest security while making it easy for you to run your business on-site and off.

Does Epos Now let you set up surcharging?

Yes! Our surcharge feature is your ticket to saving big by offsetting card charges.

It's easy to set up in your Epos Now Back Office and sync across your point of sale system and card machines - all you need is to be signed up to Epos Now Payments.

Then, with each sale, a receipt will print with the surcharge value shown, and you'll even spot the surcharge value in your Back Office reports.

Learn more about surcharging in our handy blog.