Back To AppStore
Westpac Presto Smart
Streamline your in-store payment and cut wait times with Epos Now and Westpac's Presto Smart.
Westpac Presto Smart + Epos Now
Designed to make in-store payments fast, seamless and easy, Presto Smart directly connects your Epos Now point of sale system to Westpac's payment terminal, helping speed up sales so you can focus on what matters: your customers and your business.
Maintain social distancing
Use chip-and-pin devices and contactless card readers to reduce touching between staff and customers. Allowing you to streamline your payment processes with no more manual typing of payment amounts into your EFTPOS.
Reduce wait times
Speed up your checkout process and shorten lines with fast, integrated payments. Fewer cash payments means less time counting bills and making change, boosting checkout speed.
Simplify recordkeeping
Account for all cash, credit, debit, and gift card purchases in your Back Office. Quickly access data to make end of day reporting a breeze.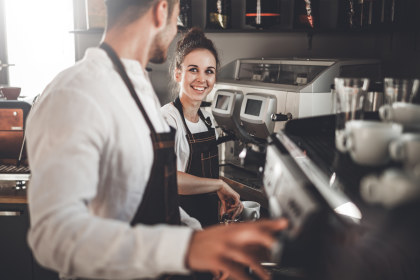 Easy to set up, easy to use
Once your POS and POS software has been updated, Presto Smart is easy to set up and get started and intuitive for you and your team to use.
Get started with Westpac Presto Smart today
Discover how Epos Now and Westpac's Presto Smart can help your business with fast, seamless in store payments.
Applications for Westpac's merchant services are subject to Westpac's approval and eligibility criteria. Westpac's terms and conditions (which can be found at westpac.com.au/merchant-terms) and fees and charges will apply. The Point of Sale solutions are supplied by POS Providers, not Westpac. *Standalone mode and 3G fallback is only available on the VX690 terminal. Standalone mode allows you to process card payments through your terminal, without integration with your POS.
Westpac instant settlement functionality is not available between 9:30pm and 11:59pm (EFTPOS 1 and Presto Smart terminals) and between 9:30pm and 11:00pm (EFTPOS 1i terminals) - Sydney time. You can only settle a Westpac issued EFTPOS terminal once each day. Subject to system availability, settlement can take place 7 days a week. Settlement must be to a Westpac business transaction account. Instant Settlement functionality is not available on Corporate Online. Instant Settlement is only available for Mastercard, Visa and eftpos transactions (plus UnionPay if using EFTPOS 1i).