A portable card machine with award-winning EPOS software
Shape your business on the go with the Pro+. This mobile card machine is fully integrated with award-winning Epos Now software. It's everything you need to run your business in one mobile card payment machine with a built-in receipt printer.
Features
Reactive touch screen
An easy-to-use 3.5 inch touch screen for efficient transactions
Quick connectivity
The Pro+ works with 3G, 4G, and WiFi so you're always connected
Perfect power
Enjoy uninterrupted service with 650 transactions on a single charge
The best portable card machine with EPOS software
The Epos Now Pro+ is a complete all-in-one payment and EPOS solution. This card machine features everything you need to bring your business into the future.
Send orders straight to the kitchen - Save time and increase order accuracy by sending orders straight to the kitchen.
Manage tables - Boost table turnover by managing floor plans and tracking time-at-table in real-time.
Perfect product management

- instantly adapt by managing and amending your products on the fly.
Customise your experience further with our wide range of third-party app integrations, available on the Epos Now App Store.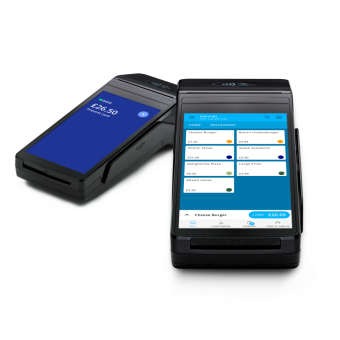 See invaluable business insights
It's vitally important that you understand what's going on with your business. Your sales data is automatically collected by the Pro+ and converted into business reports that you can review right on your device. With better insights into the overall health of your business, you can concentrate on your customers and save hours of time.
Hardware

Hardware

Hardware name: Saturn1000
Operating system: Android 9.0
Memory: 16GB flash & 2GB RAM
Processor: Quad-core, 1.3 GHz, ARM Cortex-A7 32-bit RISC processor
Dimensions: 200 mm L x 78 mm W × 56 mm H
Weight: 495g
Display: 5.5" 1280x720 colour TFT capacitive touch screen


Connectivity

Connectivity: 5 GHz and 2.4 GHz WiFi, 4G/3G, Bluetooth 4.1


Power supply

Charger: 5V/2A
Battery: 5840mAh / 3.65V Li-ion rechargeable battery


Environmental considerations

Operating temperature: 0°C to 50°C
Storage temperature : -20°C to 70°C


Card reader

Card reader

Payment methods: Chip & pin, contactless, remote payments including over the phone
Accepted cards: Visa, MasterCard, American Express, Discover, JCB, and UnionPay. Payments can be made via eWallets for the same rate, including Apple Pay, Google Pay and Samsung Pay


Barcode scanner: Yes, rear side
Printer: Yes, 100mm/sec & 40mm paper roll
Epos Now POS software included: Yes


Certifications

Certifications

Certifications: PCI 6 compliant


What's included in the box?

Device: Pro+
UK mains adapter
USB-C cable
Till roll
QR code with a link to the installation guide

Be flexible with payments
Make transactions a breeze with the Pro+. This innovative system allows you to take contactless, chip and pin, and remote payments all at one fixed rate. Your customers can benefit from our partnerships with all major credit and debit card providers and pay the way they want.
With less hassle overpayments, you'll be able to serve your customers quickly and efficiently.
Get support whenever you need it
We pride ourselves on being there for our customers no matter what. Our team is on hand 24/7 to help with anything that comes up.
We also include one-to-one onboarding and training as standard so you can learn to put the Pro+ to best use.