Perfect payments with incredible card machines
Build a better point of sale (POS) solution with Epos Now Payments and our range of portable card machines.
The benefits of card machines and Epos Now Payments
No missed revenue
Save up to £150 of missed revenue a month with an integrated system and simplified transactions.
Time saving service
Speed up service by eliminating keyed-in transactions and save 4.5 hours a month in admin.
Terrific card transactions
Accept your customers' preferred payment methods anywhere using portable card machines.
Open up your business with a portable card machine
Our card machines are designed to help small businesses operate at their maximum potential.
Take orders from anywhere in your business and enhance your customer service

Accept debit cards and contactless payments, split the bill, and print receipts on the spot

Update stock availability, instantly manage your business, and review reports anytime, anywhere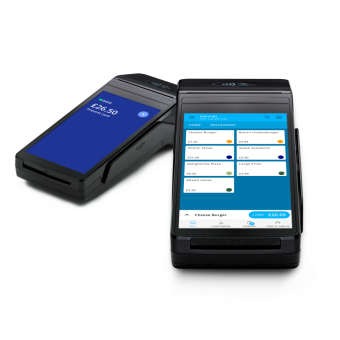 Mobile card machines for small businesses
Find the right card machine for your business - from portable devices to stationary machines with near-instant payments.
Card machine type
Portable
Stationary with fast payments
Portable
Connectivity
3G, 4G, WiFi and Bluetooth
Ethernet and WiFi
WiFi
Display
5.5" colour touch display
3.5" colour touch display and 15-pin keypad
4" touch display
Printer
Print card machine receipts with 100mm/sec printer
Real-time reports
Yes! On device (Pro+ only)
Yes! Using Epos Now POS software
Yes! Using Epos Now POS software
POS
Yes! (Pro+ only)
Need additional hardware
Need additional hardware
Extras
Print sales receipts with the Pro+
No hidden fees or monthly fees
Great customer service is at the core of what we do. We don't do confusing terms or hidden costs! That's why our integrated Epos Now Payments and card machine solutions come with no hidden fees or monthly fees.
Epos Now Payments customers only pay one flat rate as the card transaction fee across all card payments, no matter the card! And you get next-day payouts included too!
You only pay for the equipment you need with an Epos Now card machine solution - we keep payments simple, secure and stress-free.
Secure card payments as standard
With an Epos Now portable card machine, you can rest assured that you're business account is in the safest possible hands.
Every Epos Now card machine is PCI compliant

We use highly secure encryption technology to secure our systems

Automatic cloud syncing means your data will be safe from data breaches and human error
Helpful support whenever you need it
Our card readers are a reliable option for any small business owner. Should you need any help, however, our expert support team is ready and waiting to help.
Our support team is self-contained so you only need to call us, no third parties

Integrated payments support covers everything from contactless payments, card readers, merchant account options, and more

Instantly talk to a real person or via live chat between 9 am to 7 pm GMT
FAQ
If you'd like to know more about Epos Now Payments, get in touch with our team or read our helpful FAQ.
What are the key differences in Epos Now card machines?

All our card machines are fully PCI compliant and work with Epos Now Payments, but here are our key differences:

Link

The Link is designed for businesses looking for almost-instant payments. With a secure ethernet connection, credit and debit card payments, Google Pay and Apple Pay, and contactless payments are a breeze. There's no need to charge or worry about an outage with this contactless card machine, which works perfectly alongside a static POS terminal.

Ethernet and WiFfi connections

3.5" colour touch display

15-pin keypad

Fully PCI compliant

Mono audio speaker

The Pro Range

Our Pro and Pro+ (AKA the Pro Range) represent the best in palm-sized, portable card machines. These 4G and WiFi-enabled payment processors seamlessly integrate with Epos Now software. SAccess reports, serve customers, take payments, and print card machine receipts from a single, wireless device. Our Pro+ gives you even more too, with sales receipts and report access!

Long-lasting rechargeable battery

3G, 4G, Wifi, and Bluetooth connections

5.5" colour touch display

100mm/sec printer

Fully PCI compliant

How do payouts with Epos Now Payments work?

Epos Now customers enjoy next-day payouts completely fee-free!

Need your money sooner? We offer same-day payouts for a small additional fee.

What payment methods are accepted by Epos Now Payments?

We accept all major credit and debit cards and other payment methods, including contactless payments. This includes Visa, MasterCard, American Express, Discover, JCB, and UnionPay.

Payments can be made via eWallets for the same rate, including Apple Pay, Google Pay, and Samsung Pay.

To find out about our one flat rate for all transactions, including our charge rate, see Epos Now Payments.

Is Epos Now Payments compatible with iOS and Android tills?

Yes! Epos Now Payments works with both iOS and Android payment tills, thanks to our versatile software solutions.

What financial reports are available through Epos Now?

With Epos Now, you can keep a close eye on the cash flow of your business anytime, anywhere! (Our detailed financial reports are one of the most popular elements of our POS and payments systems.)

While you're making sales, your reports update in real-time so you can monitor trade on important days minute-by-minute. Even when you have to step out to run errands, or even take some hard-earned time off, you can access your reports via mobile, tablet, and laptop using our secure cloud.

Epos Now's financial reports document sales you made today, yesterday, and all the way back to the first sales you made using your new till system! With detailed, historical payment data on:

Transaction data

Daily, weekly, monthly and yearly sales and end-of-day totals

Product performance, including revenue and profit

Tax breakdowns for every product, site, and for your entire business

Employee sales figures

Customer spending totals

And much, much more!

Your finance reports are exportable in multiple formats, including Excel, CSV, and print.

You can also integrate with common accounting platforms (see what's available in the Epos Now AppStore) to speed up your financial reporting too.

Does Epos Now operate outside of the UK?

Yes, we're a payment processing company that operates globally. We offer payment processing services in multiple currencies so you can sell to customers around the world.