Speed up service with our takeaway POS system
Fast food needs a fast POS system. Take orders quickly and deliver super, fast-paced service with our POS system created for takeaway restaurants and businesses.
WAS £399, NOW £0 upfront*
Outpace the competition with instant ordering using the Epos Now Kitchen Display System.
Epos Now Payments saves your team over 4 hours during sales every month.
Get a 48% faster delivery and increase revenue by up to 25% by adding Epos Now Delivery.
The takeaway EPOS system that lets you feed customers faster
The best POS system for takeaways that ensures sensational service
Your customers are hungry and it's important that you get them their food as quickly as possible. The Epos Now takeaway system allows customers to order easily and for you to reach them faster.
Save your staff hours of time with automated

stock takes

Keep your fridge stocked with automatic purchase orders

Give your customers a choice of

payment

options

Accurate sales data so you can see your most and least popular items

An easy-to-understand takeaway till system that can onboard new employees in minutes
Your Epos Now system also comes with everything you need to trade including a cash till and a receipt printer.
WAS £399, NOW £0 upfront*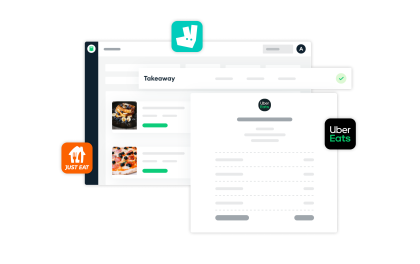 Expand your takeaway's reach with delicious delivery
Looking to break into the big delivery apps? Epos Now Delivery integrates with your system and set you up on all major food ordering platforms like JustEat and Deliveroo.
A presence on major food delivery platforms allows you to reach a wider audience. Never miss an order with auto-accept functionality - this sends orders directly to your kitchen and automatically accepts payments from customers. Keep tabs on orders from multiple platforms from one unified reporting centre.
Take stock in minutes with a powerful takeaway EPOS system
Knowing what ingredients you have in storage is crucial to staying ahead of your orders. We give you the tools to control your stock.
Automatic low stock alerts and purchasing orders mean you'll never run out of what you need. With a cloud-based system, you can monitor and edit your stock levels from anywhere. Import new items and instantly edit what's available in just a few clicks. Inventory levels automatically sync with every sale, giving you real time insights, and better control over your menu.
Run your takeaway the way you want with leading integrations
The Epos Now App Store boasts a suite of leading applications that can handle everything from loyalty programmes to accountancy.
Market-leading EPOS software for takeaways
All of our takeaway systems come with top-of-line EPOS software for takeaway delivery businesses. This includes smart data collection that give you a bird's eye view of your expenses.
Advances sales reports allow you to identify high-margin items

Get smart insights into your business with the touch of a button

Plan for busy and slow periods with historical sales data
Offer your customers a range of payment options
With the Epos Now Payments take away POS system, you'll be able to accept payments in contactless, cash, debit, and credit cards at a fixed rate.
Keep your staff and customers safe by allowing contactless payments.







24/7 expert POS support
We take great pride in providing our customers the best support available. Our team are on call 24/7 should you ever need their help.
With Epos Now you'll never have to go it alone with free support, orientation, and onboarding.
Frequently asked questions
If you'd like to know anything else about how Epos Now can help your business, request a callback or read our frequently asked questions.
What is a takeaway EPOS system?

A takeaway EPOS is a system that manages many aspects of running a business. Staff can quickly send orders to the kitchen, accept cash and card payments, and track inventory levels. The EPOS system can also integrate with applications to assist with online ordering, accounting, marketing, and more.

How do I use a takeaway EPOS?

Operating a point of sale system is as easy as using a smartphone or tablet. To take an order, you can use the touchscreen display to find and select menu items. When the customer is ready to pay, the system automatically adds the requested items and calculates relevant taxes. The EPOS will display the total cost, and the customer can pay with cash or card.

What are the best takeaway POS integrations?

The best EPOS integrations will improve specific aspects of your takeaway, so the right solution will vary with each business. However, most takeaways should implement payment processing, online ordering, and accounting integrations. These three will allow you to sell more meals faster while simplifying your daily operations.

How do I set up an online ordering system?

Your takeaway can implement an online ordering system through several methods.

The first option is to take orders on your website. You can create a form that allows users to place orders, pay, and see the expected pick-up time. Depending on your takeaway, you might need to use a handful of programs and devices to print order requests and account for sales. This method requires more manual effort but it gives you complete control.

The second option is to use online ordering apps like Deliveroo. Customer orders will be sent directly to your kitchen display, speeding up service and simplifying your process. Also, accounting becomes much easier since transactional information will be recorded in your Back Office.

Lastly, you can collect all online orders directly from your EPOS. For example, the HOPT Epos Now integration allows customers to browse your menu and place online orders from an easy to use app.

What is an online ordering system called?

Online ordering systems have different names, but they all accomplish similar tasks. These systems use software that helps restaurants take orders and accept payment over the internet.

Online ordering systems consist of two critical parts. The first is a website or mobile application that shows customers the menu and allows them to place an order. The second is a restaurant management component that shows orders in real-time and tracks sales.

What are the benefits of online food ordering?

Adding an online ordering system carries several benefits, but these three are the most important for takeaways.

First, online ordering will simplify all aspects of your business. Orders can go directly to a kitchen display, sales are recorded automatically in your back office, and digital payments will mean less time counting cash at the till.

Second, you can reach more customers with an online ordering app. Some customers may crave your food but do not have the time to wait for their order in your takeaway. With an online system, they can place their order and pick it up when it best suits their schedule.

Third, online ordering means higher profitability. Through strategic discounts and add-ons, you can include upselling opportunities to increase a customer's order size. Takeaways using online ordering can increase their revenue by an average of 30%.