Epos Now hospitality POS: find the tools you need
Hospitality can feel like juggling dishes without enough hands. Pile your plates together, save time, and satisfy your customers with Epos Now's all-in-one hospitality POS.
Till | Cash drawer | Printer | Payment terminal
WAS £899, NOW £325*
Your all-in-one hospitality solution
Whether you run a pub, restaurant, cafe or takeaway, get it working faster and smarter with a complete POS system.
Synchronise your front and back of the house to increase sales and table turnover
Integrate with major food delivery apps to win more customers and drive revenue

Drive repeat business and loyalty via CRM and promotions

Accept all types of payments quickly and securely
POS system, cash till, and printer included - everything you need to manage your business.
WAS £899, NOW £325*
Quicker admin
Save up to 10 hours every month on business management and staff admin.
Happier staff
Save your tired staff an average 4,104 steps per day with the Epos Now Pro+ and card terminal.
Efficient hardware
Save more than £20 per month in till roll and ink with our high-res receipt printer.
The most valuable Epos Now features by hospitality type
Epos Now's hospitality EPOS systems can benefit businesses in almost any industry.
Offer greater choice with online ordering, delivery and pay-at-table​
Connect with major food delivery apps, and introduce online ordering and pay-at-table services, to offer your customers more.​
Offer takeout and delivery options to create and meet

demand

​

Future-proof your business with a multi-channel solution

​

Consolidate all orders through your POS and send them

straight to your kitchen

​
Offer your customers a range of payment options
Chip-and-pin, swipe, and contactless
Take any kind of card payment with chip-and-pin swipe or contactless options.
Take major UK and international cards
Don't be limited to certain card types. Epos Now accepts the world's best known-card options.
Google Pay and Apple Pay supported
Start accepting the most popular payments methods with Apple Pay and Google Pay.
Enjoy complete payment flexibility with Epos Now Payments
Epos Now Payments delivers fast and functional payment solutions that connect seamlessly with your point of sale. Safely accept chip and pin, contactless and remote payments from all major credit and debit card providers at one fixed rate.
With easy onboarding, clear pricing, and a single service team for all your support, we make payments simple.







Boost your revenue with Epos Now Order and Pay
Manage all your orders, deliveries and collections from one place with Order and Pay.
Offer food delivery without incurring exorbitant fees. Receive orders straight to your Epos Now system and keep customers informed of their delivery's status.
Satisfy the demand for contactless ordering and takeaway. Give consumers the ability to place orders and select the pick-up slots that work for them.
Improve operational efficiency in your restaurant with at-table ordering. Let your customers browse your digital menu, order and pay from the table with no download required.
Get your front and back of house​ working in tandem
Increase table turnover and effortlessly connect your kitchen with real-time management.
Track time-at-table and manage floor plans in real-time
Speed up service with tableside ordering and payment
Sync with major restaurant management apps to boost revenue and productivity
Make sure customers get what they ordered. On-time, every time
The kit you need for a smoother sale!
Our Complete Solution is adaptable with a range of accessories to suit your business needs. Easily add any of the following to your package:
Eliminate confusion with real-time kitchen management​
Take the complexity out of managing orders with a kitchen display system that streamlines service and enhances communication.​
Synchronise your front and back of house to improve speed and accuracy

Accurately track order times

Real-time sync for order changes or last-minute amends

Reduce errors and wastage - boosting profits and improving service

Integrate online ordering for one complete view
Maximise your profits with intelligent sales insights
Use powerful sales reporting to cut operational costs and highlight areas for growth.​
Identify your best-sellers and non-sellers to make more informed pricing decisions

Validate stock against expected inventory levels

​

Track sales, margin, and trends in real-time – and from any

device

​

Export to Sage, Xero, Quickbooks and more, so you

can keep track of your margin and take the headache out of

accounting and taxes
Save time and reduce wastage with smarter stock control
You should be spending minutes, not hours, on your stock takes. That's why we've built a stock management system that gives you complete visibility over your inventory – at the touch of a button.​
Track inventory real-time, right down to ingredient level

​

Automate purchase orders and stock levels so you never run out of what you need

Establish drink recipes and ingredients to reduce over-pouring

Manage stock between multiple locations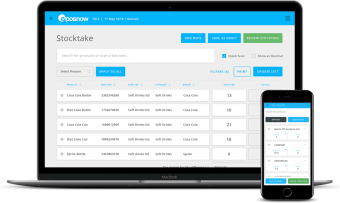 Sell anywhere and everywhere with the Pro+
Use a handheld device to offer a faster, safer, and more attentive customer experience.
Take orders tableside and send them directly to your kitchen
Amend stock and availability instantly, from anywhere

Accept all major card providers for one fixed rate

Take chip and pin, contactless, eWallet and remote payments
See what Epos Now has already done for businesses like yours!
The support you need, whenever you need it​
With Epos Now, you'll never feel like you're going it alone. ​
We provide round-the-clock support plans, as well as personalised, one-on-one onboarding and unlimited training and coaching.
Frequently asked questions
If you'd like to know anything else about how Epos Now we haven't already covered, take a look at our frequently asked questions.
Why should you use an POS system in a restaurant?

The POS System you choose really depends on the needs of your business. Our POS for restaurants has robust inventory management, allowing you to easily add and update products, table management and manage your staff.

Epos Now's package also offers you the opportunity to run your restaurant the way you require, with options for online ordering, table ordering, and delivery, making sure you can compete on every front and maximise your sales opportunities.

The Epos Now AppStore can help you manage your restaurant with ease, using the latest business management software including accounting apps like Sage and Xero, marketing platforms including Mailchimp and Google my Business, and many more apps covering everything from websites, team management, to bookings.

Are there any free POS systems for restaurants?

There are free POS systems available but it is advisable to pay for a good, modern POS system with multi-use functionality.

A good POS system may cost you money, but is essential in the long-term for running a competitive business that can keep up with customer expectations and can operate efficiently.

For instance, inventory management is a breeze with a good POS system that offers tracking software, saving your staff time and reducing the hours you need to pay them to work. Epos Now's POS system notifies you when your running low on a product or ingredient so you won't run out and leave your customers short, losing out on a sale and damaging your reputation.

Free POS systems are unlikely to improve your business across the board in a way a good POS system that costs money will.

What is the best Restaurant POS System?

The POS System you choose really depends on the needs of your business. For instance, if you run a takeout restaurant, you don't want to pay for features that only benefit full-service establishments. In general terms, you will want a restaurant POS that tracks inventory, manages tables, and tracks staff hours and pay.

The best point of sale system for a restaurant is one that allows the business owner to cut costs and create a smoother service. It does this by managing your floor plan, simplifying and automating stock control, and improving communication between servers and kitchen staff. A state-of-the-art restaurant POS will also process online orders through food delivery platforms.

What is a Kitchen Display System?

A Kitchen Display System will allow you to send food orders directly to a screen in your kitchen instead of either printing them with a kitchen printer or manually running tickets to your kitchen, saving time and money. Take a look at our Kitchen Display System page for more information on our integration.
Resources
Discover amazing resources to help you run your business better.