Drive your business further with a golf course POS
Spend more time engaging with customers and customise your till to your needs. Learn to use your POS in just 15 minutes. Now that's a hole in one!
WAS £399, NOW £0 upfront*
Quicker admin
Save up to 10 hours every month on business management and staff admin.
More visibility
81% of shoppers research products online. Showcase your inventory online with NearSt.
Increase your sales
Get up to 3x more sales by accepting card transactions with Epos Now Payments.
The golf course EPOS that offers speed, simplicity, and savings
The complete golf course point of sale package
Choose the golf course EPOS solution that gives you the power to run retail and hospitality operations from a single system. ​
Accept all types of payments and process transactions quickly and securely

Organise items

by size, brand and colour with our leading product matrix
Automate manual processes to speed up service and delight your guests
Sell online and open up a worldwide customer base with e-commerce functionality
WAS £399, NOW £0 upfront*
Easy to use and employees can be trained in 15 minutes
A simpler way to manage apparel
Simplify inventory management and take the headache out of running your pro shop.
Our in-built product matrix lets golf store managers categorise equipment and apparel by brand, size, and colour

Automate purchase orders so you never run out of your best-selling clubs and clothing

Take stock in minutes, not hours, so you can spend more time with your members
Add a personal touch to your service and build loyalty
The key to running a successful golf course is getting to know your members and regular visitors. Learn more about your best customers and reward their loyalty with your own customer engagement programme.
Capture customer data at the point of sale - either online or in-store

Build a relationship with your customers through targeted email campaigns with Mailchimp

Create your very own loyalty program to reward club members and drive more repeat business
Offer your customers loyalty cards and store credit, and a more personal service with Epos Now Caller ID that gives you instant access to customer accounts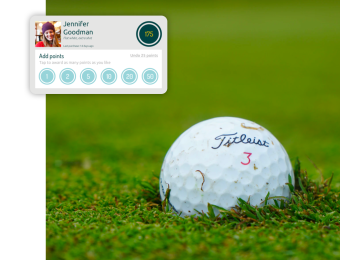 Find winning products with intuitive reports and insights
The golf industry is constantly evolving. Use our advanced sales reports to see which clubs and apparel brands are most popular, so you can forecast and run promotions with greater accuracy.
Use real-time sales and customer trends reporting to learn more about your business and its customers

Access valuable insights from any location and device

Use integrated accountancy apps like Quickbooks and Sage to take control of your finances and reporting
Offer your customers a range of payment options
Accept all types of payments quickly and securely.
Offer contactless payments at the point of sale to keep things hygienic for your team and customers.​







24/7 access to our award-winning support team
Epos Now offers round-the-clock, personalised support.
Get in touch today to access to find out more about our one-to-one onboarding and unlimited training and coaching.
Frequently asked questions
Can I use Caller ID with my Epos Now system?

📞 Yes! Epos Now offers a Caller ID that works using a landline or via VOIP (Voice over Internet Protocol). The hardware is easy to set up on your Epos Now point of sale system too.

Epos Now Caller ID allows you to register new callers quickly. And when your customers come rushing back, get access to their name, address, and sales history the moment you pick up the phone! It helps you boost efficiency, reduce errors, and increase customer retention! Find out more about Epos Now Caller ID here.

What does POS mean?

POS stands for Point of Sale, which is a combination of hardware and software designed to help you run your business more effectively. Where traditional till systems record sales, POS systems not only record this transactional information but can then generate detailed reports in response to the input data.

What is a golf course POS system?

A golf course POS system is an all-in-one solution that includes both software and hardware components to help you streamline the kind of business management operations that golf course businesses face.

Golf courses often have retail and hospitality components so need to be able to easily process sales transactions, manage complex inventory needs, and track customer data for different parts of the business all in one place.

The hardware components, such as barcode scanners and receipt printers, make it easy to complete transactions quickly and accurately.

A golf course POS may also include mobile sales devices, a variety of hospitality apps for online and table-based service, and much more!