A cafe POS that makes selling smoother
Train new staff in just 15 minutes on a cafe POS system that caters to all your needs. No headaches. No hold-ups. Just simple, effective trading.
WAS £399, NOW £0 upfront*
Cut 10% of wastage and keep your kitchen alert with the Epos Now kitchen display system.
Save your tired staff an average 4,104 steps per day with the Epos Now Pro+ and card terminal.
Turn tables over 20% faster by adding Epos Now Pay at Table.
Cafe EPOS that values speed, simplicity, and savings
The all-in-one POS system for small cafes
At Epos Now, we provide you with everything you need to run your business efficiently and effectively. In hospitality, it pays to be quick.
Set-up your system with complementary training and onboard your staff in minutes. Our systems are designed to be as simple as possible.
Get better insight into your business with real-time business reports that tells you all you need to know about your staff, overheads, and sales.
Integrations with 100s of leading apps means you can customise your system to meet the exact needs of your cafe.
WAS £399, NOW £0 upfront*
Easy to use and employees can be trained in 15 minutes
Embrace online ordering with Epos Now Order & Pay
Building a personalised online menu and giving your customers flexibility in how they order couldn't be simpler with Epos Now Order & Pay.
Customers can browse your menu, order, and pay straight from their phones

A simple order system means orders come quickly and with greater accuracy

Manage all orders in one place and allow customers to arrange pickup times
Save hours of admin with the best POS for small cafes
As a working cafe, there are a thousand little admin jobs that take up time. Epos Now POS streamlines processes and gives you more time to concentrate on your clients.
One-touch ordering means orders can be made in seconds. Your baristas will finally have time to get that latte pour absolutely perfect.
Sick of spending hours in the back on stock takes? Our cafe system features sophisticated inventory management tools that cuts the job down to minutes.
Run out of a customer favourite? Automated stock orders will ensure you never run out of what your customers want.
Customise your cafe POS system with incredible integrations
Epos Now software can take advantage of our suite of leading integrations. Our App store is packed with integrations designed to make your life easier.
No one gets excited about cafe accountancy. Apps like Xero and Quickbooks make the entire process a breeze.
Reach your customers wherever they are with a variety of delivery apps. You can bring it in-house with Epos Now Delivery or partner with major platforms including Deliveroo.
Connect with your regulars with marketing apps and easily set up loyalty programmes.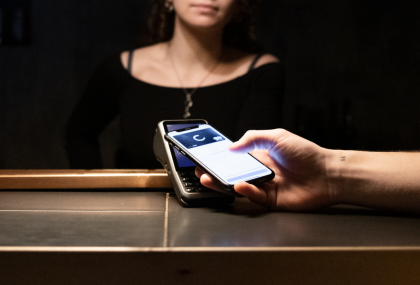 Offer your customers more ways to pay
Accept every major credit and debit card and let your customers can pay the way they want. Accept all payment methods including contactless, online, debit and credit cards.
With Epos Now Payments, we offer one fixed rate. This means you'll know exactly how much profit you'll be taking home.
Process transactions quickly and boost your profits.







Always feel supported
At Epos Now, we're with you every step of the way. Our team of POS experts are ready and waiting 24/7 to help you with any issues you may have.
As standard, our team also offers complimentary installation, training, and configuration so you can get the most out of your POS system.
FAQ
If you have any questions about our Epos Now cafe system, read our FAQ and please don't hesitate to touch below.
Why should I use POS system in a cafe?

A cafe needs a POS that can process transactions, track inventory, and create detailed reports. Without it, managing the business will be difficult and time-consuming. A system with accounting integrations can help a cafe calculate profit, run payroll, and simplify taxes. The best POS for a cafe will also show stock levels in real-time, down to the remaining ounces of coffee beans.

What is the best POS for a startup coffee shop?

New coffee shops will want a POS that is affordable enough to handle small transactions but powerful enough to scale up as the business grows. The POS will need to have payment processing integrations, loyalty program apps, and excellent inventory management features. As the coffee shop gets more customers or expands, optional integrations can be added to keep up with the increased business.

Can I use my cafe POS to improve customer loyalty?

With the right cafe point of sale, you can integrate with customer loyalty applications to boost sales. With an app like Loyalzoo, you can create digital customer loyalty cards and offer rewards for repeat spenders. Since these programs track customer buying habits, you can send out custom-tailored marketing offers.

How to integrate my POS system to my mobile app?

A cloud-based POS can be accessed on any device. Some systems, like Epos Now, can also work with mobile apps to help with items like customer loyalty. Also, a handheld device with the POS mobile app can be used to take orders tableside and scan inventory for faster stock control.