Offer speed and style with the all-in-one tablet POS package
Unlock your potential with a mobile tablet POS system, ready to follow you wherever you go.
FROM £149 upfront
The tablet bundle built to achieve
Easy management
Save up to 10 hours every month on staff admin and business management.
Quick transactions
Epos Now Payments integration saves you 4+ hours per month during sales.
Save money
Save an average of £24 per month in printer supplies.
The tablet bundle built to help you achieve
Boost business mobility
Sleek and portable, our tablet POS bundle is built for small merchants as the ultimate business sidekick.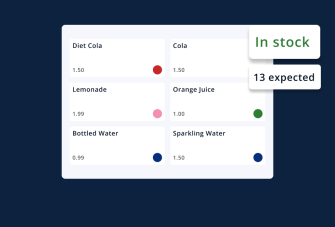 Reduce your costs
Improve the efficiency of your operations to cut wasted time and stock, and focus on taking sales opportunities.
Access real-time data
Access your reports as you trade no matter where you are, with data from every corner of your business.
The Epos Now tablet bundle
The tablet POS bundle is the portable kit, ready for any challenge your business may face. The bundle includes:
Tablet

- Choose from our Lenovo Tab M10 and iPad (9th gen) tablet options

Easy-use

rotating tablet stand

for efficient countertop service

80mm thermal GX

receipt printer
And Epos Now Payments card machine
Choose your tablet bundle
Try a tablet equipped with the award-winning software you deserve
Epos Now has spent over a decade fine-tuning business POS software you can now find on a stylish tablet bundle:
Leverage both mobile and countertop service to bring your customers greater convenience

Access all the tools you need to trade, including card payment technology and business management features, all in one package

Use cloud-based POS software to monitor your system from wherever you are
Keep using your favourite tools with the Epos Now AppStore
We've partnered with the most popular business software providers to ensure you have all the options you need to trade the way you prefer:
Automate your accounts by sending your sales data straight to Sage, Xero, or Quickbooks

Run loyalty programmes and marketing campaigns through a choice of popular apps from the Epos Now AppStore

Offer your customers the ability to order at their table, offer delivery and collection services with our range of Epos Now apps

Open an online store with Wix, Shopify or BigCommerce - we've got you covered with plenty of options
Why Epos Now?
Easy to set up and use
Get one-on-one onboarding and 24/7 customer support. Training your staff on the system is a breeze - it only takes 15 minutes.
Accessible anywhere
Use your Epos Now system or devices you already own, like a PC, Mac or tablet, to access live data and reports to monitor your business.
Completely flexible
Scale your business with a system that expands as you grow. Add devices, accessories, and over 100+ integrations to take you to the next level.
Enjoy simpler card processing with Epos Now Payments
Epos Now Payments offers you the chance to keep all your payment reports in one place, with just one flat fee for your card transactions.
Seamless integration between your payment processor and point of sale

Mobile and countertop options

Easy to manage, blended rates

24/7 support for your POS and card payments
With Epos Now, you'll never feel like you're going it alone. ​​
We provide round-the-clock support, as well as personalised, one-on-one onboarding, and unlimited training and coaching.
What management features are included with the Epos Now tablet bundle?

Epos Now's tablet POS systems come with our popular POS software fully equipped with everything businesses need to function, including:

Transaction software

Product and inventory management features

Customer account systems

Payroll and employee management

And much more!

Whether you run retail stores or work in hospitality, Epos Now's mobile POS systems come with all the benefits of an Epos Now account, which means secure data storage on the cloud, with access to your data from any device using your login credentials. That means easier business management from your mobile phone or the comfort of your living room.

Can I use other devices with my tablet POS software?

The best tablet POS system will depend on your business's unique needs. But looking at how your POS system can grow or flex to accommodate any business changes is always advantageous.

The good news: Epos Now software can be accessed from any device with an internet connection.

The great news: If you want more than the hardware offered in our product bundle, our Epos Now hardware is compatible with the products sold with Android devices or Apple devices.

If you need a cash drawer, extra printers, or any other POS hardware, you can purchase it through our store, and our team will be there to help you integrate it into your system.

Do tablet systems have all the features of countertop POS systems?

Yes! Epos Now's POS tablet options are compatible with all the apps, hardware, and management features businesses rely on. (The only change is that tablets cannot accept staff swipe cards.)

The key benefit with a mobile POS system on a tablet is the ability to switch from countertop sales to taking mobile payments, which allows for a roaming retail team, order at table restaurants, food trucks, cafes, or any other business.

Of course, another key difference is the stylish, modern look your tablets bring to your business, which is sure to impress customers.

How do payment processing fees work?

Epos Now Payments charges a single fixed rate, no matter the card type. There are no additional charges, such as authorisation or PCI compliance fees. Enjoy transparent payment processing services with no hidden fees.

Using Epos Now Payments, you can access credit or debit cards, including Visa and Mastercard, and eWallets, like Google Pay, Apple Pay, and Samsung Pay.

The charges per transaction are:

Card payments = 1.70%*

Customer refunds = free

Additional hardware fees apply. Talk to us about options to support your business.

*We offer custom pricing options for larger businesses. Please get in touch for a personalised quote.

How long does setting up my POS tablet take?

Your tablet device will require minimal setup, whether you use Android tablets or Apple.

All our tablets come with instructions for installing the sales software onto the device. You will need to connect it to your wifi, then link it to the receipt printer and any other POS accessories you've elected to use, such as a cash drawer (these devices come with instructions too, and can all be accessed online on the Epos Now support centre.)

Once you've installed the software - the next stage is setting up your tablet point of sale software. This includes adding your products, prices, inventory, staff, and customer profiles to the system.

But don't worry - we're here to help! During your first month, you'll be assigned an implementation team member to help you with this setup process, train you on the system, and ensure your setup goes smoothly.

What makes the best tablet POS system for business?

Epos Now's point of sale (POS) provides an efficient tablet system with options for built-in payment processing and business optimising software optimised for both hospitality and retail businesses:

Retail functions include:

built-in purchase ordering and advanced inventory to speed up and improve full and standard stock counts for your business

Customer management options to encourage and streamline repeat purchases

Integrated card reader options from in-house and third-party processors that offer contactless payments and pay-by-link without compromising on security

Hospitality functions include:

Software integrations with online ordering, delivery, and pay-at-table (with a QR code) to allow you and your customers to make transactions quick, easy, and reliable no matter where the orders come from

Specialised hospitality software such as floor plan management for flexible tab management. Move tabs, merge tables, and pay by item or percentage. Communicate between bars in real-time for a synchronised restaurant and bar

Kitchen display system availability to give your chefs the chance to stay at their stations while reading orders for a quicker, more effective back-of-house

These are just a few examples of the specialisation that Epos Now systems offer. Reach out to our team if there are more options you need, and find out how Epos Now can help your retail or hospitality business.

What is managing a business like with Epos Now?

Restaurant owners, coffee shops and corner shops each have plenty to gain with an Epos Now system. Our cloud-based platform makes remote management possible, meaning that you can relax that much easier even when away from the business, knowing you have everything you need in your pocket.

Whether you want to check in on how trade is going during the day or need to know whether staff have arrived on time, you can use your business cloud to access your office and see who's logged in, when they logged in, and view dozens of up-to-date reports. Your transaction and sales reports tell you how much you've taken up to the moment you log in, including cash and credit card processing amounts.

If you're looking for easier staff management or improved customer loyalty and customer satisfaction, your real-time reports will give you all the knowledge you need to know what changes you need to make to take your business to the next level.