Simply superior POS software
Our point of sale (POS) software is built for growing businesses. Fulfill all your needs and transform your business with a quality POS system from Epos Now.
The unique benefits of an Epos Now POS system
Adapt service
Customise your POS system with a choice of 130+ useful apps and integrations
Reduce admin
Automate daily tasks like inventory management and save up to 10 hours a month on admin
Improve sales
Add Epos Now Payments and get up to 3X more sales by accepting card transactions
A POS software solution that works
Looking for a new, better way to handle your business operations? Epos Now POS system software is exactly what you're looking for.
At Epos Now, we've listened to what hospitality and retail business owners have been asking for and developed specialised point of sale software that ticks all the boxes, compatible with iPad, Android, Mac and PC (and our POS hardware).
With a range of industry-specific features and a suite of award-winning apps, your POS system centralises your processes in one solution and improves your customer management. Supercharge your business operations and sales with our POS software today.
Reactive real-time reporting
An essential part of running small businesses is staying on top of business performance. Our bespoke POS system handles this for you automatically with its extensive reporting capabilities.
As you trade, your POS system collects and collates your sales data, including card and cash sales

This data is then converted into easy-to-read business reports with to-the-minute information. Discover your top profit-generating products, effortlessly monitor inventory levels and more

Access your business reports at any time from your Epos Now account
Modern small business owners need a flexible POS system configurable to meet their every need. This is where Epos Now comes in.
As part of our service, we curate a suite of leading first and third-party apps as part of your POS solution. These integrations let you build an EPOS system that meets the unique needs of your business.
From customer relationship management to stock management, accounting to online transactions, our AppStore has something that will help.
Payment processing made easy
Transaction fees can be difficult to navigate for small businesses. Epos Now Payments takes the uncertainty out of the equation.
We charge one flat rate for all card transactions. This means you pay the same when a customer uses contactless payments, credit and debit cards, and Apple Pay and Google Pay.
When it comes to processing payments, you'll never be charged hidden fees or be signed up for additional monthly fees without your consent.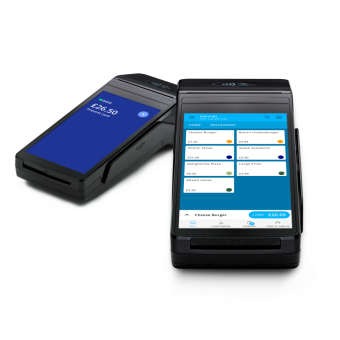 Excellent customer support when you need it
Although we have designed our EPOS software to be as intuitive as possible, you still may need some help from time to time. Our expert support team is ready and waiting to help.
Our support team is employed in-house so you don't have to deal with a third party

Specialised support can help with anything from inventory management to customer loyalty apps

24/7 phone support is available, and our live chat is open between 9 am - 7 pm GMT
FAQ
If you have a question about Epos Now and our EPOS software, please refer to our FAQ or contact our team.
Do I need to use Epos Now hardware to access the software?

No! While our software is designed for our first-party hardware, it can be installed and operated on most POS systems. Our software is cloud-based, which means it can be accessed from almost any internet-enabled device.

Our reliable system is operating system agnostic. This means that it is compatible with a range of operating systems, including Apple OS and Android, and Mac and PC - you only need internet access!

What financial reports are available through Epos Now?

With Epos Now, you can keep a close eye on the cash flow of your business anytime, anywhere! (Our detailed financial reports are one of the most popular elements of our POS and payments systems.)

While you're making sales, your reports update in real-time so you can monitor trade on important days minute-by-minute. Even when you have to step out to run errands or take some hard-earned time off, you can access your reports via mobile, tablet, and laptop using our secure cloud.

Epos Now's financial reports document sales you made today, yesterday, and all the way back to the first sales you made using your new till system!

Your finance reports are exportable in multiple formats, including Excel, CSV, and print.

You can also integrate with common accounting platforms (see what's available in the Epos Now AppStore) to speed up your financial reporting too.

Is Epos Now available outside of the UK?

Yes! Although we're based in the UK, Epos Now proudly operates internationally. We've been bringing POS services to customers around the world for over a decade.

What payment methods are accepted through Epos Now?

You can accept all major credit and debit cards and other payment methods, including contactless payments using Epos Now Payments. This includes Visa, MasterCard, American Express, Discover, JCB, and UnionPay.

Payments made via eWallets also enjoy the same flat rate, including Apple Pay, Google Pay, and Samsung Pay.

To find out about our one flat rate for all transactions, including our charge rate, see Epos Now Payments.

What apps are available for Epos Now software?

We believe that our customers should be able to access an EPOS system that meets the exact unique needs of their business. As part of that, we operate a vibrant AppStore full of useful integrations that you can use to customise your systems.

Whether you run a hospitality or a retail business, inventory management is a crucial part of running your business. After all, if you don't know you have it, you can't sell it! Depending on the size of your business and your products, inventory management can take hours of time that could be better spent elsewhere. Our AppStore features stock management apps that can do the job in minutes.

Accountancy is no one's favourite part of running a business. To help make things easier for our customers, we've partnered with some of the biggest names in business accountancy to bring their apps to our systems. This includes companies such as QuickBooks, Xero, and Sage.

Our AppStore isn't limited to accountancy and inventory management. Our range of apps can fit almost any business niche you can think of. We have apps that can help you:

Manage sales

Track employee performance

General team management

Set up an online store

Launch loyalty programmes

Create booking and appointment systems

Offer delivery or pay at table options (great for hospitality businesses!)

And more!

If you want to know more about a specific POS app and apps we may not have mentioned. Please don't hesitate to get in touch with our team. They will be more than happy to assist you.

What is EPOS software?

Simply put, EPOS software is the software that runs electronic point of sale (EPOS or POS) systems. Some POS providers provide software that has specific features for different industries - here at Epos Now, we specialise our EPOS software for retail, service and hospitality. This specialisation allows business owners to get a system that meets their exact needs.

There are two core parts to our POS software:

1. Our software which you can use on most POS systems to take payments and make sales.

Our EPOS software is compatible with iPad and Android tablets, as well as Mac or PC systems, meaning you can run it across a variety of devices and web browsers (such as Google Chrome).

2. Our Epos Now Back Office, which gives provides a central hub that you can use to oversee your business.

The Epos Now Back Office offers dozens of insightful reports and lets you use them to make instant changes to your products, stock, and staff to keep your business in ship shape! You can access this on your phone, tablet, computer or any other device with internet access.

What are the advantages of using POS software?

With point of sale software, not only can you serve customers and take payments, but you can also automate a large part of your daily admin. Automation saves you time and improves your processes.

Tasks that an Epos Now POS system can automate include customer management, stock management, customer loyalty programmes, and employee management. Industry-specific tasks, such as table management for hospitality businesses, can also be automated.

Using an Epos Now POS system, all of this and more can be done from a single terminal. In cases of larger businesses with multiple locations, the system can seamlessly grow to accommodate multiple stores.

One last advantage: with Epos Now, you can be assured that our cloud-based systems are completely safe and secure. With a cloud-based system, your data is stored off-site on dedicated servers. This keeps all your information safe from accidental damage and data breaches.

Additionally, all of our systems are PCI-compliant and meet industry safety standards. It's important to us that our customers can use their POS system confident in the knowledge that their information is as safe as possible.

What kind of hardware does Epos Now offer?

In addition to our software, Epos Now also offers a range of POS hardware. This includes the Complete Solution, a full POS solution that comes with everything you need to trade.

We also sell a range of reliable POS accessories, including (but not limited to):

Sturdy cash drawers

Portable card machines with a built-in receipt printer

A reliable barcode scanner