Award Winning POS Software
Get the tools you need to succeed. Trial our award-winning POS software for iPad, Android, Mac or PC.
Everything you need in one place
Our all-in-one solution helps restaurants and retailers of all sizes run their business through one powerful and easy-to-use system. ​
POS software designed for your industry

​

Manage your business from anywhere, and access reports on-the-go

​

Leverage real-time insights to boost efficiency and profit margins

​

Go omnichannel with ecommerce, delivery and collection

integrations

​

Set up on any device and train your staff in minutes

​
from per month*
Why Epos Now?
Accessible Anywhere
Manage your business remotely and access insights from any device.
Flexible & Adaptable
Sell in multiple ways, and reach your customers no matter where they are.
Simple & Easy To Use
Get started in minutes with the world's most intuitive POS system.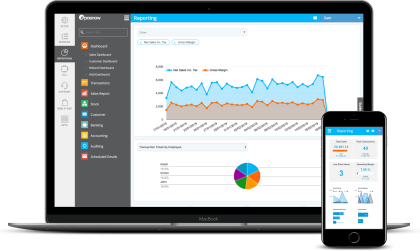 Turn real-time insights into instant actions
Get all the insights you need to make smarter business decisions.
Customize your reports to see what matters to you

Access reports and data from anywhere

Track sales, profit, and trends in real-time to understand more about your business

Identify your best-sellers and non-sellers for smarter promotions and pricing
A smarter way to manage your inventory
Get full visibility over your inventory, and put an end to unnecessary stock takes.
Perform stock takes in minutes, not hours
Create stock alerts so you never miss a selling opportunity
View inventory levels from any location or device
Automate purchase orders so you never run out of stock
Manage inventory between multiple locations
Reduce wastage and minimize cash flow tied up in stock
Protect yourself and eliminate fraud with authorization levels
Set authorization levels for staff members so you can rest easy.
Prevent unauthorized access with pin numbers and swipe cards
Use access rights to restrict who can do voids, no sales, discounts and refunds
Keep sensitive information, like profit margins and customer details, hidden
Eliminate shrinkage, theft, and waste
Reward your biggest fans and keep them coming back
Get to know your customers so you can drive greater loyalty and more repeat business
Gather customer details as they purchase to grow your database
Understand who your customers are, what they like, and when they buy
Build smarter marketing campaigns with customer information
Set up loyalty schemes to reward regular customers
Use promotions to give customers a reason to spend
Automate staff management and improve performance
Get full visibility over your staff by having them clock in and out on the till
Automatically generate staffing hours and pay, saving hours of time in Excel
Use employee reporting to identify your star performers
Integrate with powerful staff management tools to streamline labor costs
Discover how we've empowered thousands of businesses​
Want to Know More?
If you'd like to know anything else about how Epos Now can help your business, get in touch.
Can POS systems connect to accounting software?

Epos Now systems integrate with Xero, Sage & Quickbooks, making accounting easy. Sales figures from your POS system will automatically be uploaded to your accounting software immediately.

Do POS systems have inventory management software?

Epos Now systems handle all of your inventory management needs. You can track stock by specific location and see whether stock has been sold online or offline. You can also set minimum product quantities to receive low stock alerts and automatically populate purchase orders.

Which POS Software Supports Paypal transactions?

Our Epos Now point of sale software supports multiple payment providers including Paypal. With Epos Now, you can integrate with your preferred payment partner, and negotiate your own rates.