POS hardware for any business
With Epos Now, you can find the best EPOS hardware on the market, whether that's till hardware, POS system hardware, or mobile POS hardware.
Are ready to take your point of sale to the next level?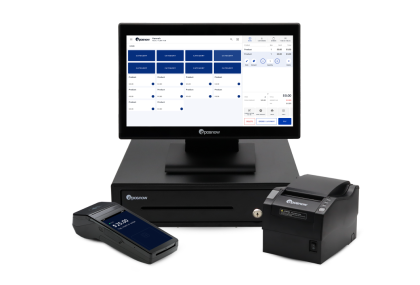 The best point of sale hardware on the market
You don't have to look any further for a reliable, efficient, and cheap POS hardware suite. Choose from a variety of devices specifically built and designed for retail and hospitality businesses all over the world, including:
Complete EPOS systems

Printers

Card machines

Accessories
Optimise your POS with our range of hardware
Join thousands of companies taking advantage of cloud-based POS systems
It doesn't matter if you're a small business or a multi-national corporation. Epos Now can set you up with industry-leading hardware. We help over 40,000 businesses in dozens of sectors access the power of cloud-based technology with our powerful hardware.
Get in touch to speak to a member of our team to discuss your needs.
Got questions about Epos Now's hardware?
How can I purchase my hardware?

Placing an order is easy. Simply request a callback from a member of our team. You should receive a callback within 24 hours.

Where can I buy accessories for my hardware?

You can find accessories for your system, from scales to till rolls, in our shop.

How much does an Epos Now System cost?

Each system is priced according to the market it's made for. Find out more by visiting our store page.

Can I get help to install my hardware?

With Epos Now, you'll never feel like you're going it alone. We provide round-the clock support, as well as personalised, one-on-one onboarding and unlimited training and coaching.

How long will it take for my order to arrive?

Once your order has been submitted, it should take between 5-10 business days to arrive.

What software can run on my Epos Now hardware?

Epos Now's cloud-based POS software allows you to get an instant overview of your business across all of your locations and ensures access to real-time product, sales and employee performance information. You can also take advantage of the hundreds of third-party integrations specifically designed for your industry. Find out more about these integrations in our AppStore.