The book shop POS that brings your store and books to life
Turn the page on time-consuming business practices and speed-read your way to faster sales, easy inventory management, and detailed customizable reports.
WAS $449, NOW FROM $99*
Efficient stock control
Accurately display book titles 43% quicker for stock takes with our wireless scanner.
Quicker transactions
Save 4 hours per month during sales with the Epos Now Payments integration.
Retain more customers
Add the Loyalzoo integration and see an average 13% increase in revenue.
The bookstore POS that offers speed, simplicity, and savings
The complete bookstore point of sale package
Choose the bookstore POS solution that gives you the tools you need to run a thriving multichannel business. ​
Sell online and open up a worldwide customer base with built-in ecommerce functionality
Accept all types of payments and process transactions quickly and securely
Organise items by author, genre, and cover type with our leading product matrix
Access sales reports to keep track of the most popular titles
POS system, metal cash till, and thermal printer included - everything you need to do business.​
WAS $449, NOW FROM $99*
Sell online and reach readers around the world
Create an online bookstore with our suite of integrations and connect your website directly to your bookstore POS system.
Create your own online bookstore store with BigCommerce

Drive more sales and seamlessly manage your online and offline operations from one central platform

Manage online and in-store purchases together in your Epos Now back office

Offer Click & Collect services​ for added safety and convenience
Enjoy complete payment flexibility with Epos Now Payments
Stay flexible with Epos Now Payments. Accept all payment types while increasing security and customer service - all for one blended rate.
We've also integrated with every major payment provider so you can choose the right one for your business and negotiate your own fees
Integrate with your existing or preferred partner today.







A simpler way to manage inventory
Discover an easier way to manage thousands of items.
Our in-built product matrix lets bookstore owners categorize titles by author, genre, and cover type

Automate purchase orders so you never run out of your best-selling books

Take stock in minutes, not hours, and spend more time with your customers and your books!
Add a personal touch to your service and build loyalty
Bookstores cater to diverse audiences with a range of tastes and interests. This means it's important to get to know your customers - and loyalty and rewards programs are a great way of achieving exactly that.
Capture customer data at the point of sale - either online or in-store

Build a relationship with your customers through targeted email campaigns with Mailchimp

Create your very own loyalty scheme to reward your biggest fans and drive more repeat business

Quickly implement promotions on the latest releases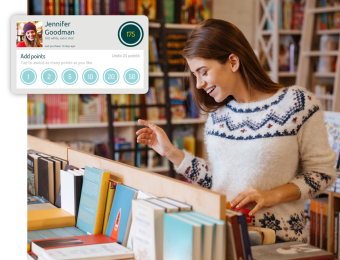 Find winning products with intuitive reports and insights
The literary industry is constantly evolving. Use our advanced sales reports to see which titles and genres are popular, so you can forecast and run promotions with greater accuracy.
Use real-time sales and customer trends reporting to learn more about your business and its customers

Access valuable insights from any location and device

Use integrated accountancy apps like Quickbooks and Sage to take control of your finances and reporting
Access 24/7 Award-Winning Support Team
Epos Now offers round-the-clock, personalized support.
Get in touch today to find out more about our award-winning training and onboarding.
Frequently asked questions
If you'd like to know anything else about how Epos Now can help your business, request a callback, or read our frequently asked questions.
What is the best POS system for a bookstore?

Bookstores need a POS system that can manage and organize a diverse inventory, accept all payment types, and connect to leading ecommerce and loyalty platforms. The best bookstore POS systems will also have online connectivity, with cloud storage and 24/7 access, so business owners can keep on top of their store from any location and at any time.

What POS integrations should a bookstore use?

Bookstores typically require three key integrations in order to remain competitive. Firstly, they should partner with an ecommerce platform to sell books online and build a worldwide customer base.

Next, a bookstore should connect with email marketing platforms like Mailchimp to keep in contact with customers.

Finally, they should link their POS with accounting software to easily manage bookkeeping and financial reporting.

What is the best inventory software for retailers?

With an Epos Now POS system, there's no need for separate inventory management software or spreadsheets as all of your inventory is stored in your back office system and automated, no matter how many books you've got on your shelves.

You can also set up low-stock alerts so that you know which books to re-order after you sell them and avoid any bare-shelf nightmares!