Score big with the ultimate sporting goods POS system
Play like a pro with our sporting goods POS system. Streamline inventory management, customize with third-party integrations and perfect for sporting goods stores of any size!
WAS $449, NOW FROM $99*
Easier management
Save up to 10 hours every month on business management and staff admin.
Save time
Save 4+ hours per month during sales with the Epos Now Payments integration.
Increase your benefit
81% of shoppers research products online. Showcase your inventory online with NearSt.
Pump up your sporting goods stores
The all-in-one sporting goods POS system
Choose the sporting goods point of sale (POS) solution that gives you the power to run your operations from a single system.
Accept all payments types and process transactions quickly and securely.
Automate manual processes to speed up service and delight your customers.
Sell online and open up a worldwide customer base with e-commerce functionality.

Organize items by size, brand, and color with our leading product matrix.

Dive into real-time data insights, from sales to inventory.
The Epos Now Complete Solution has everything you need to do business, with a POS system, cash till, and printer included.
WAS $449, NOW FROM $99*
A simpler way to manage sporting apparel
Running sporting goods stores can be a daunting task, especially when it comes to inventory control. But with our inventory management solution, you can simplify the process and take the headache out of managing your store's stock levels!
Easily categorize your sporting equipment and apparel by brand, size, and color, making it simple to find what you need.

Automate your purchase orders so that you never run out of your best-selling sports equipment.

Take stock in minutes, not hours, so you can spend more time with your customers and less on your store's inventory management.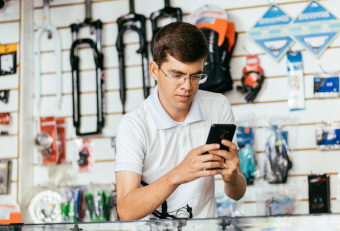 Add a personal touch and build loyalty programs
Looking to build stronger relationships with your customers and create a loyal following for your sporting goods store? With our modern point of sale software, you can add a personal touch to your service and build customer loyalty.
Capture customer data at the point of sale, either online or in-store.

Build a relationship with your customers through targeted email campaigns with Mailchimp.

Keep customers up-to-date on new products, sales, and events at your sporting goods store.

Create customer loyalty programmes to reward club members and drive more repeat business. Offer discounts, special offers, and exclusive perks to your loyal customers.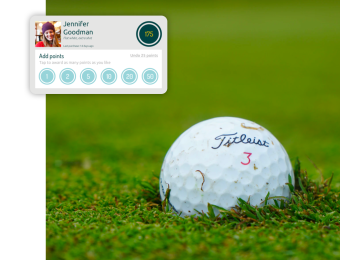 Discover top-selling products with our easy-to-use reports and analytics
If you want to keep your sporting goods store ahead of the game, you need to know what your customers want. With our sales reports and insights, you can find your winning products and forecast sales accurately.
Get real-time sales and customer trends reporting to stay up-to-date with your business and customers.
Access valuable insights from anywhere, on any device, with our fully integrated sporting goods store software and cloud-based technology.
Stay on top of your finances with integrated accountancy apps like Quickbooks and Sage.
Payment processing services made simple
Epos Now Payments offers all the advantages of the latest payment technology with the very best transaction rates.
Become one of the thousands of businesses already making payments simpler and add Epos Now Payments to your customized POS solution.
Looking to attract cash-paying customers? Epos Now Payments lets you give them a direct discount.
Win with 24/7 customer support
Epos Now offers round-the-clock assistance for your sporting goods store's POS system.
Get one-on-one onboarding and unlimited training to stay ahead of the competition.
Frequently asked questions
What is a sporting goods POS system?

A sporting goods store POS system is an all-in-one solution that includes both software and hardware components to help you streamline your retail management operations.

With retail POS software, sporting goods retailers can easily process sales transactions, manage inventory, and track customer data all in one place.

The hardware components, such as barcode scanners and receipt printers, make it easy to complete transactions quickly and accurately.

Plus, you can integrate your sporting goods POS system with other retail management software, like accounting to further streamline your operations.

How can my sporting goods store easily take payments?

Epos Now Payments is a payment processing service that integrates seamlessly with your point of sale system.

With Epos Now Payments, you can accept payments through various methods, including debit and credit card processing, contactless payments, online purchases, and more.

What are the best sporting goods app integrations?

The best sporting goods POS integrations include inventory management, loyalty programs, eCommerce,and marketing tools. These integrations can streamline operations, save time, and help store owners better understand their customers.

Inventory management integration provides real-time tracking of inventory levels, preventing stockouts and overstocks.

Another important factor to consider when choosing a POS system for your sporting goods store is customer service availability. Look for companies that offer 24/7 support, as well as demos and assistance with setting up your system. This way, you can feel confident that you'll always have help when you need it, and you can focus on providing excellent service to your customers.

Does Epos Now let you set up cash discounting?

Yes! Our cash discounting feature allows you to offer discounts to cash-paying customers - key to attracting more customers and saving your business money on payment processing fees.

It's easy to set up in your Epos Now Back Office and sync across your point of sale system and card machines - all you need is to be signed up to Epos Now Payments and click a few buttons!

Now that you've enabled cash discounting, here's a quick rundown of the key features you can use in your Epos Now point of sale system:

Display the discounted cash price on the tender for staff reference.

Process the list price on the card terminal when a card payment is selected.

Apply the preset discount to the total when a cash payment is chosen.

Ensure receipts highlight the savings from the cash discount.

Cash discounts will be shown in your Back Office reports for easy tracking and analysis.

Learn more about cash discounts in our handy blog.