Epos Now card machines
With the Epos Now Pro Range, you can take advantage of our powerful point of sale system in a portable card reader. Take contactless payments, accept debit card payments at one fixed rate, and manage your business from the palm of your hand.
The benefits of card machines and Epos Now Payments
No missed revenue
Save up to $150 of missed revenue a month with an integrated system and simplified transactions.
Time saving service
Speed up service by eliminating keyed-in transactions and save 4.5 hours a month in admin.
Terrific card transactions
Accept your customers' preferred payment methods anywhere using portable card machines.
Increase your profits with a portable card machine
Our payments solution for every business, regardless of size or sector.
Securely accept all major credit and debit cards at one fixed rate with our card terminals, including:
MasterCard, VISA, American Express, Diner, Discovery, UPI, JCB, and more

Apple Pay, Google Pay, and Samsung Pay on smartphones and watches

Contactless payments for quick and easy transactions

Remote payments like pay-by-link
Accept all the ways your customers want to pay
Take payments from every major credit and debit card provider and open your business up to new sales opportunities.
Chip-and-pin
Guarantee safety for you and your customers chip and pin transactions.
Contactless
Tap cards, Apple Pay, Google Pay, Samsung Pay, and other smart devices.

Remote payments
Open your store to the world. Securely accept pay-by-link transactions.
Mobile card machines for small businesses
Find the right card machine for your business - from portable devices to stationary machines with near-instant payments.
Card machine type
Portable
Stationary with fast payments
Portable
Connectivity
3G, 4G, WiFi and Bluetooth
Ethernet and WiFi
WiFi
Display
5.5" colour touch display
3.5" colour touch display and 15-pin keypad
4" touch display
Printer
Print card machine receipts with 100mm/sec printer
Real-time reports
Yes! On device (Pro+ only)
Yes! Using Epos Now POS software
Yes! Using Epos Now POS software
POS
Yes! (Pro+ only)
Need additional hardware
Need additional hardware
Extras
Print sales receipts with the Pro+
Enjoy fair pricing with no hidden fees
Epos Now portable card machines connect seamlessly with your point of sale, providing you with a full financial overview at all times. With easy onboarding, clear pricing, and a single service team for all your support, we make payment services available at affordable monthly fees.
To make payments painless, all transactions are processed at one fixed rate without hidden transaction fees, no matter the card.
Committed to keeping you safe
All Epos Now payments hardware is PCI compliant by default. This means that our POS devices are certified to protect you and your customers at all times. As well as guaranteeing robust security, protection, and privacy, we also cover the costs associated with the card reader's safety compliance. So, you can have peace of mind while using our handheld debit card machines.
Discover what's possible with the Air card reader
The Air is a wifi-enable handheld card machine that's small and light enough to fit into your pocket. Perfect for space-conscious businesses looking for a portable payment device.
Experience perfect card payments with mobile card readers
Enjoy the power of a full POS terminal and the convenience of a mobile card machine with the Pro+. Make your business more customer-focused, flexible, and productive with Epos Now's card readers and POS devices.
Take orders tableside and send them directly to your kitchen.

Accept debit cards and contactless payments, split the bill, and print receipts on the spot.

Update stock availability, instantly manage tables, and review reports anytime, anywhere.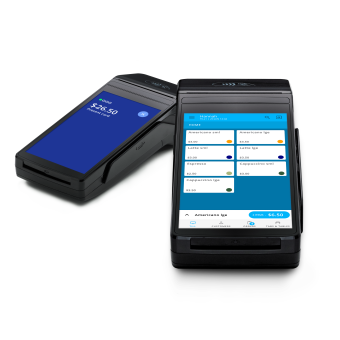 Simplify your workflow with the Pro+
As an all-in-one portable pdq machine and POS device, the Pro+ syncs all essential data with your Epos Now system using the power of cloud technology. The Pro+ handles all aspects of your automation so you can focus on running your business.
Send orders directly to your kitchen to improve order output times and accuracy

Track time-at-table and manage floor plans in real-time to boost table turnover

Add and amend menu items, or make manual stock changes instantly
Get access to the information that matters
Learn about your business through actionable business analytics and reports. All transactional data recorded on your mobile PDQ machine will feed into your Epos Now Back Office in real-time. Reports are generated automatically and can be filtered by cash flow, profit and loss, individual item performance, and much more.
Read more about the importance of integrating your payments for an enhanced business operational performance.
1-1 support whenever you need it
Whether you're calling about card payment processing, connectivity, or reporting, our team of experts provide the assistance you need so you can continue to focus on running your business.
We support you from the very beginning of your payments journey with easy set-up, guided onboarding, and 1-1 support whenever you need it. No more calling multiple parties – we will take care of it all.