Back To AppStore
WooCommerce
Welcome to the new era of ecommerce. Become a true omnichannel retailer with the WooCommerce Epos Now integration, hosted by Slynk.
Build a bustling online store with WooCommerce
Industry-leaders of ecommerce
WooCommerce is the world's most popular open-source ecommerce platform. Open-source gives you ultimate flexibility, control and ownership of your store's design, content and data.
Whether you're bringing your current physical store online or launching a new business, WooCommerce has all the tools you need in one place.
Sync with your Epos Now point of sale system for streamlined inventory management and access to detailed customer shopping insights and sales data.
Cut inventory management in half
Thanks to Slynk, you can feed vital sales data from your WooCommerce platform to your Epos Now till. When you make a sale online or in person, your master inventory will update automatically.
With the Slynk WooCommerce integration, your days of overselling and under-stocking are over.
Give customers more of what they want
Learn exactly who your customers are, what they like, and how they shop. Blend your Epos Now data with WooCommerce data to create a brand presence that customers want to connect with.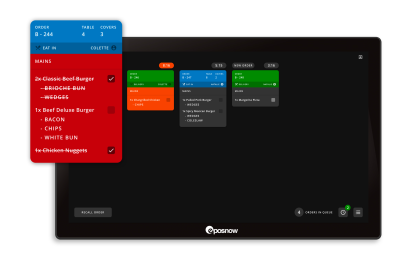 Auto-print online orders in store
Perfect for hospitality. Take orders on your website and have them print out directly to your kitchen or displayed on your Kitchen Display Screens within minutes.
Quickly view all relevant order information, such as collection times, dietary restrictions and custom notes.
100 ways to get paid
Choose how you get paid by offering your selection of over 100 payment gateways on WooCommerce. Securely accept cards, mobile wallets, bank transfers, and cash.
Share your payment records with your preferred accounting and bookkeeping software on your Epos Now till for effortless money management.
See the information that matters
Woocommerce and Epos Now both host powerful analytics systems that give you precise, relevant performance metrics. Use this data to make better informed decisions to grow your business and improve customer satisfaction.
Review individual product performance to find your best and worst sellers, find out what's trending at a glance, or search by profit margin to get the best ROI on your inventory.
You're only a click away
By opening an online store, customers can browse and buy your products anytime, anywhere.
Epos Now, WooCommerce and Slynk are cloud-based systems. Even when you're away from the shop floor, you can still watch your back office from any internet-ready device. Manage your accounts, reply to customer inquiries and update stock in real time from anywhere.
5 Star Rated
"Using Slynk for EposNow plugin integration. The product is not only cost effective but actually works superbly well. The service and support is first rate and response times are astonishing. We can't praise the Slynk team enough and absolutely recommend."
David Richards, Glue Creative
Make selling online easy
The Slynk WooCommerce Epos Now integration lets you open your store to the world.