Make your grocery store checkout a breeze
Use a grocery store point-of-sale system that speeds up your operations - not slows you down! Easily manage your staff, inventory, sales and more.
WAS $449, NOW FROM $99*
Easier stock counts
Enjoy 80% faster stock counts with the Epos Now wireless scanner.
More visibility
81% of shoppers research products online. Showcase your inventory online with NearSt.
More sales
Treble your sales by accepting card with Epos Now Payments.
The grocery store POS that offers speed, simplicity, and savings
The grocery POS system designed for fast movers
Grocery store customers need to get their goods home quickly. Our POS system for small grocery stores gives owners and clerks complete control over sales and inventory management.
Save your business hours of time with automated

stock takes

Automated purchase orders mean you'll never run out of popular items

Accept a variety of payment options and keep transactions safe and secure

Identify your best and worst-selling products with accurate margin data

An intuitive POS system that can onboard new staff in 15 minutes
In addition, your POS system includes a cash till, receipt printer, and everything you need to do business.
A grocery POS system that takes stock in minutes
Grocery stores have a wide and varied inventory. Our smart system allows your staff to stay on top with real-time updates.
Automatic stock alerts and purchase orders mean you never miss a selling opportunity

Enjoy total control and import and update your stock in a few clicks

Create your own barcodes for smoother service and greater accuracy

Instantly get an overview of your stock instore and remote
Customise your grocery store POS system with a suite of leading integrations
Boost efficiency, reward customers, and discover more ways to customise your system with our App Store.
Build an online presence with an intuitive

website builder

Reward your customers and encourage repeat business with loyalty programmes

Seamlessly integrate with

Xero

,

Quickbooks,

and other accounting software
Pioneering grocery shop POS software
Your POS system for retail grocery stores comes will top-of-the-line software. You'll be able to make the right decisions for your business thanks to smart collected data.
Identify high-margin items with advanced sales and product reports

Get smart insights into every aspect of your business at the touch of a button

Use historical sales data to accurately plan for the future
Protect your grocery store with complete cash register security
Our cloud-based system keeps your data secure and allows you to accurately track all sales data.
Set permissions to allow refunds, no-sales, voided transactions, and discounts to specific employees

Track shift sign-ins with

swipe cards

Accept your data from anywhere with remote sign-in
Reduce waste by accurately pricing items
Boost your profits and cut down on waste with our accurate and easy-to-use scale integrations.
Speed up transactions, reduce pressure on your staff, and improve your

customer experience

Eliminate human error with automatic price calculation
Payment processing made simple
Epos Now Payments offers all the advantages of the latest payment technology with the very best transaction rates.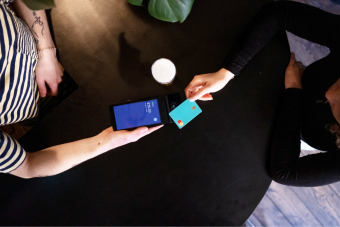 Award-winning expert support
With Epos Now, you'll never feel like you're going it alone. ​​
We provide round-the-clock support, as well as personalized, one-on-one onboarding, and unlimited training and coaching.
FAQ
If you'd like to know anything else about how Epos Now can help your business, request a callback or read our frequently asked questions.
What is the best POS for retailers?

Each business has different requirements for finding the best retail POS system, but overall, it should improve efficiency and profitability.

If you are using an e-commerce site like Shopify, you want an POS that integrates with your chosen platforms. Your perfect POS system will also fit your budgetary requirements and scale with your business as it grows.

What is the best inventory software for retailers?

With an Epos Now POS system, there's no need for separate inventory management software or spreadsheets as all of your inventory is stored in your back office system and automated.

What is the best cloud based POS loyalty integration for retailers?

Epos Now has partnered with multiple cloud-based loyalty scheme providers so your customers can earn points on their purchases or you can set up a prime style subscription program. Head to our AppStore to find out more.