Expand your operations with a delivery POS
Run an effective delivery operation with integrations to track drivers and improve customer experience. It's time to innovate your business with a new delivery revenue stream.
WAS $449, NOW FROM $99*
Cut out costly errors! Reduce mistakes on meals by 60% with the Epos Now Kitchen Display System.
Speed through admin. Save up to 10 hours every month on business management.
Get a 48% faster delivery and increase revenue by 25% by adding Epos Now Delivery.
The point of sale system built for speed and simplicity
The Lightning-Fast Delivery POS System
Whether you're a small take-out restaurant or a fine Italian dining room business, with Epos Now, you can increase your restaurant's reach with a POS system that focuses on prompt, reliable food delivery service.
All online orders are sent directly to your POS through the Kitchen Display System
Build and update the menu items regularly in your restaurant menu with just a few taps
Automatically deduct expected stock levels with each purchase
Innovate your payment processing methods and accept online payments for increased convenience and security
Integrate your restaurant POS with dozens of add-ons to create an efficient delivery service system
Get the POS hardware, cash drawer, and printer included.
Easy to use and employees can be trained in 15 minutes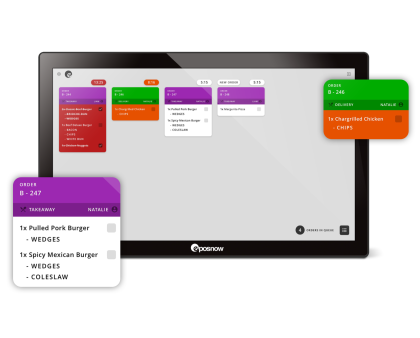 Create your online ordering platform
Increase your reach and help customers find exactly what they need with Epos Now Order & Pay.
Create a branded online ordering system through a website including a digital menu and photos
Update your payment processor by accepting all major payment providers
Receive orders directly to your kitchen display or receipt printer
Enhance customer experience by providing them a range of delivery options
Improve operations with advanced stock control
Understand what you have in stock is vital for keeping your margins low. Keep track of all your products with our POS system to reduce waste and out of stock issues to work smarter.
Manage thousands of products including wet and dry items in one centralized POS software
Real-time records to analyze real vs expected inventory levels
Link menu items with inventory to automatically deduct stock with each sale
Add product notes to describe where items are stored
Automated online ordering to avoid running out of the essentials
Reward your most loyal customers
No matter what type of food you serve, competition in the hospitality industry is fierce. Keep your customers coming back with rewards and other incentives based on your POS system management solutions.
Start a loyalty program to encourage more delivery orders
Stay connected with customers through emails and text messages
Create special offers, events, and other perks to reward customer loyalty
Direct integration to dozens of helpful apps
As part of your POS system, you can access to the Epos Now app store, you can connect with dozens of add ons to make your POS system your main business device for back and front of house duties.
Create a new revenue stream by building a website so customers can also online order and enjoy your delivery services
Send real-time financial data to QuickBooks and other accounting programs for simple bookkeeping
Create email marketing campaigns with Mailchimp to update your clients about the latest of mobile ordering benefits such as the efficiency of QR code for order tracking
Payment processing made simple
With Epos Now POS systems, your can upgrade your restaurant POS by implementing a payment processor which accepts all types of payments quickly and securely, including debit, credit card payments, and contactless payments.
Epos Now payments facilitate payment processing by centralizing all third-party transactions within one POS terminal. Without surprising or hidden credit card processing fees, find out more about the benefits of our Epos payment processor now.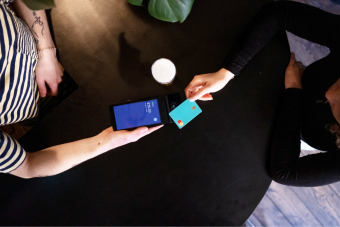 Get the most out of your data with a Delivery POS
When it comes to business, few things are more important than numbers. With Epos Now's point of sale reporting, you can use your delivery POS to collect and analyze mountains of data.
Keep track of online transactions, refunds, labor costs, and other key figures
Monitor performance with detailed reports and dashboards to optimise points including delivery times and delivery driver performance
Spot your top-earning employees to reward hard work and calculate bonuses
Track customer behaviors to determine what products to promote
Award-Winning Support Team
When you choose one of our POS systems, we want to assure businesses owners have made an excellent choice by offering a smooth onboarding transition. Therefore, we provide round-the-clock support plans, as well as personalized, 1-on-1 unlimited training and coaching.
Additionally, you also have access to our blog portal, where you can also read further to learn how to use a POS system and make the most out of it.