Our award-winning POS system
Simple, secure, and powerful. Take control of your business with our award-winning POS systems. ​
Get the Complete Solution now and save up to 78%
WAS $449, NOW FROM $99*
Everything you need to manage your business in one package
Serve customers, take payments, and run your entire business with one of the best POS systems on the market​.
High-definition

15.6" Touch Screen

​

Wi-Fi

, and ethernet enabled

​

Powerful

POS software with over 100 app integrations

​

Online, delivery, collection, and multi-channel ready

​

Integrated with major payment provider

​s

Secure cash register

​ and high-speed receipt printer

​

Personalized onboarding and

product

training
WAS $449, NOW FROM $99*
Make payments a breeze with Epos Now Payments
Our payment solutions make it easy to accept payments and process payments, anywhere at any time.
With one fixed rate, you can accept all major payment methods without worrying about hidden fees.
Plus, with seamless integration with your POS system, you can manage your business from a single portal.
Why Epos Now?
Affordable POS System
POS hardware and software designed to work together in complete harmony, with game changing features with no additional costs.
A POS System Accessible Anywhere
Sign in from anywhere at any time with our mobile POS systems. Get access to reports & tailored insights, and make improvements to your business in real-time through our mobile app.
A Completely Flexible POS System
Our POS systems scale with your business and expand as you grow. Add mobile devices, accessories & over 100+ integrations to take you to the next level.
The support you need, whenever you need it
When you choose an Epos Now POS system, you'll never feel like you're going it alone. ​
We provide round-the-clock support plans, as well as personalized, one-on-one onboarding and unlimited training and coaching.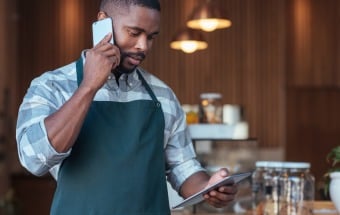 Discover how we've transformed thousands of businesses
Want to know more?
If you'd like to know anything else about how Epos Now can help your business, get in touch.
What is a POS system?

A Point of Sale (POS) system is a combination of hardware and software designed to help you run your business more effectively. Where a traditional cash register recorded sales, POS systems not only record this transactional information but can then generate detailed reports in response to the input data. A point of sale system is also a powerful tool for speeding up payment processing, syncing with online ordering activities, and implementing smart inventory management and customer relationship management apps.

What kind of businesses need a POS system?

Any kind of Large, medium, or small business, whether they're online or in a brick and mortar store, can take advantage of the benefit of a POS system. Popular versions of our POS systems include:

What card payments can I take?

Payments from debit cards and credit cards are very common. The best POS systems allow you take these payments with ease, whether at a terminal or on a mobile device. You will be able to take debit card credit card payments with Epos Now's payment processing service, Epos Now Payments. Your Epos Now POS system will also work with all major payment processors.

What other types of payments can I take?

With an Epos Now POS system, you'll be able to take a variety of payments from your customers without any hassle. Along with credit card payments and debit card payments, you'll be able to take payments from a variety of other payment methods, including Apple Pay, Google Pay, Samsung Pay, WeChat Pay, and more.

What apps can I use with Epos Now POS systems?

Epos Now partners with a variety of companies to bring you the best possible POS system experience. You can take advantage of the most popular app integrations for business needs like payment processing, online ordering, employee management, customer loyalty programs, and more. Popular apps include Shopify, Xero, QuickBooks, and Mailchimp.

Epos Now also has a variety of proprietary apps to make your POS system experience the best it can be. Try using popular apps like Epos Now Online Ordering, Epos Now Order and Pay, and Epos Now Delivery.

What POS hardware is available for my POS system?

Common instances of POS hardware for a POS system include options like barcode scanners, mobile devices, receipt printers, cash drawers, card readers, Android devices, and more.

Items like barcode scanners and receipt printers can be purchased in our shop, along with other cloud based pos systems.

What are the different types of POS systems?

There are many different types of POS systems, each designed to cater to specific business needs. At Epos Now, we offer complete POS systems, as well as tablet systems for iOS and Android. With a complete POS system, you get everything you need to trade, including a touch screen point of sale, secure cash draw, and high-speed printer.

The best POS systems are the ones that offer small business owners a wide variety of features, like customer management, employee management, multichannel inventory management, contactless payments, third party integrations, and more.

What is the best POS system?

The best POS system you can choose largely depends on the type of business you own. We have tailored POS systems for retail and hospitality businesses, as well as the integrations you need to make running your business easier.

The best POS systems allow for all sorts of business activities like payment processing through mobile devices, online ordering, inventory management, customer relationship management, and more.

How do you set up a point of sale system?

Our Epos Now point of sale system is easy to set up so you can be up and running within 15 minutes, guided by your dedicated implementation manager.

if you have any questions about how to set up your POS system, or if you would like to discuss our other services like payment processing, please get in touch with our support team.

What is a point of sale inventory system?

Our point of sale inventory management system allows you to easily add, edit and update stock levels, and track inventory in real time. It will also trigger low stock alerts, allowing you to automatically reorder items so you never miss a selling opportunity. Track inventory the right way way with Epos Now's POS systems