Bar Advertising: Attract More Customers and Increase Your Revenue
Are you ready to shake things up at your bar and attract a crowd of loyal customers? Look no further than bar marketing ideas that are as refreshing as a cold pint on a hot day!
Whether you're a new bar owner or a seasoned veteran, finding ways to stand out from the competition is essential. With the rise of social media advertising, it's more important than ever to tap into customer needs and create a buzz around your bar.
In this guide, we'll explore various bar marketing ideas to help you attract and retain customers. So, let's raise a glass to your success and dive into the world of bar advertising!
7 bar marketing ideas and strategies
Bar advertising is so essential to the success of your business - both for bringing in new customers or keeping current customers coming back! So, let's dive into seven ideas and strategies for bar marketing.
1. Host themed events: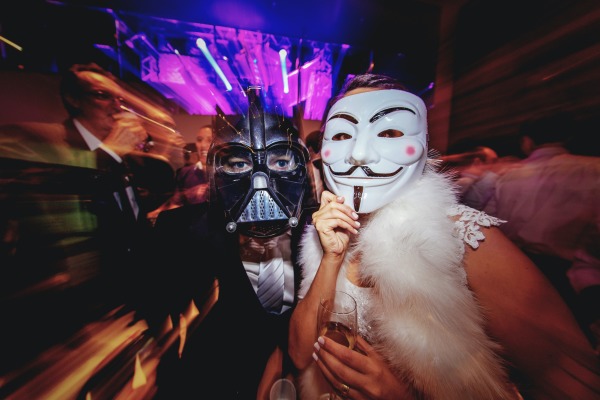 Looking to bring some excitement and energy to your bar? Look no further than themed events! Whether it's a costume party or a DIY cocktail class, hosting events is a great way to keep customers returning for more. Here are a few themed event ideas to get you started:
Costume parties:

Halloween may only come once a year, but a costume party can happen anytime! Set a fun theme - whether it's topical (wearing green for St Patrick's Day), or unusual (how about 80s outfits or dressing up as rock stars?). Then encourage your customers to dress up and offer prizes for the best costumes.

Sports nights:

Sports bars are massively popular, and for good reason! Get your customers excited about the big game by hosting special themed nights and offering food and drink specials.

Paint and sip nights:

Unleash your customers' inner artist with a paint and sip night! Offer step-by-step painting instructions and a glass of wine or a cocktail to sip while they paint.

DIY cocktail classes:

Teach your customers how to make their favourite drinks with a DIY cocktail class. Offer tips and tricks on mixing the perfect drink and let your customers try their hand at bartending.
Hosting events is a fun and creative way to keep customers engaged and excited about your bar. So, grab your creative hat and start planning your next event today.
2. Offer loyalty programs:
Loyalty programs are a proven method to keep customers coming back. To make your program even more effective, consider offering exclusive discounts to your VIP members or create a referral program that rewards customers for bringing in new business.
Plus, if you have a business account, you can tailor your loyalty program to suit your specific needs. So start rewarding your loyal customers today and watch your business thrive!
TIP: Check out our loyalty programs effectiveness blog for more info!
3. Utilise social media:
When it comes to bar marketing, social media is an essential tool that can help you reach new audiences and keep your regulars coming back for more. Here are some fun and effective ways to use social media to promote your establishment:
Run social media contests or giveaways:

Hosting a social media contest or giveaway is a great way to engage your followers and

attract customers

to your bar. For example, you could offer a free round of drinks to the person who shares the most creative photo of your signature cocktail. This is an excellent way to excite people about your bar and create buzz around your brand.

Utilise social ads:

Social ads are a great way to target potential customers and drive traffic to your bar. Platforms like Facebook and Instagram offer powerful advertising tools that allow you to target specific demographics, interests, and locations. You can also reach larger groups of people on these channels, without having to break the bank. By using social ads, you can ensure that your message reaches the right people and maximise your marketing efforts.

Join forces with influencers:

Influencer marketing is a powerful way to reach new audiences and generate buzz around your bar. Partnering with local influencers with a significant social media following can help you reach new customers and establish your brand as a destination for drinks and fun.
4. Partner with local businesses:
As a bar owner, you know that attracting and retaining your target audience is key to building a successful business. One way to do that is by partnering with other businesses and organisations to create unique experiences that keep your regular customers coming back for more. Not only will this help you build repeat business, but it can also help you tap into new markets and demographics that you may not have reached otherwise.
Here are some bar-related partnership ideas that can help you reach a highly valued demographic and build loyalty among your regular customers:
Sports teams or leagues:

If your bar caters to sports fans, partnering with a local sports team or league can be smart. By hosting watch parties or offering discounts to fans who show up wearing team gear, you can create a fun and engaging atmosphere that keeps customers coming back for every game.

Food trucks or local restaurants:

Bringing in a food truck or partnering with a local restaurant can help you create a unique experience that appeals to your regular customers while also attracting new ones. Consider hosting a food truck rally or offering a special menu item that's only available through the partnership to build excitement and loyalty.

Colleges and universities:

If your bar is located near a college or university, partnering with the institution can be a great way to tap into a highly valued demographic. You could collaborate with the school's student government association to host a fundraiser or event, offer discounts to students who show their IDs or even create a signature cocktail that celebrates the school's colours or mascot.

Local breweries or distilleries:

Partnering with a nearby brewery or distillery can help you showcase local products and create a unique customer experience. In fact - many customers want to sample unique, locally-made products. By offering a tap takeover or collaborating on a signature cocktail highlighting the distillery's spirits, you can create buzz and excitement that keeps customers coming back. Plus it means you're supporting other local businesses at the same time!

Live music venues or performers:

Finally, partnering with a local music venue or performer can help you attract a new audience and build loyalty among your regular customers. By hosting a live music night or collaborating with a performer to create a signature cocktail that complements their music, you can create a fun and engaging atmosphere that keeps people coming back for more.
5. Make sure your bar is on the map!
When looking for a place to grab a drink, customers often turn to online search engines like Google to find bars in their area. That's why it's essential to ensure your bar is listed on Google business profile and other online directories. Here are some tips for optimising your bar's online presence:
Claim your Google Business profile:

Google My Business is a free tool that allows you to manage your bar's online presence across Google, including in search results and on Google Maps. By claiming your listing, you can add your bar's hours, phone number, website, photos, and more. You can also respond to customer reviews and see insights about how people find and interact with your listing.

Optimise your listing for local search:

To make sure your bar appears in local search results, you'll want to optimise your listing with relevant keywords and information. Make sure your business name, address, and phone number (NAP) are accurate and consistent across all directories. You can also add categories that describe your bar's offerings, such as "sports bar" or "craft cocktails."

Encourage customers to leave reviews:

Positive reviews can help your bar stand out in search results and attract new customers. Encourage your regulars to leave reviews on Google and other review sites like Yelp. You can also respond to reviews, both positive and negative, to show that you value customer feedback and are committed to improving your bar's experience.

Regularly update your Google business profile

with events and photos - this will help Google understand that your profile is active, and prove to customers that you have plenty going on.
TIP: Check out our Get Google Reviews and Get your business on Google blogs for step by step guides!
6. Create eye-catching signage:
When it comes to bar and restaurant marketing, creating eye-catching signage is a must. Your signage is often the first thing that potential customers will see, so it's important to make a good first impression. Here are some tips for creating signage that will attract people to your bar:
Use bold colours:

Bright colours can help your signage stand out from the surrounding environment. Consider using contrasting colours to make your message pop.

Get creative with your designs:

Your signage should reflect your brand and the atmosphere of your bar. Try to incorporate unique designs that will catch people's attention and make them curious to learn more.

Utilise digital signage:

Digital signage is a great way to display rotating specials or promotions that will grab the attention of passersby. You can even use it to display restaurant ads and pop-ups.
7. Offer promotions:
Bars are a great place for people to come together, have a good time, and enjoy some drinks and food. To keep customers coming back and attract new ones, it's important to offer unique promotions and keep them in a good mood. Here are some fun ideas for promotions that you can try out at your bar:
Happy Hour specials:

Offer discounted drinks and food during happy hour to attract customers during slower periods. This can be a great way to bring in new customers who are looking for a deal and keep regulars coming back for more.

Special offers:

Create special offers like "buy one, get one free" or "free appetiser with purchase" to entice customers to spend more money at your bar. These offers can be promoted through social media, email marketing, or in-house signage.

Seasonal promotions:

Offer seasonal promotions like themed drinks or holiday specials to keep things fresh and exciting. This can be a great way to attract new customers and keep regulars interested.
By offering unique promotions and creating a fun and inviting atmosphere, you can attract new customers and keep them coming back for more. So why not get creative and try out some of these ideas to see what works best for your bar?
A Bar POS: For Real-Time Traders
Delight staff and customers alike with one-tap ordering, omnichannel sales and real-time reporting so you can respond instantly on those busy Saturday nights.
How can a bar POS system help your business?
A bar POS system is like a superhero for your bar - it swoops in and saves the day by streamlining your operations and making the ordering and payment process a breeze. Here are just a few of the ways a bar POS system can help your business:
1. Order and pay:
Say goodbye to long lines at the bar! With a bar POS system's order and pay feature, your customers can take advantage of and place their orders and pay for their drinks and food all in one place. It's like having a personal bartender for each customer.
2. Payment processing services:
Who doesn't love an easy way to pay? With a bar POS system, you'll be able to accept payments via credit card, debit card, and other payment methods. No more fumbling with cash or waiting for a change with seamless payment processing services!
3. Inventory management:
Keep track of your inventory levels and make sure you always have what your customers want. A bar POS system can help you keep tabs on popular products and even automate reordering to make sure you never run out.
4. Analytics and reporting:
Want to know which drinks are flying off the shelves? A bar POS system can provide you with analytics and reporting tools to track your sales and revenue. Armed with this information, you can make informed decisions about your bar marketing strategy and identify areas for improvement.
In short, a bar POS system is like a trusty sidekick for your bar, helping you to provide top-notch customer service and streamline your operations. So why not give it a try and see the benefits for yourself?
Can't decide which provider you want to use? Check out our Best POS systems for bars today!
Final thoughts
Advertising is an essential part of any successful bar or restaurant marketing strategy. Whether you own sports bars, swanky cocktail joints, or classic pubs, staying up-to-date on the latest advertising trends and techniques is important to attract more customers and increase revenue.
By utilising various ad formats and advertising products, such as social media ads and digital signage, you can reach your target audience and keep your regular customers coming back for more. Hosting pop-up events and offering special promotions are also great ways to attract people and create a good mood for friends to enjoy.
So, if you want to take your bar and restaurant ads to the next level, consider partnering with local businesses, using eye-catching signage, and offering unique promotions. Remember, with the right strategies and techniques, you can boost your bar's visibility and increase your revenue in no time!
For more helpful resources and guides on marketing your hospitality business read our resources below:
Ready to take your bar business to the next level? Talk to our team of experts today and discover the benefits of our advanced bar POS system.