What is a Merchant Account?
What is a Merchant Account?
With electronic payments now taking precedence over cash, as a business owner, it's important to adapt to this new consumer trend.
Unfortunately though, accepting debit and credit cards can't be done with a simple swipe. Businesses are required to work with a payment processor and obtain a merchant account.
While payment processing may be self-explanatory, you may be left wondering what exactly a merchant account might be? Fortunately, we've got the answers here at Epos Now.
What do merchant accounts do?
In short, a merchant account is a type of bank account that allows businesses to accept credit and debit card payments. When a customer pays by card, the funds are transferred from their bank account into the merchant account.
While businesses cannot accept digital payments without one, you actually have no control over the merchant account that's attached to your business.
Rather, it is a holding place for electronic payments during the settlement period [1]. Once settled, the funds are then sent to your business bank account, a process that typically takes 1-3 working days.
Why do busin
esses need POS merchant accounts?
With this in mind, the question has to be asked, why can't merchants instantly deposit digital payments to their bank accounts?
In short, it is a merchant's best interest to keep these funds in their account for a few days. Let's look at a few key reasons why this may be:
- To avoid chargeback fees: If a customer does not receive their product or is unhappy with the quality, they may file a chargeback. By keeping the funds in the merchant account, businesses can avoid having to pay chargebacks out of their own pocket.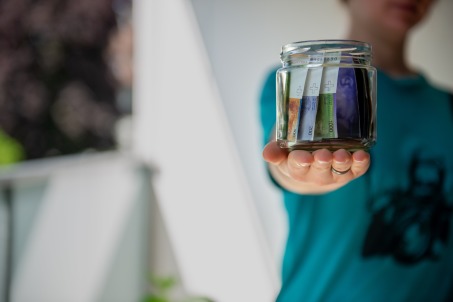 - To improve cash flow: As mentioned before, one of the benefits of merchant accounts is improved cash flow. By holding onto the funds for a few days, businesses can avoid having to front the money for purchases.
- To take advantage of float: When businesses deposit checks into their account, they usually have to wait a few days for the funds to clear.
This is not the case with merchant accounts. Since the funds are transferred electronically, businesses can save time, taking advantage of the float and using the funds right away.
What are the benefits of EPOS Merchant Services?
Of course, not all merchant accounts are equal. The best POS merchant services offer businesses the perks of payments flexibility and electronic point of sale (POS); Benefits to merchants include:
- Fast and secure payments: With a merchant account, businesses can be sure that payments are processed quickly and securely.
- Increased sales: Customers are more likely to make a purchase if they can pay by card, so having a merchant account could lead to an increase in sales.
- Improved cash flow: With funds being transferred into the merchant account within a few days, businesses can see an improvement in their cash flow.
- Flexible payment options: Merchant accounts offer businesses the ability to accept a variety of payment types, including credit and debit cards, e-checks, and even mobile payments, which makes for improved customer service.
- Protection: Most merchant account providers offer some form of chargeback protection, which can help businesses avoid costly fees. In addition, many merchant account providers offer fraud prevention tools to help businesses protect themselves from fraudulent transactions.
What fees come with having a merchant account?
Once you set up your payment processing, you can expect to pay monthly and individual transaction fees. It's also worth keeping in mind that companies charge various rates.
Here at Epos Now, we think payments should be unproblematic. With our integrative app, Epos Now Payments, you can access everything from a single portal, accepting payments at one fixed rate, as well as offering customers their preferred payment option.
Epos Now Payments is seamlessly integrated into your point of sale and/or point of sale system, helping you to take control of your finances, so you can focus on running your business. You can also maximise the effectiveness of Epos Now Payments and enhance your experience with our wide range of compatible partners in the AppStore.
How do you obtain a merchant account?
If you're interested in obtaining a merchant account, the typical procedure is as follows:
Scan the market for an appropriate merchant services provider. It's crucial to do your research since certain companies can have fluctuating percentages.

Fill out an application with your provider of choice. [Be sure to collate all of the required information and documentation beforehand, ready to use] and wait for your application to be approved.

Once you're approved, you'll need to set up your payment processing equipment. This may include a point-of-sale system, credit card terminal, or virtual POS terminal.

Finally, you'll need to activate your account and start processing payments. Once your account is up and running, you can begin accepting credit and debit card payments from your customers.
However, with Epos Now's Merchant POS services, there's no lengthy setup or complicated pricing. The onboarding process is simple: apply for payments via your Epos Now account, complete the security checks so we can validate your details, and you're ready to take payments!
Keep a firm hand on your finances with an award-winning POS system.
While there is a myriad of existing merchant solutions, POS systems are one of the simplest ways to process card transactions for both customer and merchant; POS transactions sync seamlessly with your system and are processed through a plug-in card terminal to accept credit, debit, and contactless payments (even with the physical card not present).
The terminal will not only process the payments, but it will communicate with your POS system so you have accurate financial records. If you want to sell online, you will need to link your payment gateway with your store. When a customer completes a purchase, the payment gateway will collect their card information and facilitate the transaction.
Financial management is a huge part of running a business, but it doesn't have to be stressful and time-consuming. Let your point of sale handle things like reviewing sales, bookkeeping, and accounting tasks. Epos Now's state-of-the-art POS systems for businesses in various industries.
Receive, create and send invoices using simple templates and a built-in VAT calculator.

View detailed reports on profit margin, cash flow, and other expenses.

Access multi-award-winning inventory management systems that sync online sales and in-person sales for the most up-to-date stock levels.
If you're keen to take more tips for managing your transactions into account, we'd love to hear from you!