Back To School Marketing Techniques for Retailers
The UK back-to-school retail spending figure was almost £1.2 billion in 2019[1]. Every parent wants to see their child fully equipped by giving them the best opportunity to learn, and statistics show parents and students pay handsomely to make the most of education.
August and September school equipment sales provide a fantastic opportunity for retailers to make the extra sales and earn the reliable custom of both generations of families. But to capture this market, businesses need to employ effective marketing strategies that place their products and offers above those of competitors looking to cash in before school starts.
What can your retail store offer?
Retailers that choose the right product lines to sell give themselves a better chance to market effectively. A healthy bulk of the back-to-school market may come from uniform sales. Still, stationary, cases, electronics, and specialist subject equipment such as protractors provide an equal chance of profit.
Nimblefins back-to-school study show accessories such as drinks bottles and lunchboxes need replacing more than any other school products, with 1.3 new accessories required each school year per child[2]. Parents spend roughly £12 a year on such products, with much of that spending coming before term.
With that in mind, many retailers stock up on essential school supplies. However, some more specific products may be less available. Therefore, market research to discover what nearby competitors lack can help your business pick up the product sales others aren't making.
Make smarter decisions and more convenient offers
In contemporary business, it's rarely necessary to act on faith. Researching shopping behaviour using basket abandonment analytics and EPOS reporting can help determine which offers are paying off and which have failed.
For instance, back-to-school products make excellent checkout purchases. Though retailers often reserve checkout displays for confectionary, finding space for an August school goods display could prove profitable.
Your EPOS also retains detailed data collected from previous years so that you can employ more effective school campaigns each year.
Nothing revitalises your business like an Epos Now system. With user-friendly, simple business solutions, you can integrate all parts of your operation into one time-saving system. Epos Now customers benefit from:
In-house and third-party software for the very best choices for accounting, marketing, loyalty programs and much more

Streamlined transaction programs that save staff and customers time, with the flexibility to create the system that suits your needs

Cloud-based technology that gives management full control and access no matter where you are, with programmable access for different parts of the organization for added security
Max out sales by marketing omnichannel
Data shows that businesses looking to take advantage of the back-to-school sales boom can benefit enormously from having delivery and online shopping options as well as a brick-and-mortar store[3]. Despite foot traffic comprising 49% of the market, free delivery at this busy time can provide a valuable option to students and teachers short on time and in need of materials.
With printed media sales on the out and such saturated markets, retailers' school marketing ideas can have greater effect and efficiency by going virtual[4]. This means working to cultivate three main virtual marketing channels: email, online and social media.
Email
Not only can websites record cart abandonment from your online store, but retailers now send targeted emails to potential customers that failed to complete a purchase after signing up and placing products in their basket.
Cart abandonment emails have some of the most significant effects of any marketing. They can be automated, so they take very little time or money to produce and have an excellent conversion rate[5].
Email marketing takes many forms, though, and your business can reignite relationships with customers by contacting them before the school year. Contacting your customer base at this time demonstrates the availability of your products and places you at the forefront of their mind. Given its cost-effectiveness, a well-timed, seasonal email provides an excellent way to utilise this tried and tested strategy.
Online advertising
A robust online presence in the form of a website with sales capabilities, blogs that can help boost the visibility of your website, a Google Business account and local inventory advertising have multiple positive effects on trade.
Local inventory advertising is a key part of any marketing strategy, even for businesses without websites. They activate when someone in the area searches for a product you sell. Therefore the company only pays for the advert when someone expresses interest in a product. This makes local inventory advertising a wonderfully precise marketing technique.
In the case of back-to-school shopping, boosting inventory advertising means paying only for the student/parent/teacher demographics to see your school product range. However, an online presence can also generate sales for the business passively. Google Business costs nothing and allows users to post reviews so that when shoppers search for your kind of retailer, you appear as a creditable business backed up by past customers.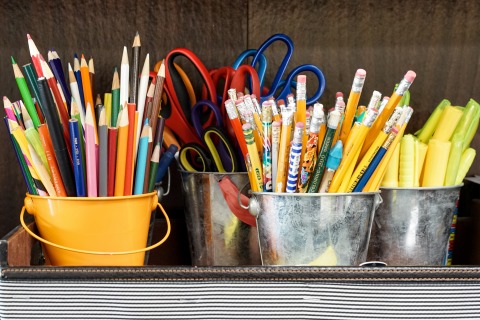 Social media
Building on the cheap marketing potential of email and online marketing, social media offers yet another free publicity platform for retailers. Customers that have positive experiences with retailers regularly follow their social media accounts in the same way (though perhaps more often) they sign up for marketing communications.
Posting about promotions and special offers, sharing images of the new back-to-school range, and even related articles can build awareness of the store even among those indirectly associated and who haven't visited before. A share or like from one customer can introduce another, potentially connecting students, parents, and teachers.
Promotions, bundles and special offers
Nothing draws attention to a product better than a special offer. An attention-grabbing promotion draws the eye and leads customers to assess how good your deal might be.
With back-to-school promotions, retailers take a number of approaches.
Product bundles: A back-to-school kit provides a classic selection of school shopping essentials in a good deal for customers and retailers alike. Retailers make more by selling multiple products, and customers get excellent savings.

Promotions: With customers looking for savings, discounts, 2-for-1 offers, or a percentage off on sales over a certain amount can inspire families to buy a larger number of supplies.

Special offers: Everybody likes getting special deals. Offering students or teachers an offer can sometimes be more enticing than a general promotion. A percentage off, a

loyalty

discount, or any kind of special offer can make parents feel especially valued by the business which can bring customer loyalty with the initial sale.
Remember to stock up early before the school spending starts
Parents buy lunchbox products regularly throughout the school year, but once their routines settle, they're less likely to change their habits. The retailer they start buying from has therefore got a school season's worth of sales to look forward to.
A school sale and accompanying marketing campaign should therefore begin well before the year starts, giving adverts and word of mouth time to build awareness of your offers.
You may also like:
Epos Now solutions are the trusted foundation of over 40,000 businesses all over the world!