Fast Food Management 101: Practical Advice and Tips
Fast food restaurants have become a staple in the American dining experience. They offer convenience, speed, and affordability to their customers.
But running a successful fast food restaurant requires more than just tasty sandwiches and french fries. It takes proper management to maximise profits and ensure customer satisfaction.
So we're giving you the lowdown on fast food restaurant management 101, from scheduling employees to streamlining the menu. By the end of this complete guide, you'll be equipped with the following:
Helpful restaurant management tips, including how to reduce staff turnover, improve the customer experience and plan ahead.

Ideas on how to market your fast food restaurant

Business plan tips for fast food restaurant managers

Why you need a POS system as a fast food restaurant manager
Let's dive into the management side of fast-food restaurants.
Fast food restaurant vs restaurant
There is a difference between the management of fast food restaurants and regular restaurants. Fast food restaurants require managers to focus on speed, cost reduction, customer service efficiency, and operational consistency. Some popular fast food chains, such as McDonald's or Burger King, have standardized procedures for their employees. If a fast food restaurant manager wants to be successful, he must ensure that the staff follows these procedures and that the customer's expectations are met.
On the other hand, managing a traditional restaurant is more focused on menu creativity and a customer's experience. The manager must ensure the customers are provided with unique, quality meals and an enjoyable atmosphere. In addition, restaurant managers must be able to handle any customer complaints professionally.
Management for fast food restaurants: what is it?
Fast food management oversees and manages all aspects of a fast food restaurant. It involves making sure everything runs smoothly. To be a successful fast food manager, you need to have an eye for detail and problem-solving skills.
Understanding and developing a management style
Your management style will reflect your personality and the goals of your business. Before you start managing, you must consider what kind of manager you want to be.
For example, if you prefer an authoritative approach, you will focus on setting clear expectations and enforcing rules on staying organised. If a persuasive style is more your speed, then your emphasis would be on motivating and engaging employees into hard work.
Lastly, a paternalistic management style seeks to develop and nurture a positive workplace environment. This could mean training employees with an entry level position to be assistant managers.
Research the different management styles out there and decide which one fits your needs the best. You can then learn a lot from studying the different approaches and adapting them to your specific fast food business.
How to manage employees in a fast food restaurant
One of the most important things you can do as a fast food manager is to hire and manage your employees properly. Your staff is vital to providing top-notch customer service and ensuring orders are fulfilled quickly and correctly.
Plus, fast-food restaurants have a higher turnover than other hospitality businesses. So it's important to ensure that all your employees are happy to reduce turnover and retain quality workers.
Here are some tips on managing your employees:
Create a positive work environment
Make sure you build an atmosphere where employees feel respected and appreciated. There are several ways to do this - offering rewards for a job well done, providing incentives, or creating a stress-free atmosphere that encourages collaboration.
Your team's positive attitude is essential to providing a good customer experience. Why not host regular team building activities like happy hours or team lunches to ensure everyone works well together?
Some more popular team building activities for your crew members include:
Escape rooms

Trivia night

Board game tournaments

Cooking classes
Offer regular training sessions
Frequent training can help your employees stay on top of the latest trends and best practices in fast food management. It's also an opportunity to teach them new skills and refresh their knowledge.
Some training sessions you can offer include:
Food safety regulations for your restaurant business

The importance of keeping a restaurant clean

Food preparation techniques: what you need to know before preparing food

Food service

Food quality control

Customer service best practices

Cashiering and customer service training

Marketing and sales techniques

Menu item information

How to handle customer complaints and customer expectations
Introduce a hospitality POS system
A hospitality POS system can be a massive game changer in fast food management. It can help streamline customer orders, payments, and inventory, as well as provide useful analytics that can help you make better business decisions.
When it comes to employee management, hospitality POS systems can also:
Automate payroll and scheduling

Offer insight into employee performance

Reduce paperwork and administrative tasks

Automatically track hours worked
TIP: Want to lead a retail business instead? Check out our Retail POS systems today!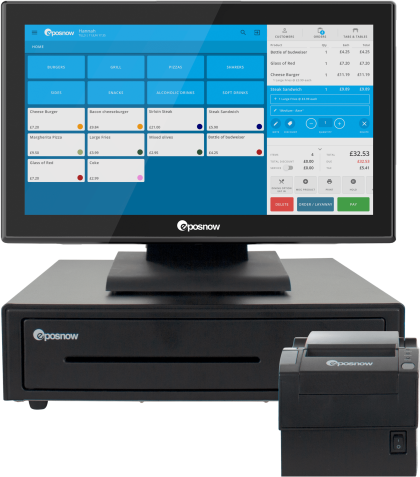 The Best EPOS System for Fast Food Restaurants
The Epos Now's fast food system is designed with the restaurant owner in mind.
Get orders out the door quickly and efficiently.
Creating an efficient menu for your fast food restaurant
An efficient menu is one of the most important things in fast food management. It should include items that are easy to prepare and that customers enjoy. Here are some tips on how to create a menu that's both cost-effective and delicious:
Analyse the competition
Look at the menus of other fast food restaurants in your area. What items do they offer? Are there any gaps in the market that you could fill?
Create a detailed list of ingredients
Make sure you have all the necessary ingredients for each item on your menu. This will help streamline the process and ensure you can whip up each dish quickly and accurately.
Consider portion sizes
It's important to consider the size of portions when creating a menu. Every item should have an appropriate amount of food that will satisfy customers without leaving them feeling stuffed.
How to market your fast food restaurant?
Marketing your fast food restaurant can help you reach a larger audience and increase sales. Here are some practical tips on how to do it:
Create a website
Having an online presence is an important aspect for any business these days, especially for fast food restaurants. A website will allow potential customers to find more information about your business and what you offer.
Use social media
Social media is a great way to reach potential customers and increase visibility for your fast food restaurant. You can post updates about new menu items, promotional offers, or any other information that could be useful for customers.
Take advantage of email marketing
Email marketing is an effective way to stay in touch with customers and inform them about upcoming promotions, discounts, or any other news related to your business. It's also an excellent way to build relationships with potential customers.
Business plan tips you need as a restaurant manager
Establish a budget:
Setting a budget for your restaurant is essential to manage operations. It helps you keep track of your expenses and make sure that you don't go over the predetermined limit.
Some things you'll need to consider are:
Labour costs: This includes wages, taxes, and benefits for your employees.

Inventory costs: This covers the cost of purchasing food items and any other supplies you need for your restaurant.

Equipment costs: This could include things like ovens, dishwashers, stoves, etc.

Food cost: This covers the cost of producing and serving food to customers.
Develop an effective pricing strategy
Once you know how much you're spending on food and supplies, it's time to set a pricing strategy. This will help determine how much money your restaurant will make.
When setting prices, consider things like:
Competition: Look at the prices of similar restaurants in your area to get an idea of what you should charge for items.

Location: If you're located in an affluent area, you can charge more than restaurants in lower-income areas.

Cost of production: You want to make sure that your prices cover the cost of producing and serving the food.
TIP: Want to learn more about restaurant location? Check out our blog post on the benefits of a good restaurant location.
Streamline daily operations
Streamlining daily operations can help you save time and money in the long run. For example, you could use a POS system to automate payroll, schedule processes, or revamp your menu. This can all help to improve efficiency and reduce costs.
TIP: Another way to ensure that you're focussing on the right tasks is to delegate responsibilities to an assistant manager or other staff members.
Evaluate your performance regularly
Evaluating the performance of your restaurant regularly is essential for fast food management success. Monitoring sales, customer feedback, and employee satisfaction can help you identify areas that need improvement so that you can make adjustments accordingly.
Stay up to date with hospitality industry trends
Keeping up with industry trends will help you stay ahead of the competition and ensure that your restaurant is on track to success. You can do this by researching new menu items, monitoring customer reviews, and staying in touch with suppliers and vendors.
How can a restaurant POS system Help?
A restaurant POS system can be a great tool to have if you work in the restaurant industry. It can help you streamline operations, track customers and employees, and provide insights into your business performance.
Here are some ways it can help businesses in the fast food industry to thrive:
Automate order processing
A POS system can quickly process orders, so customers don't have to wait. It automates order tracking, payment processing, and item selection so you can get orders out quickly and correctly.
Streamline inventory management
A POS system can help you track the number of ingredients in your restaurant at any given time. This eliminates guesswork when it comes to ordering and lets you know exactly when you need to restock.
Analyse customer data
A POS system can collect important customer data such as purchase history, contact information, and loyalty points. This allows you to better understand who your customers are and what they're looking for in terms of food and service.
Generate customised reports
A POS system can provide detailed reports on everything from sales to staff performance. This helps you identify improvement areas and ensure your business is running as efficiently as possible.
Final thoughts
Managing businesses in the fast food industry can be a daunting task, but with the right tools and strategies in place, it can become much easier. Implementing a POS system and following the above tips can help you manage your fast food business more effectively.
Good luck and happy managing!
Want to learn more about different management roles? Check out our complete guides below:
Want to know how our POS software can help manage your fast food business? Get in touch today!