Fast food trends: What's hot and what's not in 2023
Welcome to our delicious blog about the latest trends in the fast-food industry and quick-service restaurants for 2023! We're excited to dish out all the juicy details about what's hot and happening in the fast food world.
The fast-food industry is always evolving and changing, and it's important for fast-food restaurants to stay on top of the latest trends to stay ahead of the game. From plant-based options to convenience and technology to health and wellness, so many exciting things are happening in the fast-food industry. And we're here to serve it all up for you.
We know that fast food can sometimes get a bad rap, but we're here to show you that it's not all greasy burgers and fried chicken. There are plenty of options out there that are not only delicious but also healthy and sustainable. So, this blog is for you whether you're a fast-food enthusiast or a sceptic. Now go and grab a knife and fork and chow down on some tasty information.
What is a fast-food restaurant?
A fast-food restaurant, also known as quick service restaurants, is a type of restaurant that serves food quickly (as the name suggests!). These restaurants usually have a simple menu, and customers order at a counter or drive-thru. Popular fast-food chains include Burger King, Dunkin' Donuts, and McDonald's.
These restaurants are often known for burgers and fries, but also offer other fast foods, such as drinks and sandwiches. Fast-food restaurants are convenient for people who are short on time and looking for a quick meal on the go. However, it's important to note that the food served at these restaurants is often high in calories, fat, and sodium and, therefore, should be consumed in moderation.
Starting your own vs. franchising fast-food restaurants
When starting a fast-food business, it's important to consider whether you want to start your restaurant or invest in franchising. Starting your fast-food restaurant can be risky, as there is no guarantee of success, and it requires significant capital. On the other hand, franchising allows entrepreneurs to purchase an existing brand and benefit from its established customer base. Franchising also requires less capital and provides more support than starting a business from scratch.
Fast-food market size
According to Fortune Business Insights, the global fast-food market is projected to grow from USD 972.74 billion in 2021 to USD 1,467.04 billion by 2028 at a compound annual growth rate (CAGR) of 6.05%. This growth can be attributed to the increasing demand for convenience and on-the-go meals, as well as the growing popularity of online and mobile ordering services.
One thing is for sure, as the fast-food market size continues to grow, more business owners looking to open up a restaurant should consider casual dining restaurants over upscale ones. Let's take a look at some benefits of doing so.
Four key benefits of opening a fast-food restaurant or franchise
Before we dive into the 2023 trends for fast-food restaurants, let's take a look at some of the advantages of opening a fast-food restaurant.
1. Low start-up costs:
Fast-food restaurants typically have a smaller kitchen and seating area than a traditional restaurant, which means less money is needed for equipment and space. Additionally, many fast-food franchises have established systems and procedures, making it easier for new franchisees to get started.
2. Strong customer base and established market:
Popular chains like Starbucks and McDonald's have strong brand recognition and customer loyalty. This can make it easier for a new fast-food restaurant or franchise to attract customers and increase foot traffic to your restaurant business.
3. High potential for profitability:
Fast-food restaurants have a high turnover rate, which means they can serve a large number of consumers and more foot traffic in a short amount of time. This can lead to a high volume of sales and good and steady growth.
TIP: Check out our fast food profit margins blog for more information on how much fast-food restaurant owners can make.
4. Convenience and variety:
Fast-food restaurants like Burger King are popular because they are convenient, offer a wide variety of options, and are often budget-friendly. This means that they can appeal to a wide range of customers and demographics, leading to a steady stream of customers throughout the day.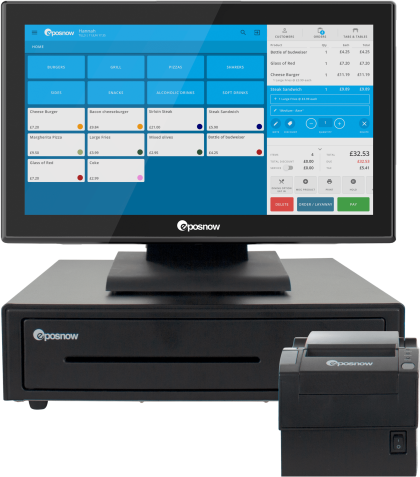 The Fast-Paced POS System Built for QSRs
Get the quick service POS system that helps you simplify service, boost earnings, and reach more customers.
9 fast-food trends for 2023!
Now let's take a look at the future of fast food. Here are some fast-food trends we believe will be popular in 2023:
Fast-food industry trend 1: Healthier options
The younger generations, particularly millennials and Gen Z consumers, are increasingly health-conscious and looking for healthier options for their meals. Food trends like avocado everything, the kale craze, and plant-based proteins have completely dominated the food industry, and many fast-food restaurants have responded with healthier menu items. Some popular trends include offering:
Plant-based burgers

Salads and veggie sides

Grilled meat and fish as an alternative to fried items
Fast-food industry trend 2: Customization
Customers want to be able to personalise their meals to their own tastes and preferences. Fast-food restaurants have responded by offering more options for customization, such as build-your-own-burger stations and customizable salads. This allows customers to create a meal that is tailored to their specific needs and preferences.
Additionally, many fast-food chains have introduced digital kiosks and mobile ordering, allowing customers to customise their orders before they even step foot in the store.
Fast-food industry trend 3: Online and mobile ordering
The rise of digital technology has made it easier for fast-food customers to order their meals online. Most fast-food restaurants now offer online ordering and mobile apps so that customers can place their orders remotely and have their meals delivered or ready for pickup once they arrive at the store. This added convenience makes it easier for customers who are short on time or just want to avoid the lines.
Popular food delivery services like Uber Eats and GrubHub have also opened up new opportunities for fast-food restaurants to expand their reach and increase sales. By partnering with these delivery services, fast-food restaurants can go beyond just their local markets and target customers in other cities and countries.
Fast-food industry trend 4: Delivery-only restaurants
Delivery-only restaurants are popping up all over the place, and they are providing fast-food customers with more convenient than ever before. These "virtual" restaurants don't have a physical space – instead, they only focus on online and mobile orders that can be delivered to customers' doorsteps. This allows them to save on overhead costs and provide customers with more affordable meals. Plus, they don't have to worry about staffing or customer service as the orders are placed online.
For example, Starbucks launched a delivery-only service called "Starbucks Delivers" that allows customers to order drinks and snacks from their app and have them delivered to their houses. This is just one example of how fast-food restaurants are leveraging the power of digital technology to provide more options for convenience and affordability.
Fast-food industry trend 5: Sustainable packaging
Consumers are becoming more aware of the environmental impacts of fast food, and they are looking for restaurants to commit to sustainable practices. Fast-food restaurants have responded by reducing their use of single-use plastics and introducing reusable or compostable packaging solutions.
This not only helps reduce waste but also helps create a positive brand perception among customers who are looking for eco-friendly options. Additionally, many fast-food restaurants are now offering discounts or rewards programs to customers who bring their own reusable containers.
Fast-food industry trend 6: Robotics and automation
Robotics and automation have become increasingly popular in the fast-food industry. Robots have allowed fast-food restaurants to reduce labour costs and increase efficiency while still providing customers with consistent quality and service.
For example, some companies are now using robotic arms to prepare food in kitchens, which helps ensure that ingredients are accurately measured and cooked to perfection. Additionally, some fast-food restaurants are using automated kiosks and ordering systems to simplify the ordering process for customers.
Fast-food industry trend 7: Premiumisation
As consumers become more health conscious and expect better and healthier options, fast-food restaurants are responding by introducing premium ingredients to their menus. These ingredients often come with a higher price tag, but customers are willing to pay extra for premium options like organic produce, grass-fed beef, and artisanal bread. By offering these premium items, fast-food restaurants are able to differentiate their offerings from the competition while providing healthier options for their customers.
For example, let's say you want to get a burger from a fast-food restaurant. You could get the basic burger, but you could also opt for the premium version, which is made with antibiotic-free beef and organic vegetables. Customers are increasingly willing to pay extra for healthier options, and this trend shows no signs of slowing down anytime soon.
Fast-food industry trend 8: Global flavours
Global flavours are becoming increasingly popular in fast-food restaurants as customers look for more exciting and diverse culinary options. Fast-food restaurants are responding by introducing dishes from all over the world, such as Mexican tacos, Indian curries, and Korean bulgogi. This trend is particularly popular among younger consumers who are looking to explore different cultures through their food. By introducing these global flavours, fast-food restaurants are able to attract new customers and stand out from the competition.
Plus, fast-food restaurants can also benefit from cost savings by introducing ingredients from different countries. Many of these global ingredients are cheaper than their domestic counterparts, which helps fast-food restaurants keep prices low while still providing quality meals and a greater variety for their customers.
Fast-food industry trend 9: Restaurants supporting social causes
Consumers are increasingly looking for fast-food restaurants that support social causes. Some restaurants have responded by donating a portion of their profits to charities, while others are taking concrete steps to reduce their carbon footprint or improve sustainability practices. This trend is particularly appealing to younger consumers who are more socially minded and want to make sure they're investing in companies that are in line with their beliefs.
By supporting environmental and social causes, fast-food restaurants can also create a more positive brand perception among customers and build loyalty. Customers appreciate when companies take an active role in making the world a better place, and they're willing to reward those companies with their business.
How can a restaurant POS help your fast-food business?
A hospitality POS system is an essential tool for any fast-food restaurant. It can help streamline operations, improve customer service, and increase efficiency in the front and back of the house.
One of the key functions of a restaurant POS system is handling payment processing services. With a POS system, customers can easily pay with credit or debit cards, and the system can also handle other forms of payment, such as gift cards and loyalty program points. This allows for faster and more efficient transactions, resulting in shorter lines and happier customers.
A POS system can also help you manage your inventory, track sales, and customer data, and generate reports to help you make informed business decisions. This can help you identify trends and areas for improvement and ensure you always have the right products in stock.
There are many different POS systems available on the market, so it's important to choose one that fits the specific needs of your fast-food business. Look for a system that offers features such as mobile ordering, online ordering, and integration with other software such as accounting and inventory management systems.
With the right POS system, you can make your fast -food business more efficient and profitable while providing a better customer experience.
Serving up our final thoughts
The fast-food industry is an ever-evolving landscape, and the trends discussed in this article are just some ways restaurants respond to customer needs. By staying on top of these trends and understanding how they can benefit your business, you can ensure that your fast-food restaurant remains competitive and successful.
You can streamline operations, improve customer service, and increase efficiency with the right POS system. Remember, the key to success in the fast-food industry is staying ahead of the curve and adapting to changing customer needs. With these tips in mind, you can ensure that your fast-food restaurant remains successful for years.
Interested in running a fast-food restaurant? Check out our blog on fast food management today!
Contact our team of experts for more information on our QSR POS!