Bakery Interior Design: Tips and Ideas for a Beautiful Space
Are you looking to create a beautiful interior design for your bakery? Whether you're starting from scratch or just sprucing up an existing space, interior design is essential for creating the perfect atmosphere. From choosing the right color scheme and furniture, to highlighting your baked goods and creating inviting seating areas, there are many elements that can make or break a bakery interior.
In this blog post, we'll share our top tips and ideas for designing the perfect interior for your bakery. We'll go over key considerations such as lighting, decorating with texture and color, selecting furniture pieces that will enhance customer experience, and more.
By following these simple guidelines, you can create a stunning interior design that will draw in customers while also showcasing your delicious baked goods!
How to approach interior design in a busy bakery environment
When designing interior space for a busy bakery, it's important to consider how the design will impact both customers and employees. The interior design should be inviting and comfortable for customers while also providing an efficient workspace for staff.
One way interior designers can bridge the gap between the comfortable and warm atmosphere desired for customers, and the practicality needed for the kitchen, is to create a clear divide between the two. But this can be difficult, especially if you're working in a small space.
The design world is filled with creative solutions, so approaching your bakery with a positive and organized mindset can help set you up for success. To start, think about what you need to include and the effect you want to create. Lists and mind maps can help you outline your needs, target themes, branding, and effects.
For example, you will need to include:
A display case for your baked goods

A point of sale and checkout counter

Shelving units for storage

Fridges and freezers

Food preparation counters

Customer seating areas

Decorative features, plants, and displays

Place for waste
While documenting the essentials makes certain you won't forget to include anything in your layout, this is only the beginning of bakery design. It's also important to think about what colors you want to use to theme your shop, sign placement, lighting, etc.
TIP: Designing your bakery with a sense of your brand identity drives you towards a bakery that reflects who you are and improves the customer experience whenever someone enters your shop.
Choosing colors and themes
When it comes to creating a beautiful interior for your bakery, one of the key considerations is choosing colors and themes. The right color palette can have a huge impact on the atmosphere in your shop, so it's important to choose carefully. Colors can evoke calm, excitement, and even mystery – it all depends on what you want your customers to experience when they enter your bakery.
Your colors will need to suit the wider themes and the overall atmosphere you want to create, which you can create with your choices of furniture, lights, decorations, and overall use of space and branding.
There are no set rules on the number of colors to use in your bakery - generally most businesses like to stick to two or three colors in various shades to make a cohesive feeling. But plenty of businesses balance multiple colors together in harmony to create fun or memorable locations for customers to share photos on their social media (great for free promotions!).
When deciding on a concept for your bakery, consider how you want customers to feel when they enter your space. Do you want to evoke a feeling of traditionalism with classic furniture pieces and decorations? Or perhaps you're more interested in creating a modern feel with sleek lines and modern art pieces? Whichever you choose, make sure it reflects the identity of your shop.
The differences between colors
Light pastel colors will give off a relaxed vibe that is inviting and calming for visitors. These are great for creating a cool, airy, welcoming environment and making people feel comfortable enough to stay longer in your store or cafe.
On the other hand, bright, bold colors like reds and oranges might give off more of an excited, energetic feeling that encourages customers to move around quickly - great if you're looking for higher turnover rates!
Darker shades like navy blue or charcoal gray offer sophistication and elegance - perfect if you're going for a high-end look with luxury furniture pieces and decorations. Or perhaps you'd prefer something more modern? Bright whites paired with dark blacks will create a sleek contemporary effect that's sure to impress any customer who walks through your door!
Each set of colors lends itself to a particular design style. Some, like pastels or plain shades, evoke modernity and space. So a minimalist approach would be more appropriate. While darker colors, browns, and blues, for example, feel traditional and cozy, luxurious seating will combine well.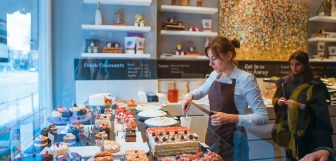 Deciding how to use your space
In addition to considering aesthetics and as previously mentioned, it's essential to think about functionality when designing your bakery interior. You'll need enough seating space so customers can comfortably enjoy their baked goods while they're there, but not too much so that it takes away from valuable floor space needed for staff and kitchen operations.
It's important to use the architecture of the building you're in. Different details about your building will create opportunities. Consider adding counters along walls to increase seating capacity without compromising the flow of foot traffic around the shop.
Similarly, strategically placed furniture pieces can bring in an extra layer of warmth and charm while still allowing easy access between workstations and customer service areas.
By carefully considering both form and function when selecting themes for your bakery interior design project, you'll be able to create an inviting atmosphere that highlights both the beauty of your baked goods and the unique identity of your shop!
Tips for bakery design: build in line with your branding
If you're building your catering business from the ground up, you'll likely be working on your logos and other design projects around the time you're finding and working on your store. As you try to add detail to your design portfolio, it's important to maintain a cohesive vision, just as you do with colors and themes.
The easiest way to stay consistent in all your design is to have a clear understanding of the brand you wish to create and the way you wish to be seen by your customer base.
For instance, you may want your bakery to create a more creative kind of baked good in funny shapes with novel recipes. You'll want to create an environment that reflects the personality you express in the baking of your bread, pastries, and cakes, with similarly fun logos and packaging using bold shape and color that showcases your personality.
But branding can be expressed through every aspect of your business, and interior design provides another key opportunity to express your idea. Incorporate elements that reflect your brand's style, values, and goals into the materials and manner you create your shop or restaurant areas.
Branding and design examples: the family-friendly baker
When designing a bakery that targets families, for example, it is important to create a space that is fun and inviting for both adults and children alike. Evoke childhood memories and energy into the design scheme. Use bold, cheery wallpapers with cartoon characters or other playful images, hang whimsical art pieces throughout the bakery, and include strategically placed seating areas with comfortable chairs and benches designed for families.
Playful elements like chalkboard menu signs or interactive play areas can also help to make your bakery stand out from the competition and provide important practical benefits for visiting families. Additionally, you might consider providing small snacks such as lollipops or candies in interesting containers to attract more customers and add a unique touch to your space. After all, it's no secret that marketing to children can be very effective.
A well-designed family-friendly bakery should feel comfortable, safe, and exciting - all at once! Not only will this help to draw in more customers, but it will also ensure that they have pleasant experiences when they visit your establishment.
The eco-friendly baker
If you want to express that you are an environmentally conscious business, prioritize organic ingredients in your design. Use wood, clay, stone, or even bamboo to create a warm, inviting, and natural atmosphere. Bring plant life into your shops while adding further decoration with images from scenic outdoor locations.
Whatever direction you take your branding in, it's important to back up your self-image with concrete evidence, which you can use to market your business by placing it in plain sight. To continue the eco-bakery idea, you might use upcycled furniture, packaging from recycled materials, and sustainably grown ingredients, all visible to every customer that steps inside.
Lighting
Lighting plays a major role in setting the mood for your bakery interior design project. Consider how you can exploit natural lighting through doors and windows to bring fresh light and air in to mingle with the scents of your sweets. Using recessed lighting fixtures can brighten up countertops and working areas without taking away from the overall aesthetic. Additionally, more ambient lighting will help customers feel more at ease when trying new menu items. Remember to add wall lighting to help set your mood around seating areas and pathways (be that chandeliers or wall scones if you're going for a luxurious theme or industrial bulb lights for the currently very popular industrial feel).
Practical interior design: making the most out of your space
When it comes to bakery interior design, making the most out of your space is essential. Every square inch counts and should be utilized to its fullest potential. That means planning for how every square inch of your space will be used, with the end goal of helping the business attract and serve customers and make sure the bakery trades in a smooth fashion. Here are some tips for maximizing your space:
Get creative with storage solutions:
Fully utilizing shelves, bins, drawers, cupboards, fridges and freezers, etc., is a great way to save valuable floor space. Plus it can create additional storage for ingredients and other materials you may need in running your business. Consider utilizing vertical space with wall-mounted shelves or cabinets if there isn't enough room on the ground level for what you need to store away.
Create separate workstations and customer areas:
It's important to know your requirements and what you need to achieve with your space. Marking out areas and measuring how much space you can allot for your bakers, servers, and customers and can ensure every visitor (be they employee or customer) has the space they need to move. This way, you can utilize every available inch without wasting space or overcrowding!
For instance, in creating seating areas, you'll need surface space for tables, seating space, and a minimum of 25" behind each chair to allow people to stand and sit comfortably. You'll want these seating areas separate from queuing and standing areas to prevent customers from getting in each other's way and to make the bakery space pleasant to inhabit. The same is true for work areas. If working areas are cluttered, it will cause stress, mistakes, and a negative working atmosphere.
Plan how you intend to use any nooks and odd spaces:
When you settle on your premises, whether you rent or own, you pay for every inch, and so you want to get the most out of it. However, in any building, you will find spaces that are harder to use. Many business owners elect to ignore these "nooks" and odd corners, and they wind up being used for hiding things away (which are then forgotten about).
To keep your bakery clean, tidy, and efficient, it's worthwhile allocating these corners for specific purposes. In customer-friendly areas, they can make wonderful single-seat spaces that customers will love to cozy up in with a book and a baked good. They can become personal favorite spaces that bring customers back in, hoping their favorite space will be free.
In work areas, they can be good for storage but will be better and more hygienically used with a shelving unit installed. But they can also be used for desks, coat hangers, or as a breakout area for staff taking their breaks.
No matter what you use each space for, it's important to approach space with economy in mind.
Interior design to help you make sales
After you've created a bakery that is pleasant for customers and efficient for your staff, you'll want to encourage people to buy while they're with you. That's where visual merchandising comes in.
Visual merchandising is an important part of bakery interior design; it's how bakers convert the positive experience of a customer visit into sales.
Create focal points to direct customers' attention
A focal point will help draw customers to the parts of your store where they can engage with products. Have multiple display stands where your delicious creations can be showcased. Put these displays in prominent areas, near doorways, windows, or on countertops that can be seen from all around the premises. Consider adding attractive props such as decorated plates, platters, and extra décor to give the display more impact.
You can create focal points to advertise low prices, promotions, deals, and other sales materials you want to raise awareness of. This might mean creating a poster space where you can encourage engagement with the business through a loyalty scheme or advertise your social media platforms. Applying these advertisements carefully and tastefully can boost sales and increase customer retention.
Create digital displays and interactive features
Visual merchandising is about making your bakery a pleasant place to explore. Interactive features and digital displays inspire customers to engage with the business in a fun way that creates memories associated with your bakery.
A display screen around checkout can show your deals the same as a poster but in an even more eye-catching way. Making these features interactive, for instance, by gamifying a display area with a competition or question (what flavors can you smell? How many blueberries in the muffin?) may result in more customer interest, developing customer relations - which is key for loyalty! Plus, it will also make your bakery more memorable than the competition, especially for younger visitors.
Use seasonal displays and make regular changes
Creating seasonal displays is an important part of bakery interior design, as it helps to create a unique atmosphere and encourages customers to come back for more. Seasonal displays can also help draw attention to new products or special deals that you may be offered at certain times of the year.
Changing your designs, or even the layout of the bakery if you want to keep things really fresh, will invite customers to experience something different each time they visit. In the end, interior design is not just something you do once to set up shop; it's something you do regularly to keep your business as fresh as this morning's bake.
Complete your look with an Epos Now POS till system
Sell your sweet treats at speed on a point of sale till solution for quick sales, accurate inventory, multi-channel sales, and more. The Epos Now till uses simple design to provide all the tools bakeries need on software you can train your team to use in as little as fifteen minutes.
Epos Now users can:
Create bespoke transaction setups on secure, speedy software to shave time off the sales process.

Choose from dozens of apps and integrable partner programs to run accounting, marketing, and other back-of-house functions in a way that suits you.

Benefit from detailed reporting to adapt your pricing strategy, manage inventory, staff, and more.

Stay on top of trade even when off-site, with cloud-based access to real-time sales and inventory data.
Get in touch with our expert team by submitting your details below, and join over 55,000 businesses using Epos Now technology.
Speak with one of our experts and learn more about Epos Now's top-selling technology